We know that traveling with your family is an amazing experience but the planning process can also be rather stressful for the one organizing the whole trip. Well, let us help take the guesswork out of your travel plans and you can choose from the 16 best, family hotels in all of Mykonos.
1.Santa Marina (5*, at Ornos)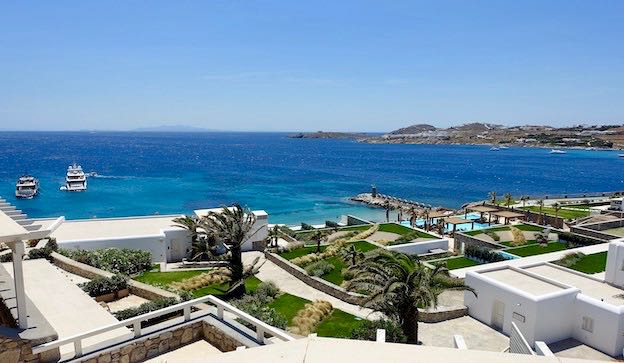 This is one of the biggest hotels in Mykonos. Equipped with huge suites and villas that can house up to 12 guests, many with private pools and full kitchens. This is a fantastic location for families with a beautiful semi-private beach and covered playgrounds. The resort was built up the side of a hill to offer an extraordinary sea view. The restaurants of Ornos are a short walk away or there is a daily free shuttle into Mykonos Town that takes less than 10 minutes. If you have young children this is the best hotel on Mykonos. If there wasn't so much to see around the island you could spend your entire trip at the hotel and never leave.
2. Myconian Villa Collection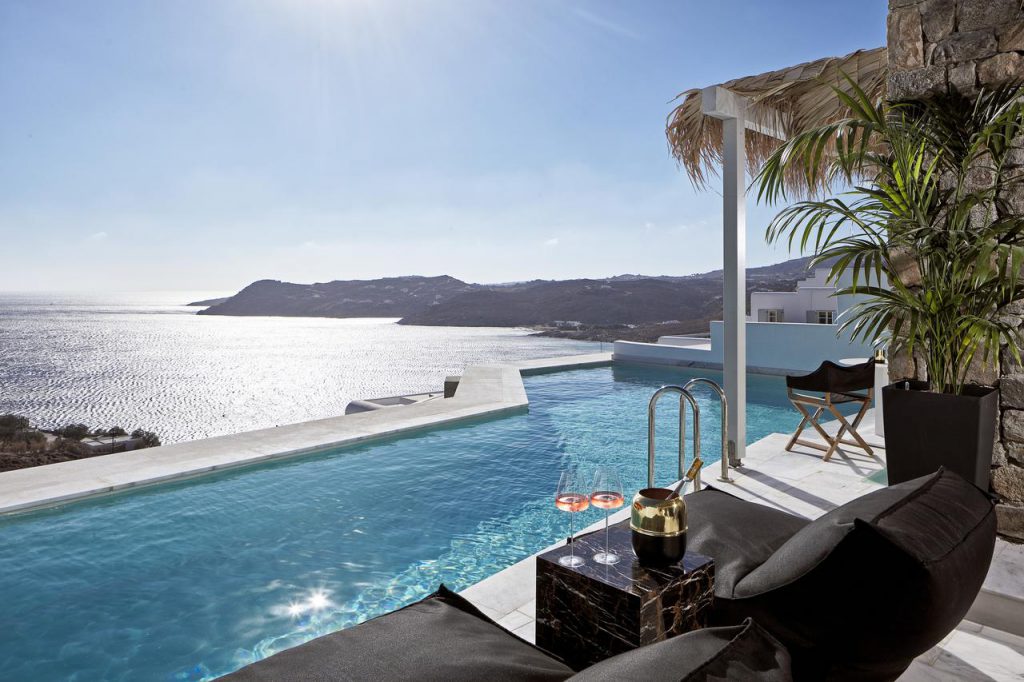 This is the high-class family travel. Built with family-friendly suites and villas ranging from single to 6-bedrooms with private pools or outdoor jacuzzis. built to have the best view overlooking Elia Beach, the hotel has a sea-view from every angle. The saltwater infinity pool, an indulgent spa, and a fine dining Greek-Mediterranean restaurant. Perks include free shuttles to Elia Beach and complimentary beach beds there. If mom and dad need to get out on a date night the hotel also offers babysitting services.
3. Mykonos Blu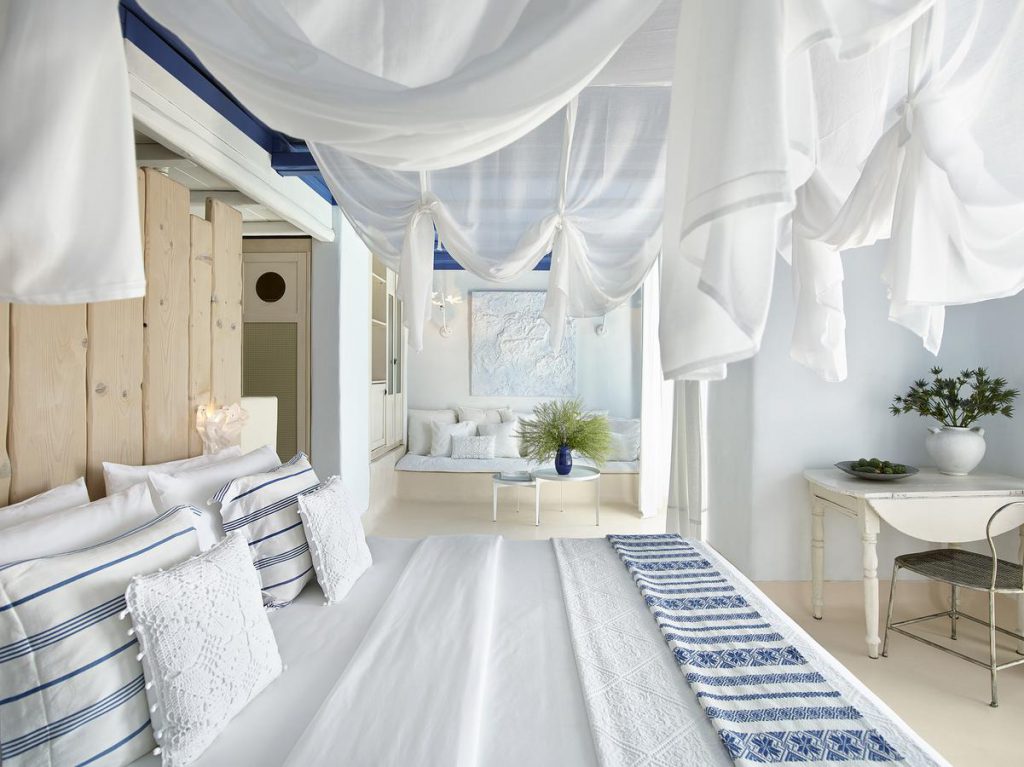 This exclusive 5-star hotel was built with generous suites and villas that can sleep up to 10, all with private terraces and welcome gifts (wine, fruits, and sweets), and many with private pools or jacuzzis. The resort has your kids in mind with the free-form infinity pool, kids' menus at all restaurants, 24-hour room service, a playroom, babysitting, on-call pediatrician. And for the parents, wonderful restaurants, and an amazing spa and more. Located directly on Psarou Beach, which is well-protected from the wind, the hotel has its own private beach area for guests with food and drink service all day. It's an easy walk to Platis Gialos beach and the excellent restaurants there. The hotel's free shuttle gets you to Mykonos Town in less than 10 minutes.
4. Mykonos Princess Hotel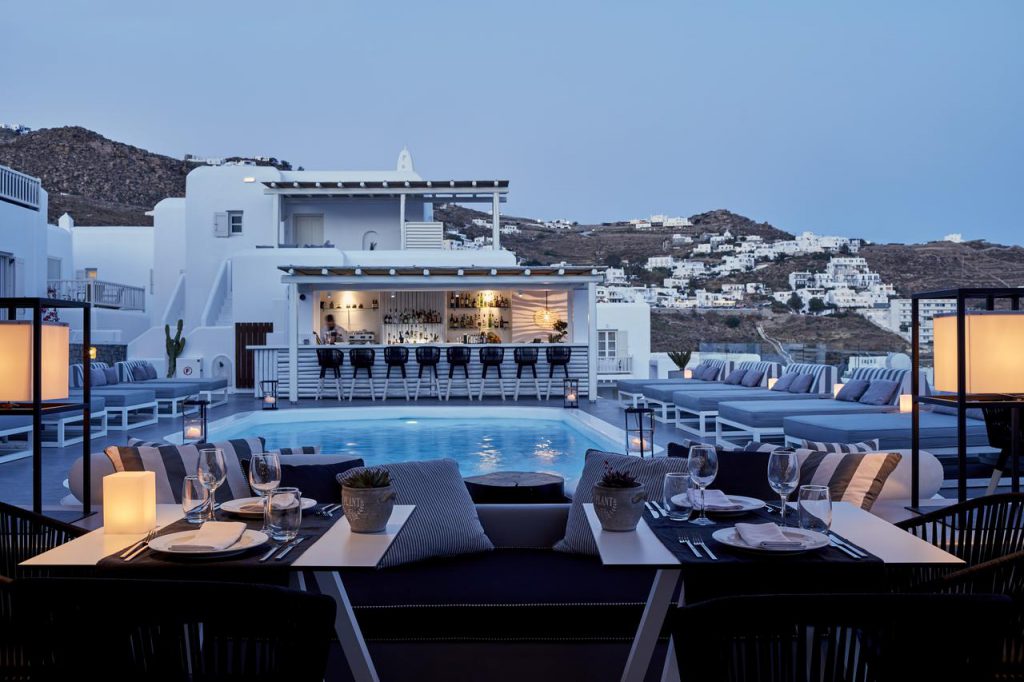 One of the top picks in Agios Stefanos! This hotel is part of the Preferred hotels and resorts. The Mykonos Princess hotel is just within walking distance of beautiful white sandy beaches of Agios Stefanos, where you can have a secluded and romantic dinner on the beach picnic style if you so choose. The hotel is equipped to take care of your every need with a sea view pool, a Greek contemporary restaurant on the grounds and a delicious al a carte breakfast that is served daily in the dining area or poolside. Just outside of Mykonos proper you will have everything your heart could desire during your family vacation.
5. Hotel Erato (3*)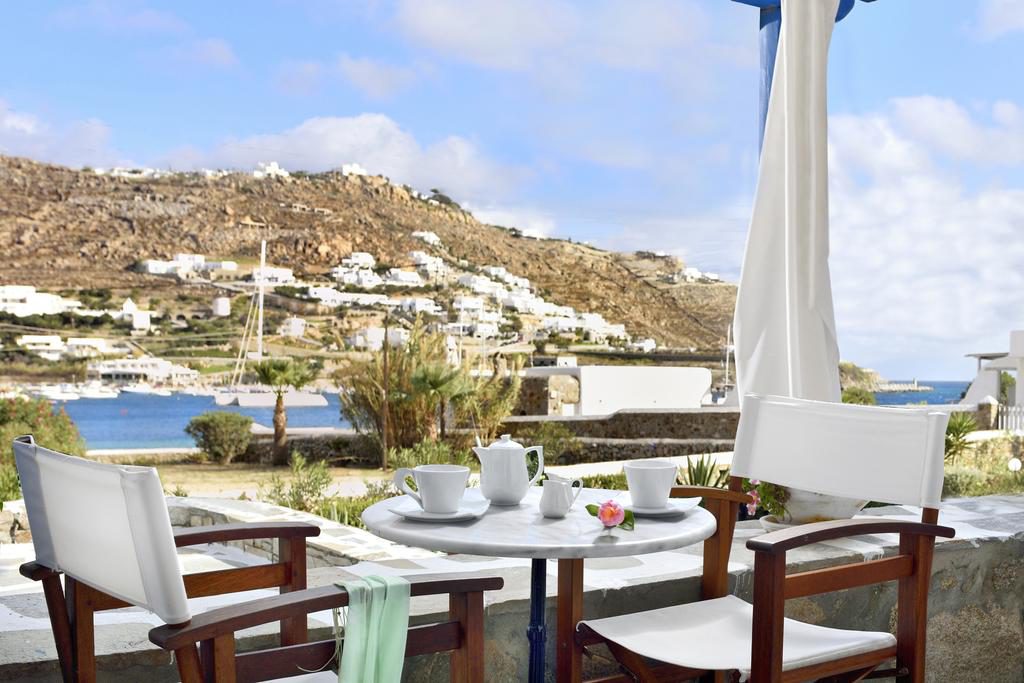 Hotel Erato is located just steps away from the family-friendly beach of Ornos, there is a private walkway that guests can reach by walking through the hotel garden. There are tons of activities available to participate in on the beach to keep your kiddos busy, and nearby there are lots of shops and restaurants. Hotel Erato is a classic Greek whitewashed with blue shutters, with an abundance of aesthetical charm. There is a beautiful verandah with sea views and a garden in which guests are welcome to relax. The Family Suite is on the first floor (so parents don't have to worry who is below them) and sleeps up to four people. It has a full kitchen should guests wish to use them.
6. Petinos Beach hotel (5*)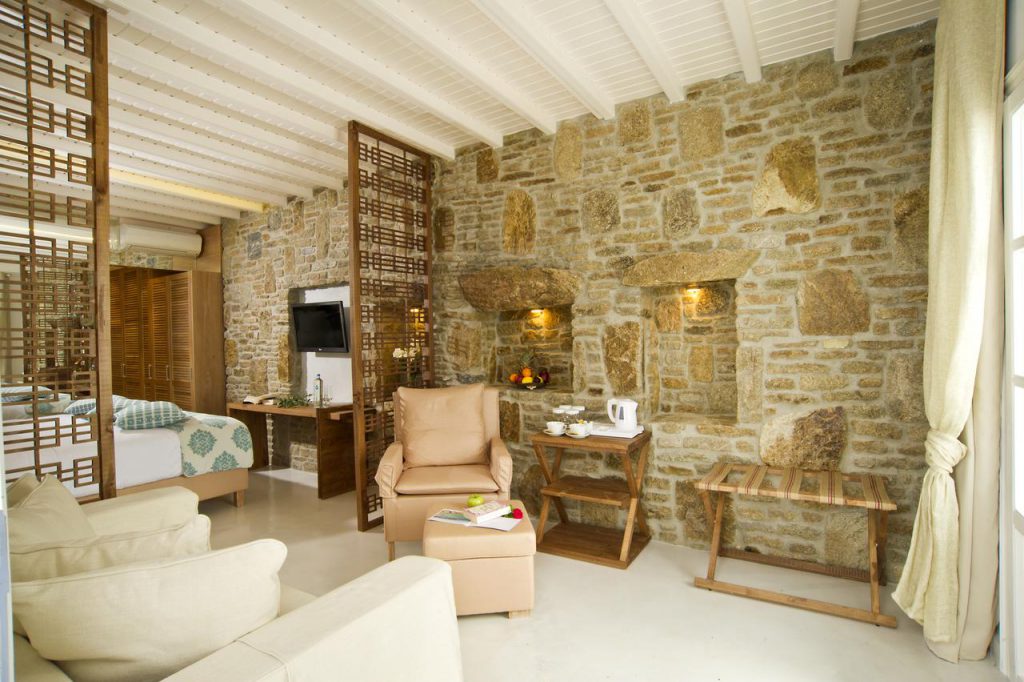 Petinos Beach hotel (not to be confused with Hotel Petinos) is a 5-star seaside hotel located next to the famous Platis Gialos, one of Mykonos' longest beaches, this beautiful and family-friendly hotel is also just a short 4-miles from Mykonos town. The hotel is decorated in a delightful seaside theme with light airy rooms and seashell details. It's just a few steps to the beach from the hotel. Children are welcomed with open arms at Petinos Beach Hotel. The Family Suite can accommodate any sized family, so bring everyone! There is an outdoor pool and a children's pool at the hotel and water sports are on offer at the beach.
7. The Argo Hotel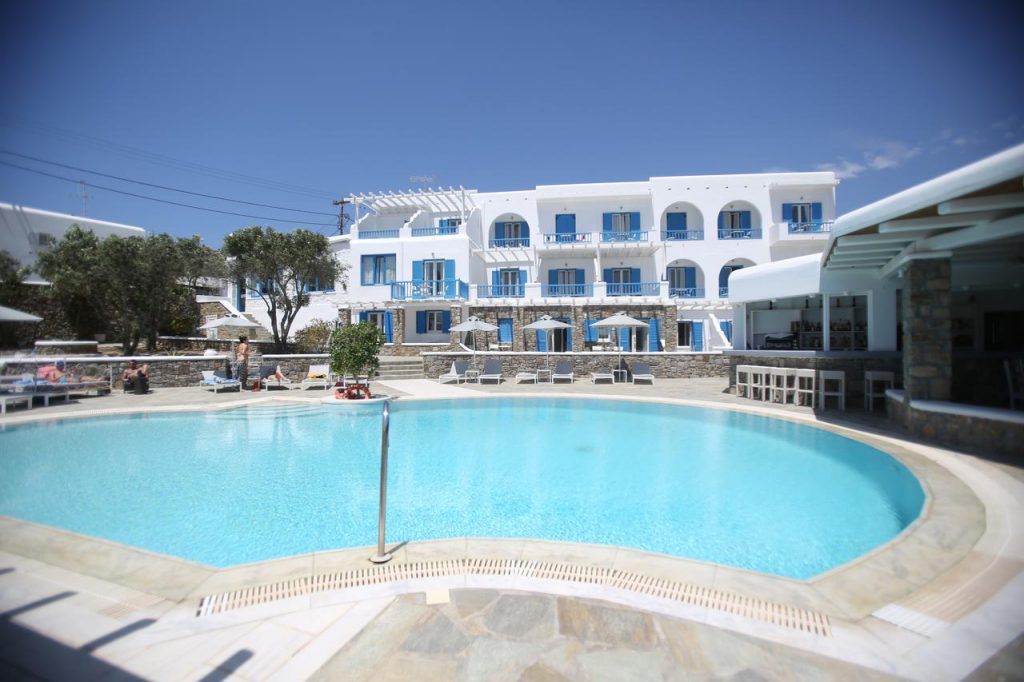 The Argo Hotel is one of the oldest hotels in Platis Gialos and it is located near the family-friendly Psarou Beach, where your kids can participate in water sport activities which are offered by the hotel. The Argo Hotel is very family-friendly, family-owned and operated they know how to offer a friendly atmosphere. The hotel and outdoor bar area are located around a pool and outdoor whirlpool. Children are more than welcome at the hotel and guests traveling with their family can choose between a standard room with a cot for smaller families or the big family room for groups of up to four. There are free breakfasts daily and a restaurant on-site serving a variety of local Greek dishes, as well as international foods that are more suited for kids such as pizza and pasta.
8. Palladium Boutique Hotel
This is a hotel best suited for families not traveling on a budget. This 5-star hotel has 48-rooms which is located on Psarou Beach, which is on the southwest side of the island. Perched on top of a hill overlooking the Aegean Sea. The Palladium is the height of luxury in Mykonos, this hotel welcomes children, and families may choose one of the larger suites or family rooms. Some of the family rooms have private swimming pools and most sea views. The resort has a restaurant on site that caters to families and can offer children meals designed with small plates serving Greek or international cuisine.
9. Myconian Avaton Resort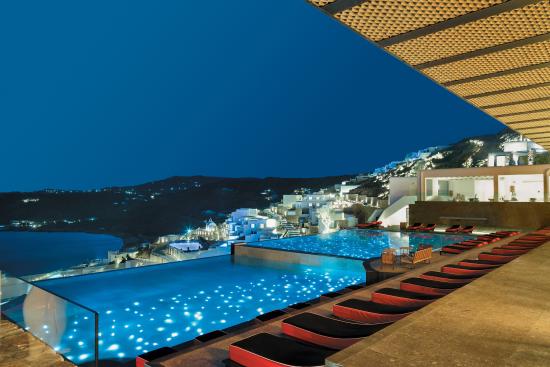 The Myconian Avaton is a boutique design resort located at Elia Beach. An option between guestrooms or villas, families have a choice, although the villas are larger so if you have more than two children, that may be a better option. The villas range from one bed to four-bed luxury apartments. Take a trip of a lifetime with the excursions offered by the hotel, like yacht and helicopter rentals and for leisure activities, horse riding, water sports and more. Let your kids feel like they are in a living "Beauty and the Beast" with butlers and in-house chef services can be requested. The staff at Myconian Avaton is very fond of children and large families with lots of kids are absolutely welcome.
10. Galini Hotel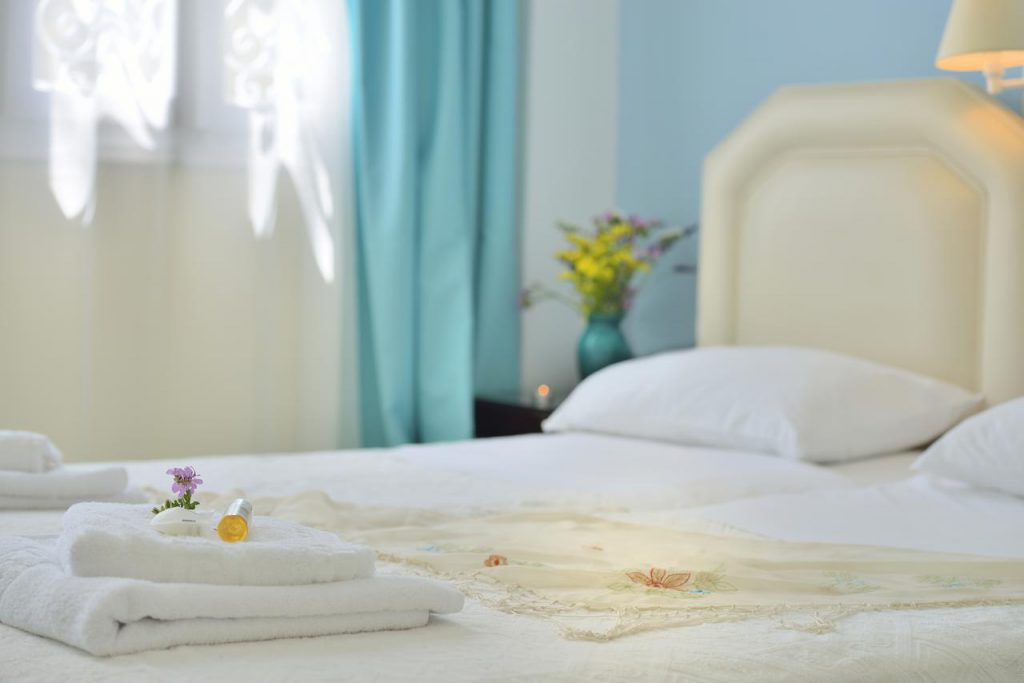 Hotel Galini is located at Agios Ioannis beach and is known to be one of the quietest resorts in Mykonos. The hotel is more affordable than some of the luxury hotels in the more popular resort areas and is a great choice for families who are traveling on a less-luxurious budget. Families who prefer quieter places in nature to packed busy resorts, this location is perfect. Surrounded by options for beaches to visit like Papa Nero beach is nearby, which is a wide stretch of golden sand. Damouhari Beach is also a short walk away — this is where parts of "Mama Mia" were filmed. Pelion Forest is close by. The hotel is good about accommodating small families, as the rooms only go up to triple-sized (three beds). The family-run Hotel Galini has a pool, a whirlpool, a lounge cafe, a restaurant, and free parking. They offer daily sightseeing excursions by boat, bicycle, car, and scooter hire.
11. Acrogiali Hotel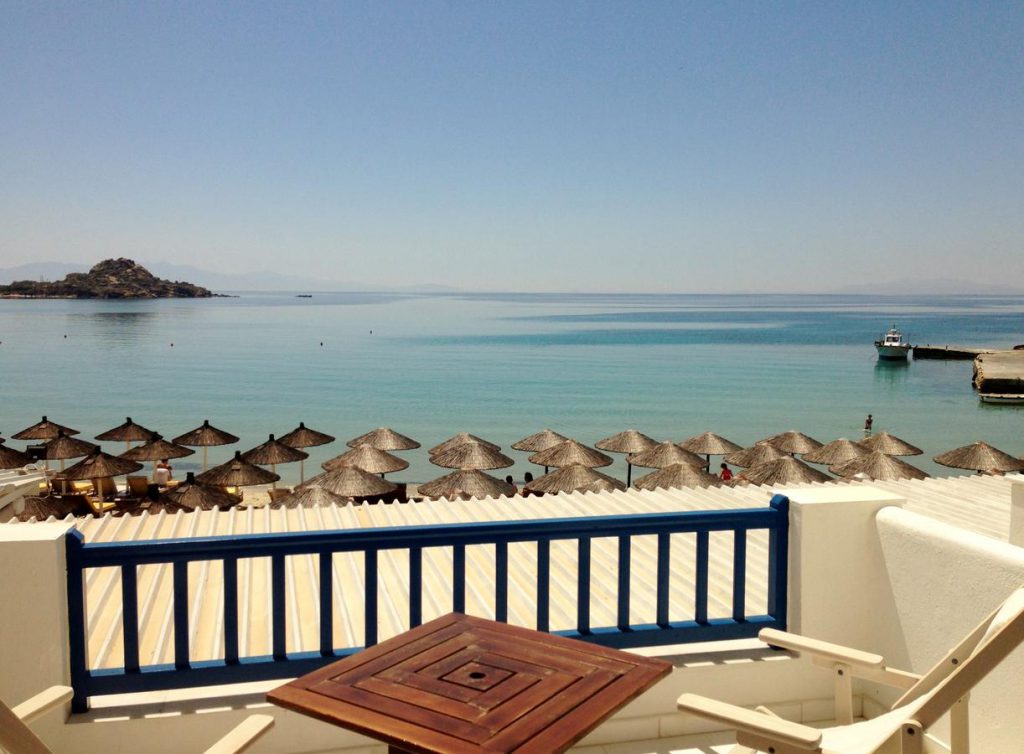 This is the perfect place for families to come and where everyone can relax and enjoy themselves. The four-star Acrogiali Hotel is located on Platis Gialos, which is one of Mykonos' family-friendly beaches. The hotel balconies are directly above the beach or there are rooms with garden views available too. There are a good range of sizes of rooms you can choose from — double, triple, quadruple and deluxe family rooms. Rooms are simple, yet tastefully decorated and have rainfall showers. Taken by the true heart of Greek culture, children are adored at Acrogiali, as they are at many establishments in Greece. A stay at the hotel includes free breakfast, beach towels and access to the swimming pool of the hotel's sister property, The George. Parents, relax! This hotel is so amazing, if your kids are in need of snacks they can be ordered from the beach – there is a call button on the umbrellas! So kick your feet up Mom and Dad this is your vacation too!
12. Grecotel Mykonos Blu Hotel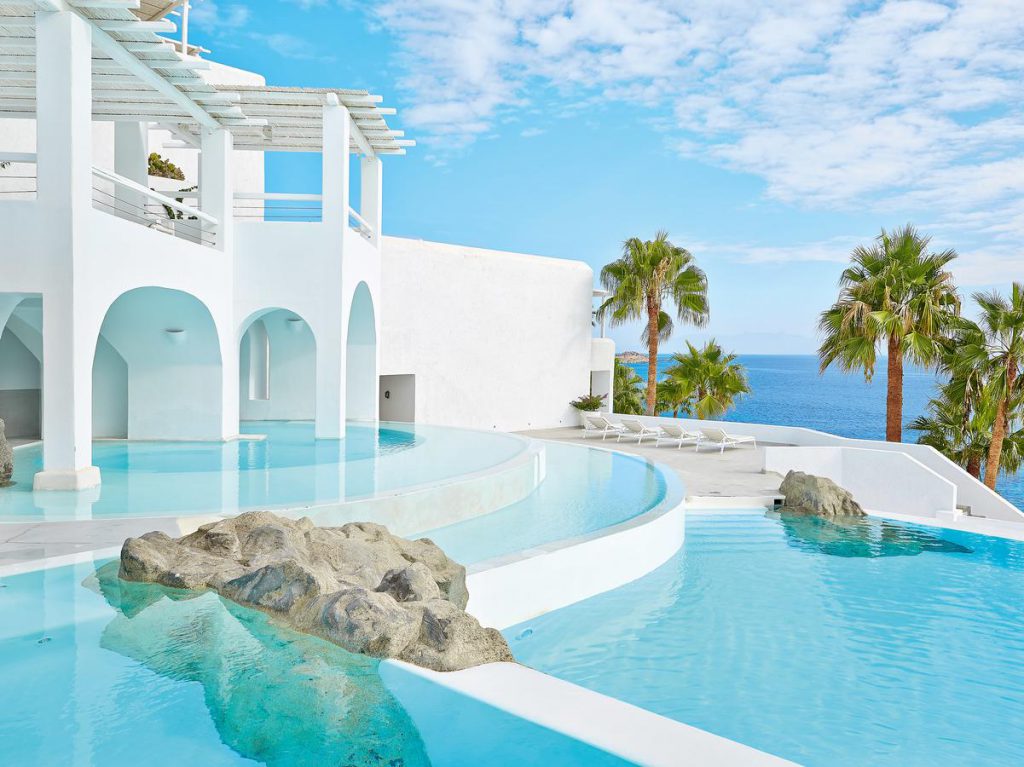 The Grecotel Mykonos Blu is one of the only hotels in Mykonos with a kids' club and full facilities designed specifically for children. There are massive lawns and gardens for children to play on and the hotel is located in front of the Blue Flag beach. Babysitting is available 24 hours a day for a charge and the kids' club is free during the day, at this hotel both the kids and the parents get a break. In every restaurant facility, there are highchairs and baby food available, and the restaurant has a children's menu. A good note, there is no extra charge when children are sharing a room with their parents. Families have the options of Island Bungalows, Island Suites, and Blu Villas. The largest of all is the Royal Blu Mansion, which can sleep up to 10! The Grecotel believes in anticipating your every need when traveling as a family and they have gone above and beyond to ensure that you are taken care of.
13. Rocabella Mykonos Art Hotel & SPA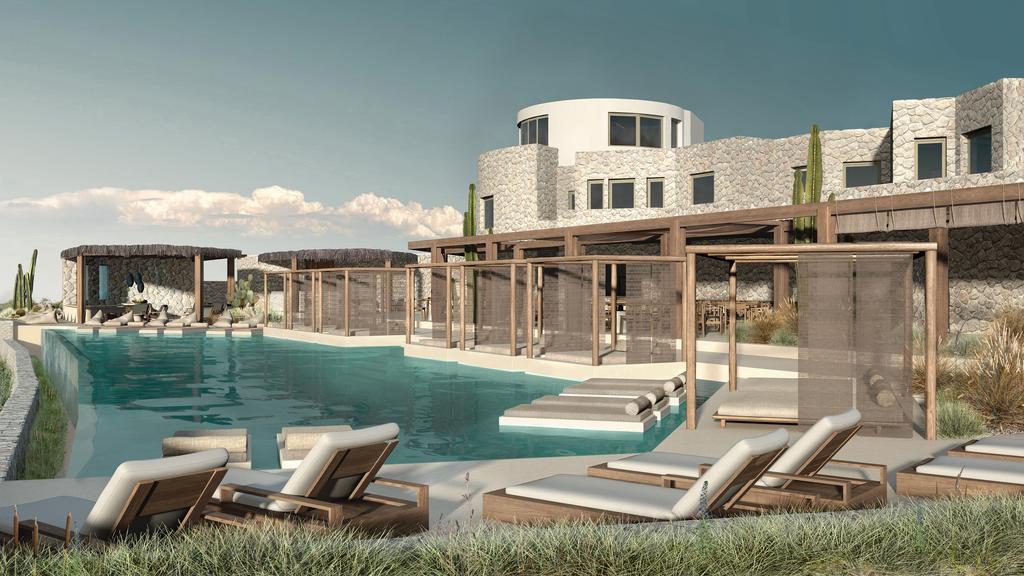 Rocabella is one of the best family hotels in Mykonos, as it is located in a pretty easy-going area and provides some useful services and amenities for families.
This hotel is a more laid-back hotel with views of the Aegean sea sitting right on the coast. The pool has a perfect view of the ocean and if you look closely at night you can see small islands, when the sun begins to set the pool terrace is lit up by candles. Your kids may use the pool, when you don't feel like going to one of the popular beaches of Mykonos.
Several of the rooms have private hot tubs, terraces and sea views. Since the hotel is a bit of a distance from Mykonos city center, the staff are happy to arrange travel around the island. The Rocabella welcomes children and it's suitable for a luxury family vacation. The two-bedroom suite is large enough for most families, with the option for cots, cribs and highchairs can be provided upon request. The hotel also has a library of children's entertainment to keep your little ones happy during your stay.
14. Seablue Villas Mykonos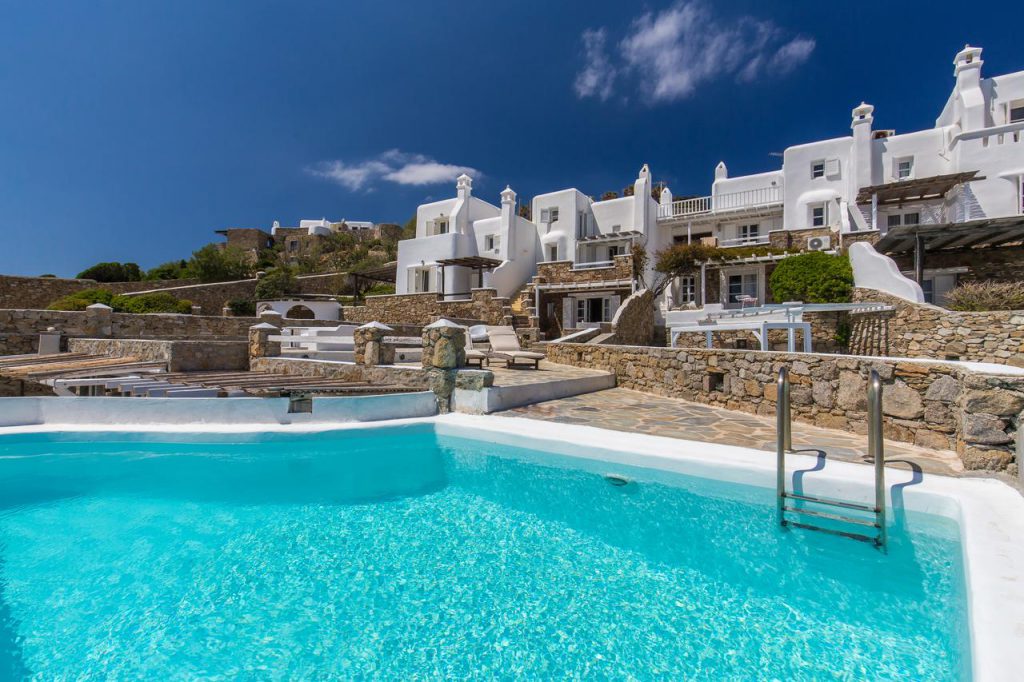 Seablue Villa is the perfect place for a large family holiday. Set high upon a hill, the villa overlooks the ocean from up high, your kids can feel like Greek gods from way up here, almost like they are sitting on Mount Olympus. This villa has a better view of the sunset than most of the areas around the island. It has a swimming pool, four bedrooms, air conditioning, internet and other facilities to ensure you are the most comfortable here. The villa can accommodate up to eight people and gladly welcomes children under 5, as well as older guests. There are tons of areas for children to entertain themselves, such as a breakfast bar style table outside, which kids can draw or write at and lots of places for relaxing and reading books. The villa is self-catering, there is a large kitchen, a patio with an outdoor grill and an al fresco dining area. Highchairs are provided and the price includes a housekeeper who cleans for two hours per day.
15. Hotel Semeli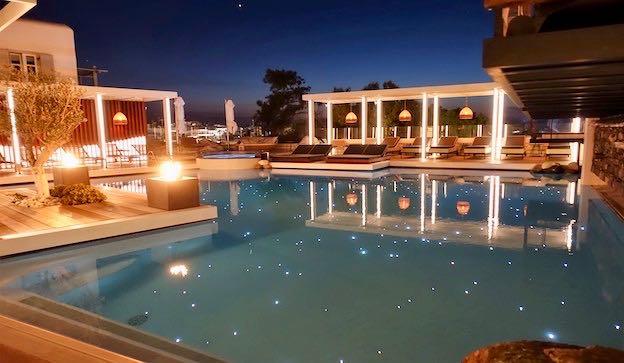 This hotel is an awesome location in the pedestrian zone of Mykonos Town, just a 2-minute walk from the main shops and restaurants of Mykonos Town. Hotel Semeli offers two pools (1 heated and 1 not), two restaurants, plus 24-hour room service, in case your kids get the "midnight munchies". The 3-bedroom Semeli Suite and 2-bedroom Executive Suite (both with jacuzzis) are easily the most luxurious family suites. Even though this is a 5-star hotel, the ambiance is casual and friendly, never too formal.
16. Cavo Tagoo Mykonos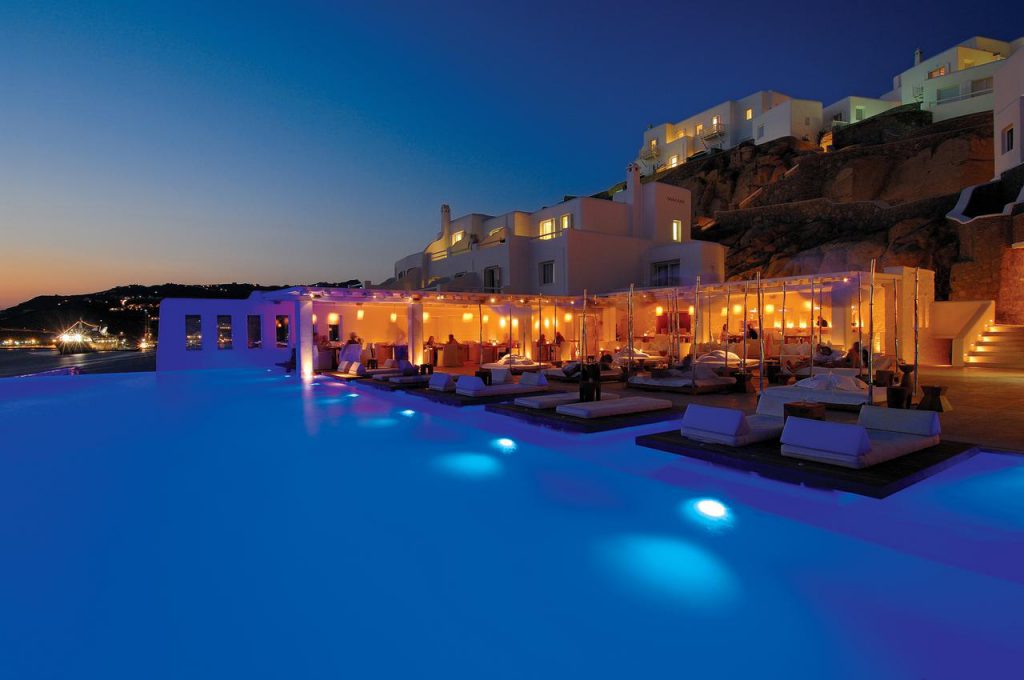 This more swanky hotel has a stunning pool, really spacious suites, and an incredible restaurant and lounge. Suites and villas range from 2-bedrooms and 5-bedrooms, each with their own private jacuzzis or pools. Cavo Tagoo sits to the north of the Old Port of Mykonos Town, which is about 8 minutes walking distance or a 2-minute ride in their complimentary shuttle, which is available 24 hours a day for guests to Mykonos Town, the Airport, or the New Port.
Things to Consider when choosing one of the best family hotels in Mykonos
Here are some things you should check in each family hotel, to make the most out of your experience:
Is the swimming pool appropriate for kids?
Is there a lifeguard in the swimming pool?
Are there any playrooms for kids in the hotel?
Does the hotel offer experiences you could book, for families?
If you have a stroller, does the hotel have easy access to your room (e.g. without any stairs, or with elevators, etc)?
In almost every one of the above-mentioned hotels, you can ask for the following services for free, which are important when you have small babies:
Ask the hotel to warm your baby's milk
Ask the hotel to chop your baby's food or help you blend the food for your baby
Ask the hotel to find a baby sitter for you, for a couple of hours or even more.
Read Also:
5 Mykonos hotels near Paradise beach
Where to Stay in Mykonos on a Budget
The 15 Best Mykonos Hotels on the Beach
Mykonos vs Santorini. Which one is better to visit?
The 15 best Mykonos Hotels with Private Pools
Mykonos Nightlife Guide: The 20 best bars, night clubs and Beach clubs in Mykonos
Best area to stay in Mykonos 
Where to stay in Mykonos: Beach or Town
Best 5 Star Hotels in Mykonos
Best time to visit Mykonos 
Best Suite Hotels in Mykonos
Best Mykonos Hotels near Nammos
Best Mykonos Hotels near Town
Best Mykonos Hotels for Yoga
Mykonos to Athens by Ferry or Flight