So you are a party animal and you wonder where to stay in Mykonos to party during the day and all night long? Fear no more. Here is all you need to know.

Here is the quick list of the party places in Mykonos during the day and night:
Parties in Mykonos during the day:
– Super Paradise Beach Bar at Super Paradise beach(17:00 to 01:00 am)
– Tropicana Beach Bar at Paradise Beach (17:00 to 02:00 am)
– Nammos Beach bar at Psarou Beach (16:00 to 21:00)
– Scorpios Beach bar at Paraga Beach (17:00 to 22:00)
– Kalua Beach Bar at Paraga Beach (17:00 to 21:00)
– Principote Beach Bar at Panormos beach (17:00 to 21:00)

Parties in Mykonos during the Night:
– Mykonos town (several bars and clubs)
– Cavo Paradiso Club, outside of Mykonos town (01:00 am to 07:00 am)
Where are the Parties in Mykonos?
First, let us explain to you where are the parties in Mykonos island. During the day, the parties take place at the beach bars. There is no party atmosphere in Mykonos town during the daytime. During the evening, the party scene is in Mykonos town, and then in a couple of other places outside of Mykonos town, such as Cavo Paradiso Club (parties start at 01:00 am and end at the morning), at Paradise Beach (the parties here start at 5 pm and keep up until 02:00 am) and at Super Paradise Beach (parties start at 5 pm and end at 01:00 am)
So, let's see the best beach party places in Mykonos:
Mykonos – Best Beach Clubs
Nammos Beach Bar at Psarou Beach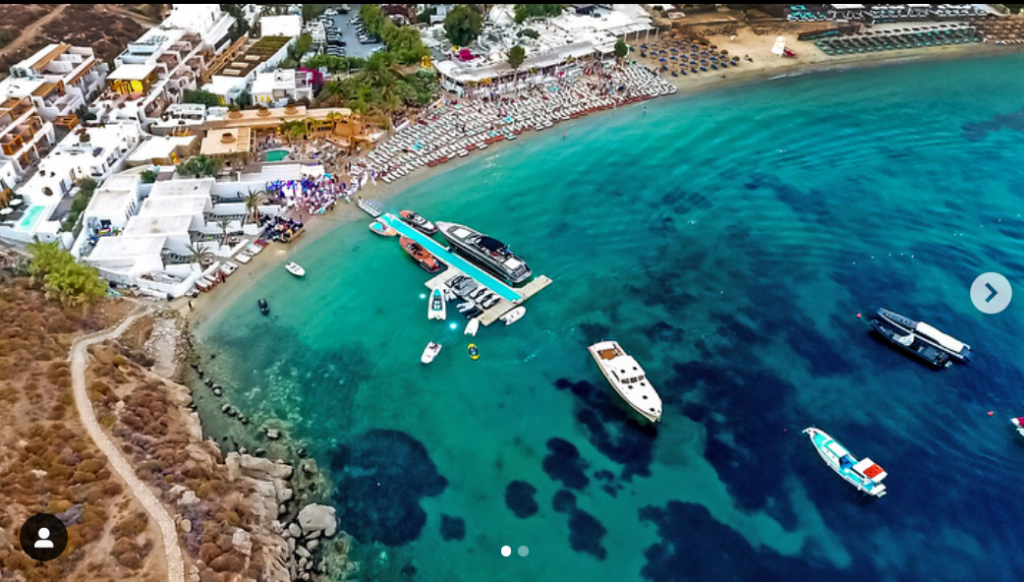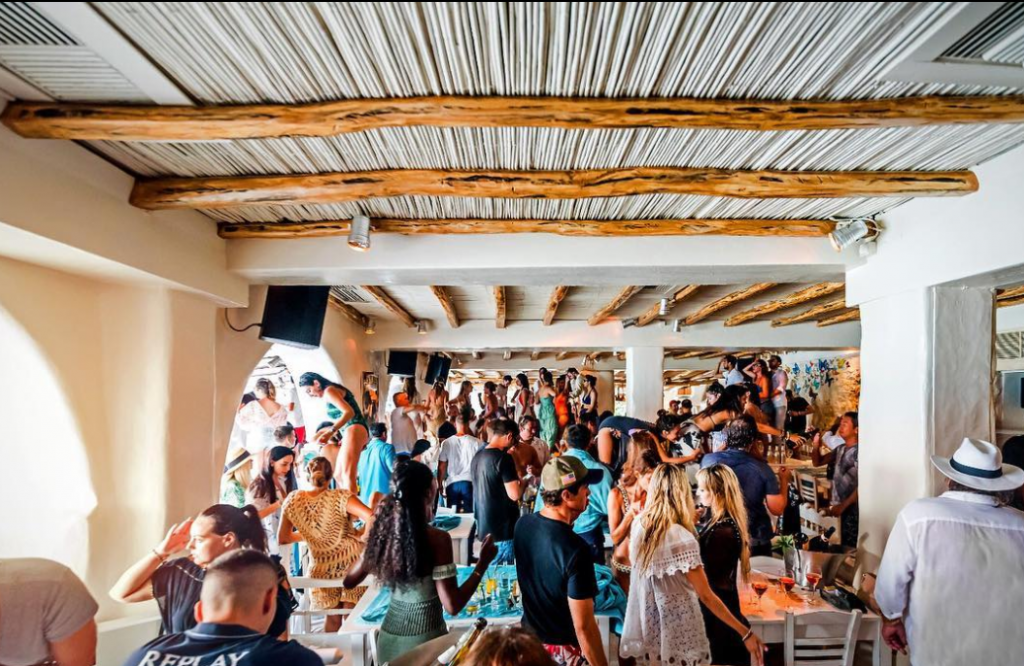 Nammos beach bar is located in Psarou beach and is the most posh bar of Mykonos. Actually, it is the first posh beach bar that opened in Mykonos and Principote beach bar and Scorpios beach bar came after it, once they show the incredible success that Nammos had with high value tourists, willing to spend a lot for their beach entertainment. Nammos has a restaurant and also offers sunbeds. This is not a low-key place. This is the place to see and be seen and to pay a lot to party during the day. Keep in mind that parking costs 20 euros and if you want to leave your car on the street that leads to Nammos, so that you don't have to pay for parking, you will leave it up to the hill and will have to walk down (and then up the hill), in the hot summer. Two sunbeds here will cost you 120 euros and expect to pay at least 60 euros per person in the restaurant. An expensive place that gets overcrowded during August and you may need to wait a long time to get served, seated on your table or to find a sunbed. Be prepared.
---
Kalua Beach Bar at Paraga Beach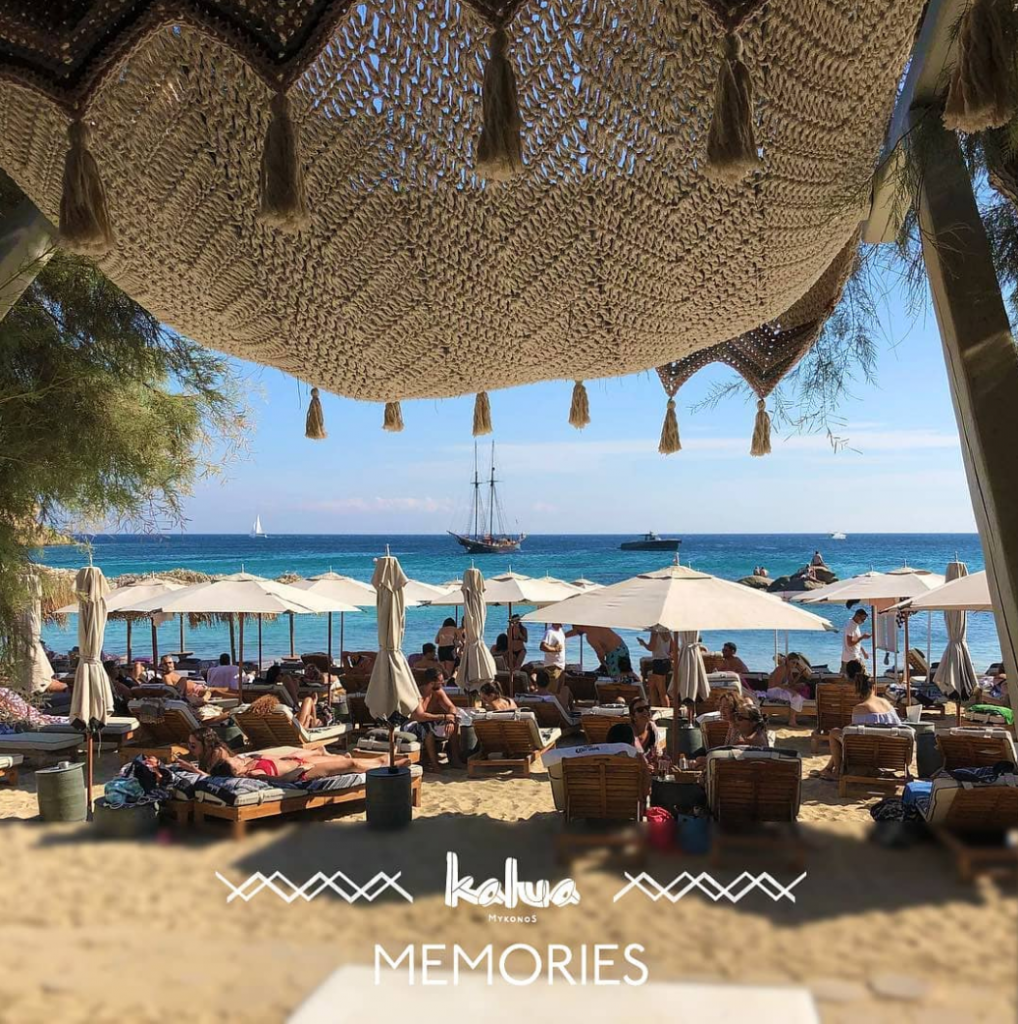 Kalua Beach bar is located in the beautiful sandy beach of Paraga. The sunbed costs 30 euros per person. During July and August you have to be early on the beach (i.e. before 11 am), to find a sunbed without reservation. It has great food and music and a decent, good-looking crowd. Kalua is an expensive place and if you want some more traditional Greek food, you can go to Tasos tavern, which is on the same beach. This place is chill until 17:00 and then the music gets more upbeat and there is a party atmosphere with dancing.
---
Scorpios Beach Bar at Paraga Beach
Scorpios Beach Bar, is located in Paraga beach. The food, the music and the service are excellent and it is a place you can enjoy as a single, couple or family. Make sure you do a reservation for the sunbeds before going, especially in July and August. Music is usually trance and not the popular chart hits. One of the good points about Scorpios is that it is located in a spot from which you can enjoy some great sunset views.
Beers here start at 9 euros and the bottles of alcohol start at 100 euros. The cocktails are at 19 euros and simple drinks at 15 euros (e.g. for a Vodka). The whole atmosphere is "boho-chic", like being in a courtyard next to the beach. If you try to make a reservation some weeks before you go, you will most probably be pushed to pay 200 euros for a cabana. The restaurant here is upper class, with great but expensive food.
---
Tropicana Beach Bar at Paradise Beach
Below you can have a look at the atmosphere in Tropicana (the guy with the red swimming suit is Sasa-The King of Mykonos).
Tropicana beach bar is at Paradise beach. Keep in mind that Paradise beach is different than the Super Paradise beach. Close, but not the same. This is a place frequented by a younger population compared to Principote and Scorpios and is considerably cheaper. It is not as "chic" as the high luxurious beach bars of the island and it has a more regular partying atmosphere. One of the big attractions here is the guy who does the MC, under the name Sasa – he is a real character, wearing strange swimming suits and teasing everyone. Everything here is calm until 16:00 and then the party starts and it usually ends at 02:00 during July and August. In all the other months things are more quiet. If you are in your early twenties it's an ok place to go. There is no particular quality in food and drinks here – usually the drinks are watered down. Mojitos are at 14 euros.
---
Super Paradise Beach Bar at Super Paradise Beach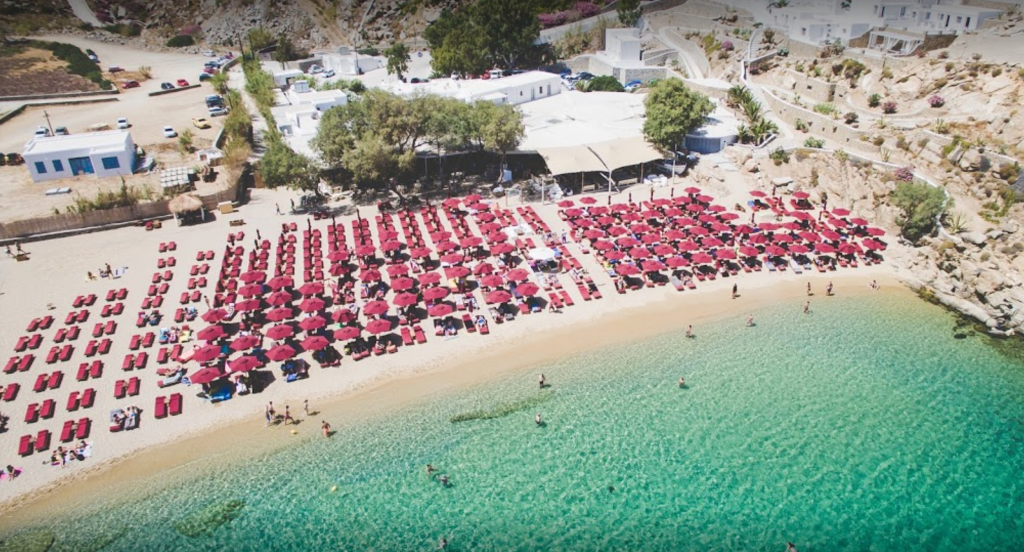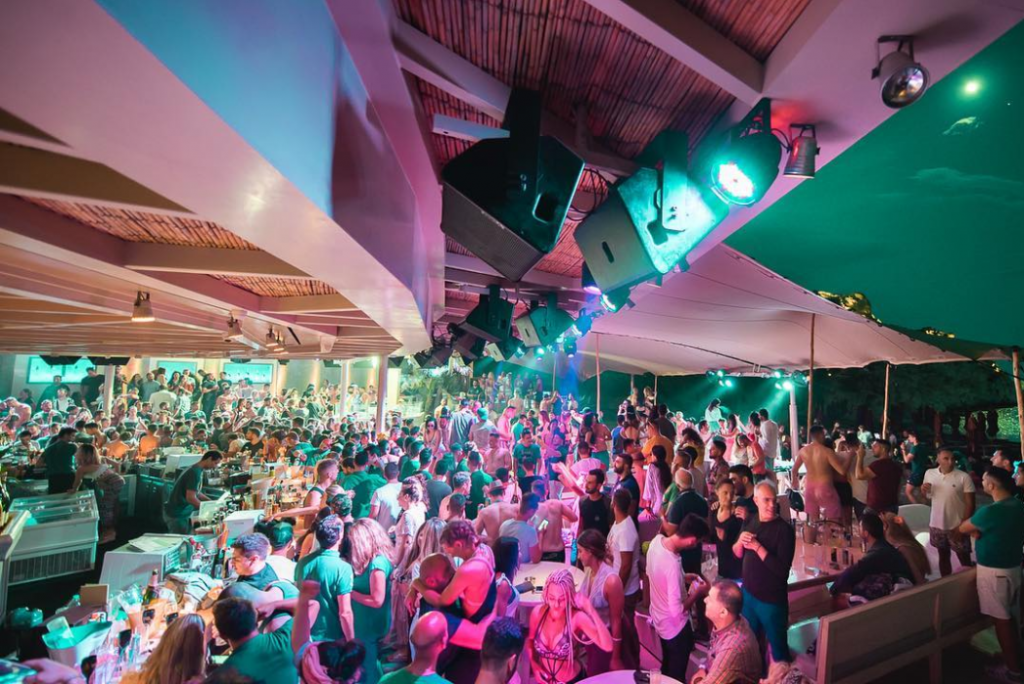 The Super Paradise beach is a long, sandy beach with clear waters and it is far better than Paradise beach, which is close. Here, you will find the Super Paradise Beach bar, which is one of the oldest beach bars on the island. The sunbeds cost 50 euros in the front row, 40 euros in the second row and 30 euros after the third row, for two persons. If you want extra towels, it will cost an additional 5 euros. To find a sunbed in July and August, you will need to come here early, i.e. before 12 AM. The party here starts at around 17:00 and ends at 01:00 am. There is a self-service restaurant, from where you can get beers for 4-5 euros and food, e.g. pasta for around 12 euros.
---
Principote Beach Bar at Panormos Beach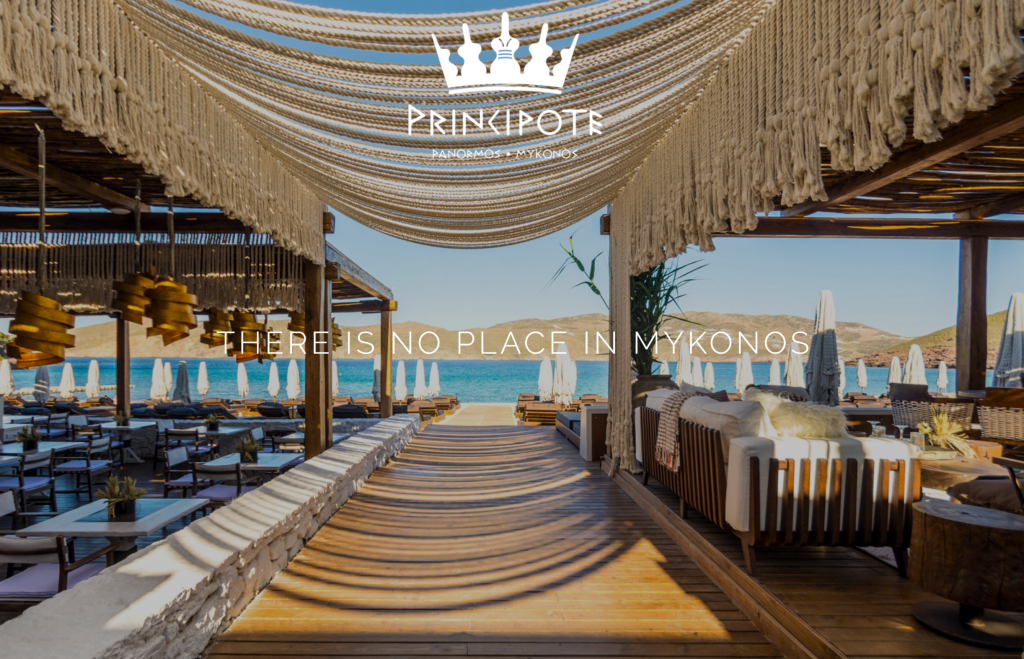 Principote is a relatively new beach bar that opened in 2016 and is one of the most expensive ones in Mykonos. It has a restaurant, beach chairs, a bar and you should do a reservation before going, if it is July or August. This is a great place to do people watch while splurging. Keep in mind that the sunbeds here cost 80 to 100 euros (for two sunbeds and an umbrella set). The sunbeds in the back rows are at 60 euros. The music here is usually a chill mix and the atmosphere is mostly lounge and not a "hard party" atmosphere until 17:30. Then it gets more upbeat and you could do some dancing. The food, the service and the beach are all excellent. Bear in mind that kids are not exactly welcomed here, so it is not a suggested place for a family. As you can understand, the style that Principote preaches, is adored by some and hated by some others. Choose your side.
Here is a video of Principote:
---
Where to Stay in Mykonos to Party?
So, let's get back to our original question, where to stay in Mykonos to party? We recommend that you stay in Mykonos town. It will save you time and money, rather than staying close to a beach bar such as Nammos, Kalua, Principote, and Super Paradise. Here are the pros of staying at Mykonos town to party:

+ In the day you can move to the beach bars by getting a bus from the Fabrika bus stop in Mykonos town. It will be cheaper than getting a taxi, which would cost you 25-30 euros to get you to the beach. So, you can swim, eat at a restaurant on the beach, party for some hours (e.g. from 17:00 to 21:00 and then get the bus and return to Mykonos town)

+ At the evening, all the parties are in Mykonos town. It's far better to stay here, so that you don't have to drive to return to your hotel, especially if you are a heavy drinker. Moreover, Mykonos island has just 35 taxis and during July and August you will have to stay a long time in the queue to get the taxi to get you back home if you are staying away from Mykonos town.
If you are looking for the absolute best hotels in Mykonos town, here is a table with all the 5-star hotels in Mykonos town.
Hotel
Rating
$ June
$ August
Link
Myconian
Kyma
9.2
250
530
Go
Kouros
9.0
386
620
Go
Bill & Coo
9.4
652
895
Go
Boheme
9.2
644
824
Go
Semeli
9.1
350
554
Go
Absolut
9.0
347
594
Go
Cavo Tagoo
8.8
769
1039
Go
Tharroe
9.0
256
452
Go
Myconian Korali
9.0
225
451
Go
You can also read our reviews for these hotels at our post about the best 5 star hotels in Mykonos.