Both Mykonos and Santorini are part of the Cyclades island group in the Aegean Sea. Mykonos is a romantic and gorgeous Greek island that is also known as "The Island of the Winds" attracting an excessive number of visitors every year. Santorini (or Thira) is, in reality, a group of islands that is formed of Therasia, Nea Kameni, Palaia Kameni, Aspronisi, and Christiana. These islands appeared as a result of intensive volcanic activity and make Santorini a huge tourist attraction. Both of the islands are absolutely unique in their beauty and attract all kinds of visitors. If you are thinking of visiting Mykonos vs Santorini, below you will find the detailed description and comparison of each island, separated by each category that will surely help you plan your next trip to the Cyclades.
Related figures and information.
| | | | | | |
| --- | --- | --- | --- | --- | --- |
| Name of the island | Total area | Population | Shoulder season | High season | Low season |
| Mykonos | 105.2 km2 | 15,000 | May, June, September and early October | July and August | Late October to April |
| Santorini | 90.623 km2 | 15,550 | April, May and October | Late June to early September | November to April |
The maps illustrating the locations of Mykonos and Santorini. You can access the map here.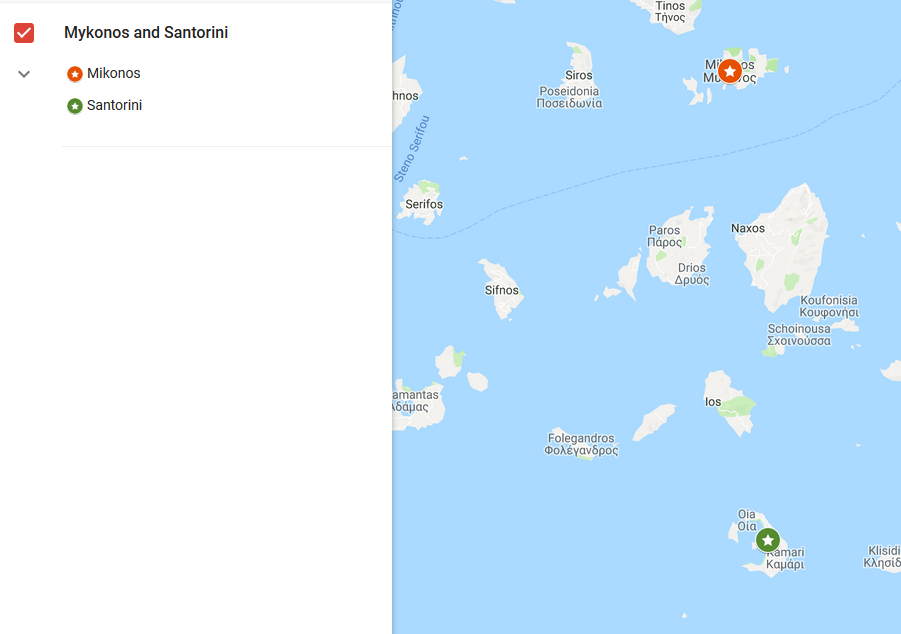 Food: Winner – Both
Mykonos has always been a great place to have a delightful gastronomic experience. Since there are many visitors arriving on this island, it has more than 300 restaurants working to deliver the distinctive dishes of exquisite local cuisine. The main gastronomic raptures of the island are the soft fresh cheese tyrovolia, xynotyro, onion pie and honey pie that are made with cheese, Mykonos tsimbita (sweet cheese pastries mixed with honey, cinnamon and orange zest) etc.. If you are wondering where to dine in Mykonos, visit our page about 15 best places to eat in Mykonos for all budgets. Santorini has a large list of unique local products, such as fried white eggplant, succulent sun-dried tomatoes, tomato pastes, zucchini fritters, and many others. All these products are widely used in the local cuisine recipes and are turned into a creation of art with a modern touch. Typical local Santorini dishes are Santorini pudding, marinated fish, Atherinopita (tiny fish and onion pie), etc. Both islands can give you excellent food experience and a true feeling of Greek culture.
Moreover, both islands have excellent restaurants with Greek, or international cuisine.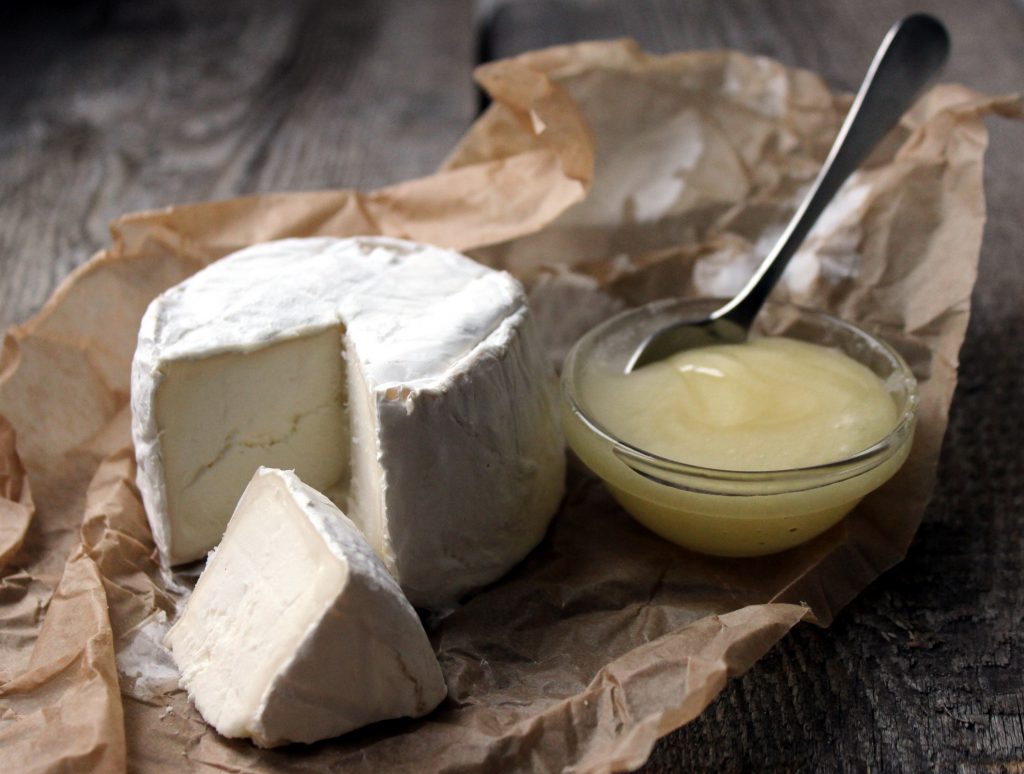 Beaches: Winner – Mykonos
One of the most notable features of Mykonos island is its heavenly beautiful golden beaches with turquoise waters. Santorini, on the other hand, is a volcanic island, thus the beaches are covered with black and volcanic sand that have a detoxifying and anti-stress effect. It does not mean that you will not have an enjoyable beach experience at Santorini, but Mykonos definitely wins here.
The water is crystal clear in both islands and the sea temperature is usually better in Mykonos.
Have a look below at some of the most popular beaches in Mykonos and Santorini, to understand the difference.
Romance: Winner – Santorini
Santorini is known as one of the best places to spend your honeymoon. Many couples visit here to spend a relaxing and peaceful time, enjoying the beautiful sunsets, wine tasting and overall the romantic setting of the island. However, Mykonos is also fit for couples. If you and your other half enjoy parties, tasty food, and golden beaches, this is the destination for you.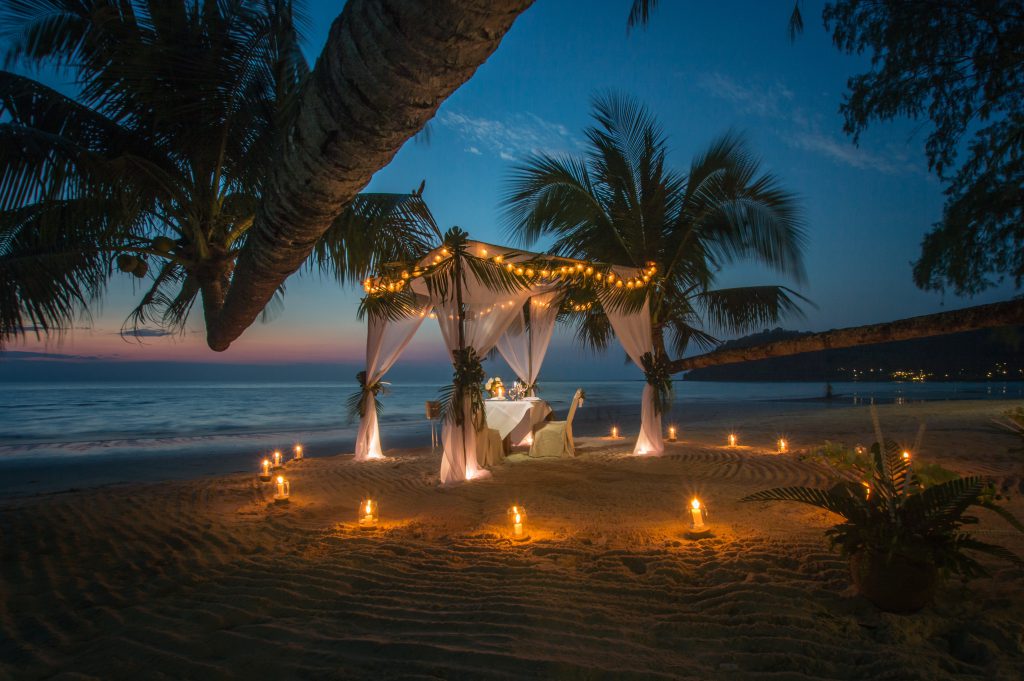 Sunsets: Winner – Santorini
Sunsets at Mykonos are breathtaking and there are many locations, hotels, and restaurants to enjoy them from. Santorini is considered one of the most famous sunset spots in the world, where many people arrive to photograph sunsets and of course, enjoy the view. That is also the reason why the island is considered one of the most romantic places for honeymoons and couples overall.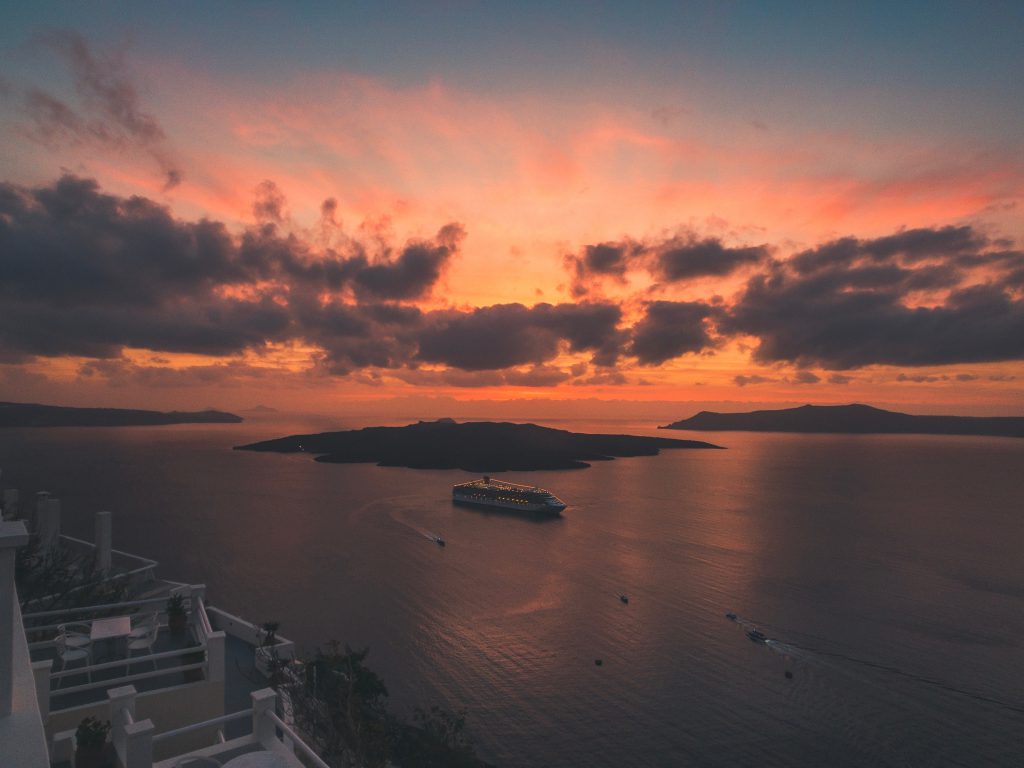 Nightlife: Winner – Mykonos
This one is pretty obvious. You definitely want to go to Mykonos for parties and nightlife adventures. The island is full of bars and clubs of all preferences and there are even places that host daytime parties which may last till morning. Santorini, in comparison, is more low-key and peaceful, although there are few bars on the island that you can visit but, overall the place is not as active after midnight as Mykonos.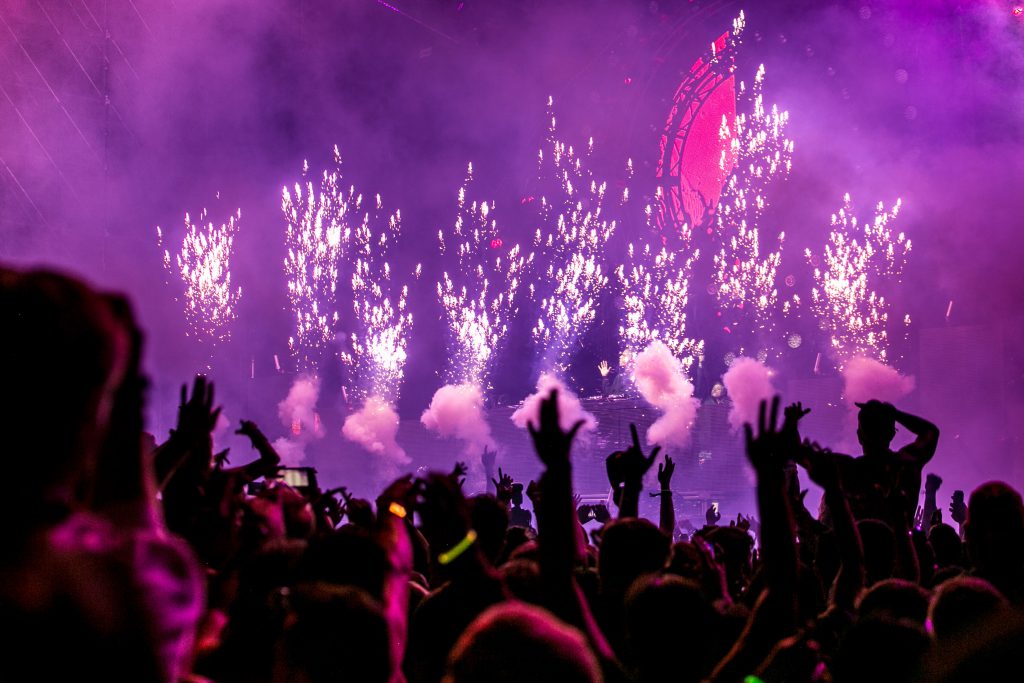 Shopping: Winner – Both
Mykonos has numerous fancy beaches and clubs, and so the demand for shopping is also high. There are many luxury boutiques, such as Louis Vuitton, Gucci, and other leading labels. Santorini also offers wonderful shopping experience but it is based on more independent brands with handmade craft stores and local boutiques. It really depends on which one you prefer more and in any case, you will enjoy your shopping on both islands.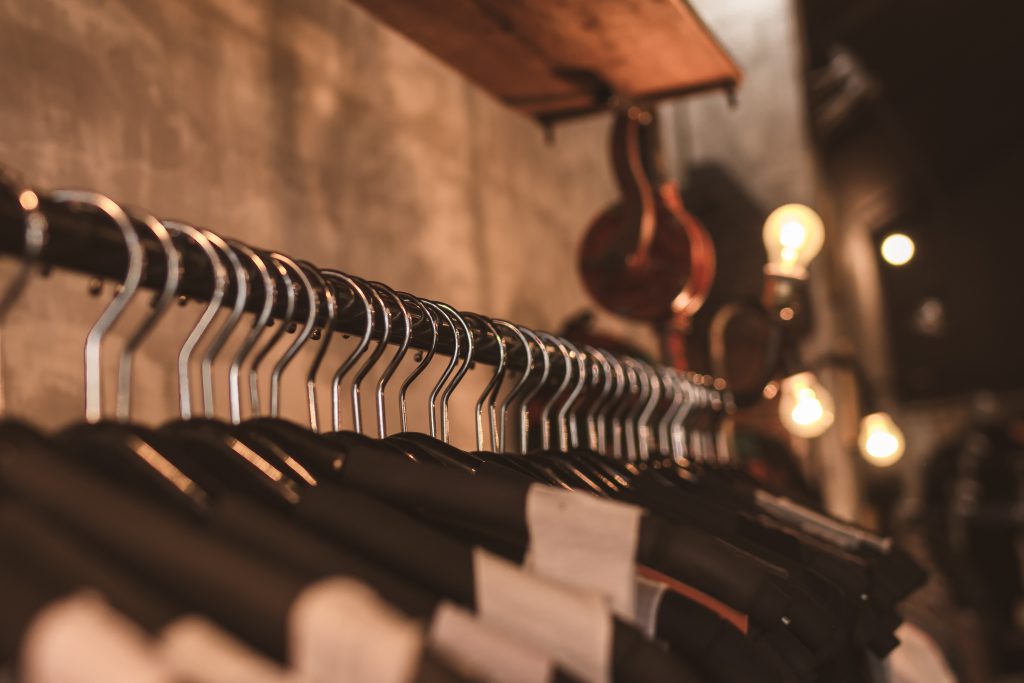 Sightseeing: Winner – Both (given that you travel to Delos)
Although Mykonos has several incredibly interesting places to visit, such as the Archeological museum, the small Cycladic villages, etc., the main tourist sightseeing spot is the neighboring island of Delos, which is literally an open-air museum. Built in the year 1904, Delos has a rare archeological and historical value and is absolutely worth visiting. Santorini attracts tourists with its ancient city of Akrotiri, which is a Minoan Bronze Age settlement and was destroyed by a volcanic eruption. Tourists also enjoy the wine tasting tours in Santorini and a boat trip to the small islet of Therasia that fascinates visitors with its smoke fumes rising from the volcano.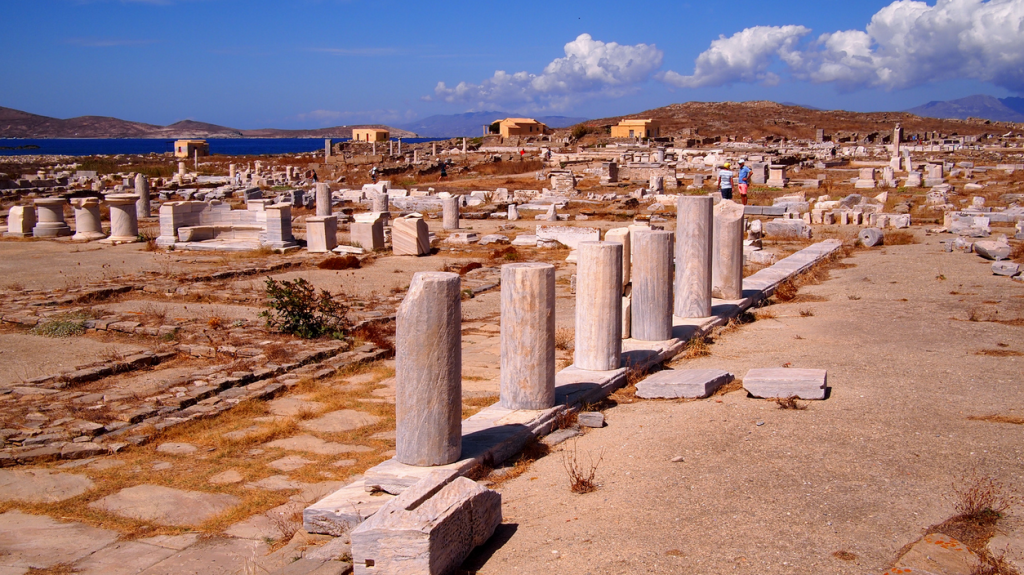 Scenery: Winner – Both
Regarding the scenery, it actually depends on your taste, as both islands have absolutely fascinating nature and charming places that you will enjoy during your visit. Santorini has magnificent cliff-top villages, breathtaking sunsets and beautiful beaches that make the island one of the most visited places of Cyclades. Mykonos easily rivals with Santorini with its famous nightlife locations, elegant main town with marble maze streets and Little Venice, which is one of the most iconic and picturesque places of the island.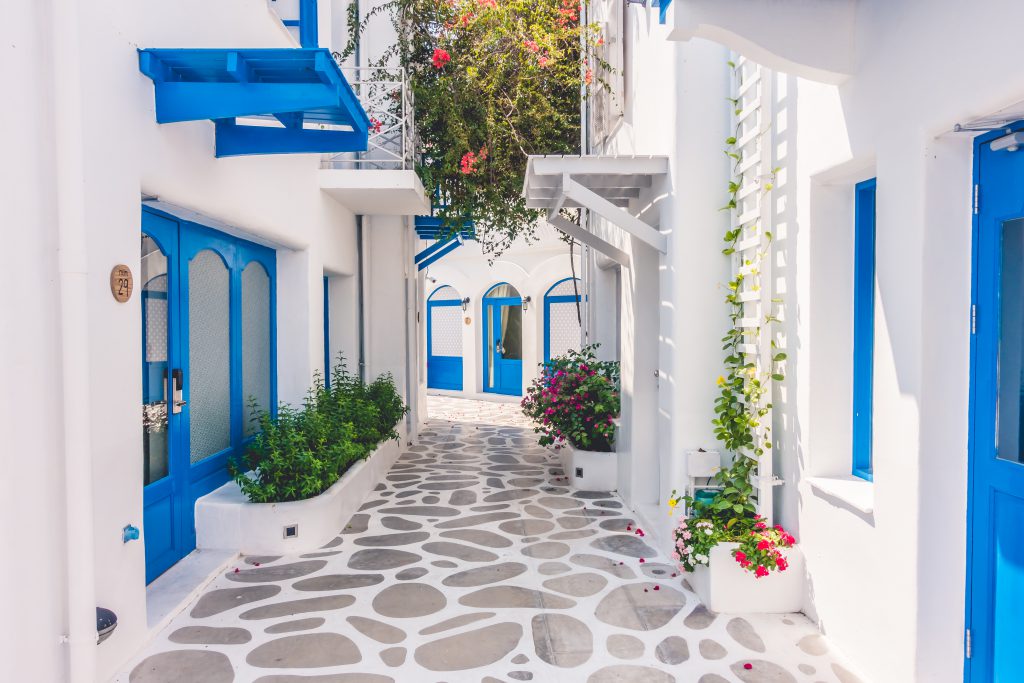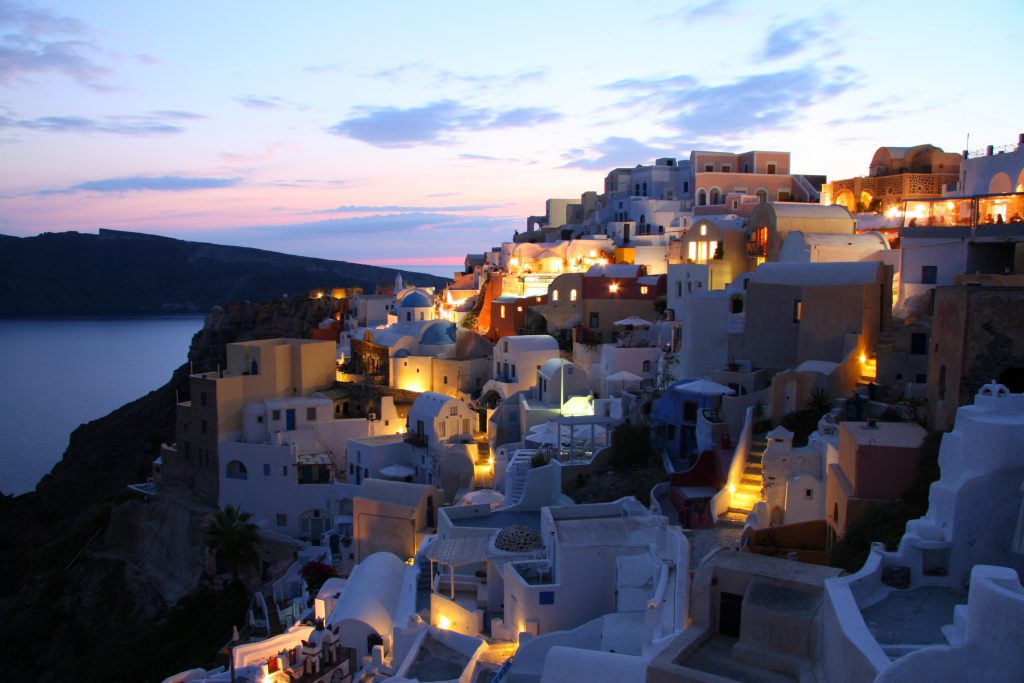 Off-season visits: Winner – Santorini
If you are visiting the Cyclades outside the high season, you should consider that both islands are very quiet, hence many hotels, restaurants, beach towns, and bars are closed. And since the beaches are not the main reason to visit Santorini, you can easily find other things to entertain yourself with, especially in April, May, and October, when the prices are very low. Mykonos, on the other hand, is much quieter from late October to April.
Is Mykonos more expensive than Santorini?
Yes, Mykonos is more expensive than Santorini, even though both islands are very expensive during the peak season of July and August. Let us explain to you why. During August, you cannot find a hotel or a room to let in Mykonos for less than 120 euros per night. In Santorini, during August, you can find budget rooms in Perivolos and Perissa villages for less than 100 euros. Moreover, Santorini has more budget restaurants outside of the main town of Fira, where you can eat for 20 euros per person. Mykonos has almost no budget restaurant – we don't count the "souvlaki places" where you get a pita with souvlaki for 3 euros. Having said that, you have to know that both Mykonos and Santorini are the two most expensive Greek islands.
Easier to Reach: Winner – Mykonos
Is Mykonos or Santorini more easy to get to? Both islands have an airport, so if you are flying to Mykonos or Santorini, it's the same thing for you. Flying from Athens to Mykonos takes 25 minutes and flying from Athens to Santorini takes 30 minutes. However, if you get the ferry from any one of the two Athens main ports (Piraeus port or Rafina port), you will get faster to Mykonos than to Santorini, as Mykonos is closer to the mainland of Athens than Santorini. The fast ferry from Rafina will get you to Mykonos in 2 hours and 20 minutes, while you will need around 5 hours to get to Santorini with the fast ferry (SuperRunner is the name fo the fast ferry and it costs 45 euros per person). The slower ferry will get you from Rafina port to Santorini in 8 hours and 35 minutes and costs 35 euros per person. Both islands have daily ferry routes and many flights every day from Athens, during the summer.
Island Hopping: Winner – Mykonos
If you want to do some island hopping and travel to nearby islands from Mykonos or Santorini, then Mykonos is a better base for your island hopping vacation. Mykonos has many nearby islands to visit, such as Tinos, Paros, Naxos, Koufonisia and the small Cyclades islands (Schoinoussa, Irakleia, Donoussa).
On the other hand, Santorini is close to Folegandros, which is a beautiful volcanic style island but all the rest islands are more difficult to reach.
Here are some examples of island hopping routes from Mykonos and Santorini, to three of the most popular islands (Paros, Naxos and Koufonissia):
Santorini to Paros with the Fast Ferry: 2 hours. 29 euros per person.
Santorini to Paros with the Slow Ferry: 3 hours and 15 minutes. 23 euros per person.
Mykonos to Paros with the Fast Ferry: 40 minutes. 36 euros per person.
Mykonos to Paros with the Slow Ferry: 1 hour 35 minutes. 23 euros per person.
Santorini to Naxos with the Fast Ferry: 1 hour 25 minutes. 43 euros per person.
Santorini to Naxos with the Slow Ferry: 2 hours 15 minutes. 22 euros per person.
Mykonos to Naxos with the Fast Ferry: 35 minutes. 38 euros per person.
Mykonos to Naxos with the Slow Ferry: 1hour 40 minutes. 29 euros per person.
Santorini to Koufonissia with the Fast Ferry: 2 hours 25 minutes. 47 euros per person.
Mykonos to Koufonissia with the Fast Ferry: 1 hour 24 minutes. 56 euros per person.
Weather: Winner – Santorini
The weather is pretty similar to both islands, as the temperatures are almost the same. Moreover, you will not find rain during July and August in Mykonos or Santorini. The reason that we selected Santorini as a winner in the weather section, is that Mykonos has very strong winds for some days during August. Santorini has also windy days but less than Mykonos. It's not random that Mykonos is called "the island of winds" in Greece.
Rich and Famous Visits: Winner – Mykonos
If you love people watching, both islands will satisfy you. Mykonos is the clear winner, as it is the place that all rich and famous visit during the summer. D Squared as an example, come to Psarrou beach in Mykonos every summer with their luxurious boat, and you will see them partying in Nammos beach bar in Psarrou. They usually throw a "Gods of Hedonism party"; just search for it on the web to have some fun.
Quality of Service: Winner – Mykonos
Mykonos is the clear winner here, as it is the island with the best quality of service in all Greece. The hoteliers, restauraters and merchants in Mykonos are famous for the service they provide (and for their expensive prices of course). However, in Mykonos you get what you pay for. In Santorini, you will find many places with a great service but overall, Mykonos is a safer bet in this category. The tourist traps are by far more in Santorini than in Mykonos.
Crowds: Winner -Mykonos
Both Mykonos and Santorini are famous throughout the world, so they attract many visitors every year. However, Santorini is more visited (and it has more rooms and hotels than Mykonos), so it gets by far more crowded during the peak months of July and August. During June, September, May and October, both islands are pretty much ok, and not overloaded with crowds.
Read Also:
5 Mykonos hotels near Paradise beach
Where to Stay in Mykonos on a Budget
The 15 Best Mykonos Hotels on the Beach
Mykonos vs Santorini. Which one is better to visit?
The 15 best Mykonos Hotels with Private Pools
Mykonos Nightlife Guide: The 20 best bars, night clubs and Beach clubs in Mykonos
Best area to stay in Mykonos 
Where to stay in Mykonos: Beach or Town
Best 5 Star Hotels in Mykonos
Best time to visit Mykonos 
Best Suite Hotels in Mykonos
Best Mykonos Hotels near Nammos
Best Mykonos Hotels near Town
Best Mykonos Hotels for Yoga
Mykonos to Athens by Ferry or Flight