We got the question of "Is Mykonos expensive?" from our readers, so here is information on what you should expect to pay in Mykonos.
When is Mykonos the most expensive, throughout the year?
The high season in Mykonos is from the middle of July and it ends around the 15th of August. This is the most expensive period on the island in terms of hotel prices and service prices. During the high season of tourism, visiting Mykonos can be rather expensive but if you plan it out properly then you can still visit during the summer and save yourself some money. If you are planning your trip around the low season is April, May, June and September, October, you should expect to see prices for hotels to drop 30-40% during the low season. The prices for the food and the restaurants are the same during all seasons.
Of all the Greek islands, Santorini and Mykonos are the two more expensive islands in Greece. The hotels and hostels in Mykonos run at a reasonable scale throughout the seasons, if you are trying to travel and save some money it is good to travel during off seasons – the more expensive months are in July and August. Though the cost of hotels might be higher during the high months the attractions always stay inexpensive.
Just like with anything else when traveling, there are certain tricks that you can use to "hack" your way through traveling at a much cheaper rate. For example, in Mykonos, there are deals all the time to help travelers save money on their hotel rates, but what about everything else? Most of the time you can save yourself some money if you are being savvy about where you are shopping and eating. If you are shopping and eating at the exclusive hotels, expect you are going to pay at least a 50% increase in comparison to a local "mom and pop" shop.
Prices of 5 star hotels in Mykonos
Here is a table with the prices of the 5-star hotels in Mykonos:
Hotel
Rating
$ June
$ August
Link
Myconian
Kyma
9.2
250
530
Go
Kouros
9.0
386
620
Go
Bill & Coo
9.4
652
895
Go
Boheme
9.2
644
824
Go
Semeli
9.1
350
554
Go
Absolut
9.0
347
594
Go
Cavo Tagoo
8.8
769
1039
Go
Tharroe
9.0
256
452
Go
Myconian Korali
9.0
225
451
Go
Prices for Food, RentaCar and other Services in Mykonos
High Season Prices
A meal in a low budget restaurant: 25 euros/person
A meal in a medium budget restaurant: 50-60 euros/person
A meal in a high budget restaurant: 100 euros/person and up
The lowest price for renting a car in July: 40 euros/day
Price for two sunbeds and an umbrella in a popular beach: 30 euros to 80 euros depending on the beach club and whether you get a front row to the beach or not.
How to Save Money when visiting Mykonos
So, if you are wanting to save money here are a few tips when visiting Mykonos.
Plan your trip outside of tourist season
Not only are you going to get better quality service but the prices of everything on the island are going to be priced reasonably because they are not marked up for tourists. Plan to go during September (the sea is still warm, the weather is great and the prices are 25% lower than in August and July), or in May or June.
No matter when you visit Mykonos you will find a better deal when you are shopping and eating at the family owned and operated businesses. If you are traveling during the height of tourist season, try not to shop in the tourist "trap" areas. That is where shops are known to up their prices because of the dense foot traffic from tourists. The same thing goes for eateries.
Outside of tourist season, many of the shops are willing to haggle with you if you have the stones to present a deal. The worse thing that could happen is that they say 'no' and you still end up buying from them so everyone is happy.
Enjoy the free things to do
Around Mykonos, there are lots of things to enjoy around the island that won't cost you a penny. This is a great way to save some money for yourself and still being able to enjoy the beautiful island of Mykonos. These activities include walking through town, getting a tan on the beach, visit the Windmills of Mykonos, take a trip to Ano Mera, explore Paraportiani church, enjoy the Mykonos Folklore Museum, hike to the lighthouse in the old town. All of these things and more won't cost you a dime.
There are some great options for food and believe it or not (and a good thing to remember) food and drinks are pricier at the beaches, than in the Mykonos downtown (Chora). So, if you want to save some money on food and drinks, follow this step:
Have at least one or two meals in the apartment or bring sandwiches and wraps with you. There are small markets in Mykonos that are less expensive than restaurants.
Don't eat and drink at the beach. Beach bars are the most expensive places on the island.
Enjoy drinks in downtown. There are clubs with decent prices, where you can buy cocktails for 7 to 10 euros, beer for 5 euros or so. There are also some bars that offer one free drink.
Avoid luxurious restaurants, there are several fast food stores in Mykonos Chora where you can enjoy sukiyaki at a lower price.
Bring some food with you, like cans and other breakfast food. If you live far away and you can't bring food on the plane, you can buy it in Athens, it is cheaper than on the island.
Now that you've heard how to save a little money around the island – let's talk about HOW to get and around the island as cheap as possible.
If you are looking for a cheap way to get to Mykonos, you will want to avoid flying there. No matter what time of year you visit – flying to a tiny airport is expensive. The cheapest way to get to the island is on a ferry. There are more than four ferries a day from Athens to Mykonos in the summer months. Fares for Athens to Mykonos ferries cost from 20€ to 40€ and the journey takes between 2 and 5 hours.
The cheapest ferry from Athens to Mykonos is the Blue Star. The fastest ferry is the SeaJet. Ferry schedules can change with little notice so check sailing times before travel. If you miss the morning departure, no worries there are several options and departure times. For peace of mind and simplicity booking through FerryHopper.com is recommended.
The quickest way to get around is to rent a moped or scooter, which are cheap, but they require a license. You can rent a moped for one day for 22 EUR (but as low as 10 EUR per day in the low season). Bus tickets cost about 1.60 EUR (night buses cost 2 EUR). You can take the bus, which leaves every 30-60 minutes, but the frequency depends on the season. A taxi around the island will cost between 9-18 EUR per person, but there is a limited amount and, depending on if it's busy, you could be waiting for hours.
Is Mykonos expensive? What budget would a couple need per day in Mykonos?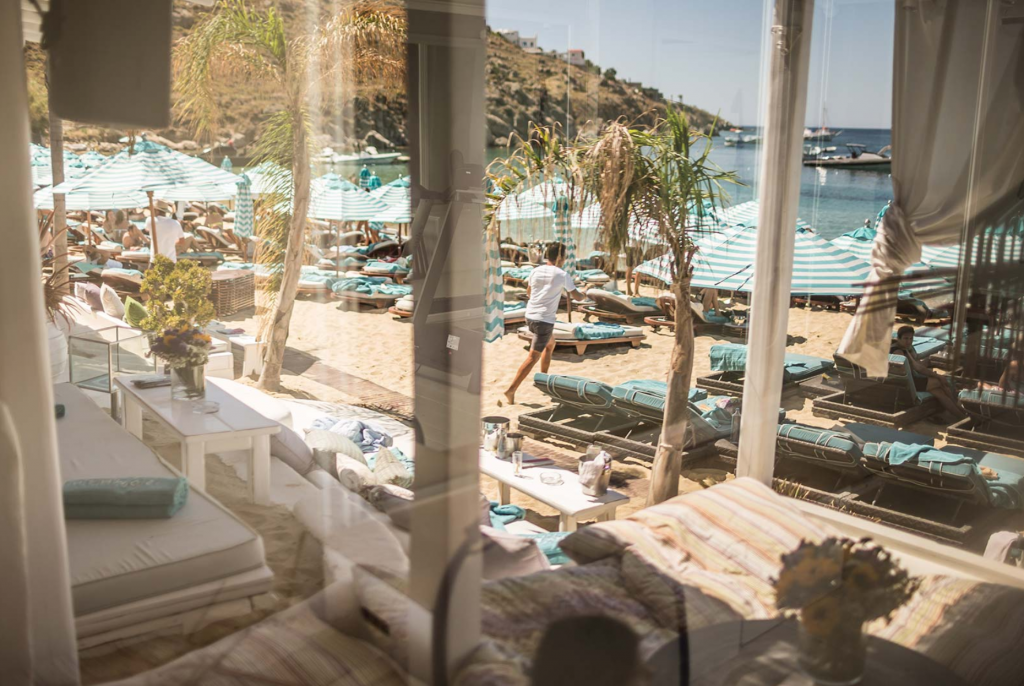 During the high season (July, August), the daily budget you should plan for would be:
Hotel Budget: a minimum of 170 euros/night for a decent double room, with free breakfast included
Beachtime Budget: 40 euros for two sunbeds and an umbrella. Two cold coffees will be 10 euros and if you get some waters and a couple of beers, you will need another 20 euros. A total of 70 euros for spending 4-5 hours on the beach, without eating anything.
Lunch: 50 euros for two persons
RentACar: 40 euros per day
Dinner: 70 euros for a two-persons dinner
Drinks in a bar in the evening: a minimum of 10 to 15 euros per person for a drink or cocktail. This can go much higher obviously, depending on your drinking habits.
So, a conservative total budget per day for a couple, is around 450 euros per day in Mykonos, during the high season.
Read Also:
5 Mykonos hotels near Paradise beach
Where to Stay in Mykonos on a Budget
The 15 Best Mykonos Hotels on the Beach
Mykonos vs Santorini. Which one is better to visit?
The 15 best Mykonos Hotels with Private Pools
Mykonos Nightlife Guide: The 20 best bars, night clubs and Beach clubs in Mykonos
Best area to stay in Mykonos 
Where to stay in Mykonos: Beach or Town
Best 5 Star Hotels in Mykonos
Best time to visit Mykonos 
Best Suite Hotels in Mykonos
Best Mykonos Hotels near Nammos
Best Mykonos Hotels near Town
Best Mykonos Hotels for Yoga
Mykonos to Athens by Ferry or Flight