Tantalizing tastes from Nammos Resturant along the beach that uses some of the most exquisite ingredients man can find on earth. To the heart of the Nammos' culinary creations is the desire and devotion to making great food paired with the most eclectic ambiance. A visit to the Nammos Restaurant can only be described as love at first bite experience!
So if you are planning on visiting Nammos frequently during your visit to Mykonos you'll want to find a hotel that is within a close or walking distance from this amazing slice of paradise on the island of Mykonos
---
Reviews of the Best Hotels near Nammos
Mykonos Blu Grecotel Exclusive Resort – At Grecotel Mykonos Blu hotel, every detail has been carefully considered. Elegant, refined and considerate service mirrors the resort's meticulousness and utmost respect for privacy. Its distance from Nammos restaurant is 450 meters, as it is located very close to Psarou Beach.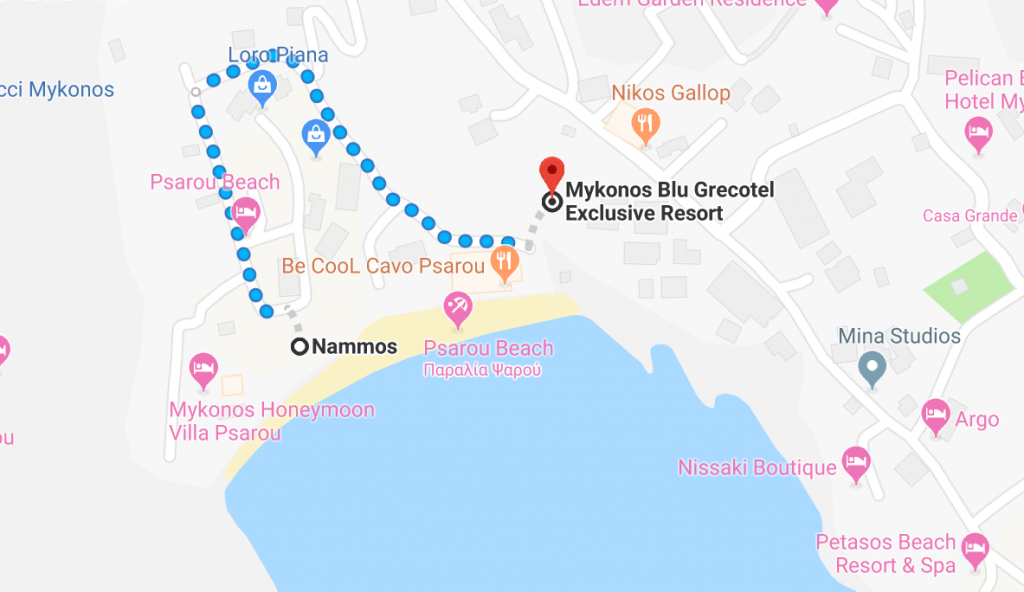 Palladium Boutique – Palladium Hotel features romantic accommodations with Aegean Sea or pool views, a 2-minute walk from Psarou Beach. Palladium hotel is 700 meters from Nammos restaurant, or around 11 minutes on foot.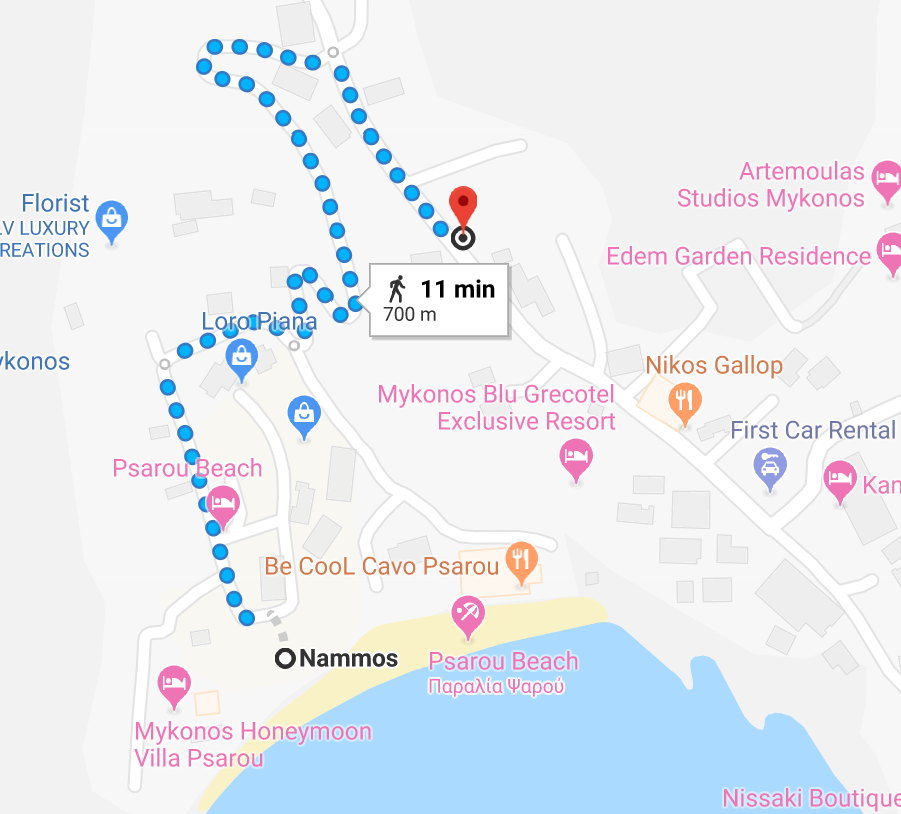 Argo Hotel – Only 350 feet from the famous Mykonos' blue-flag Platis Yialos beach, this beautifully styled Cycladic-style hotel offers tons of rooms with pool views. This hotel is just a short jaunt from Mykonos' famous sandy beaches Paraga which is close Nammos. Argo hotel is 1100 meters away from Nammos, or around 16 minutes walk.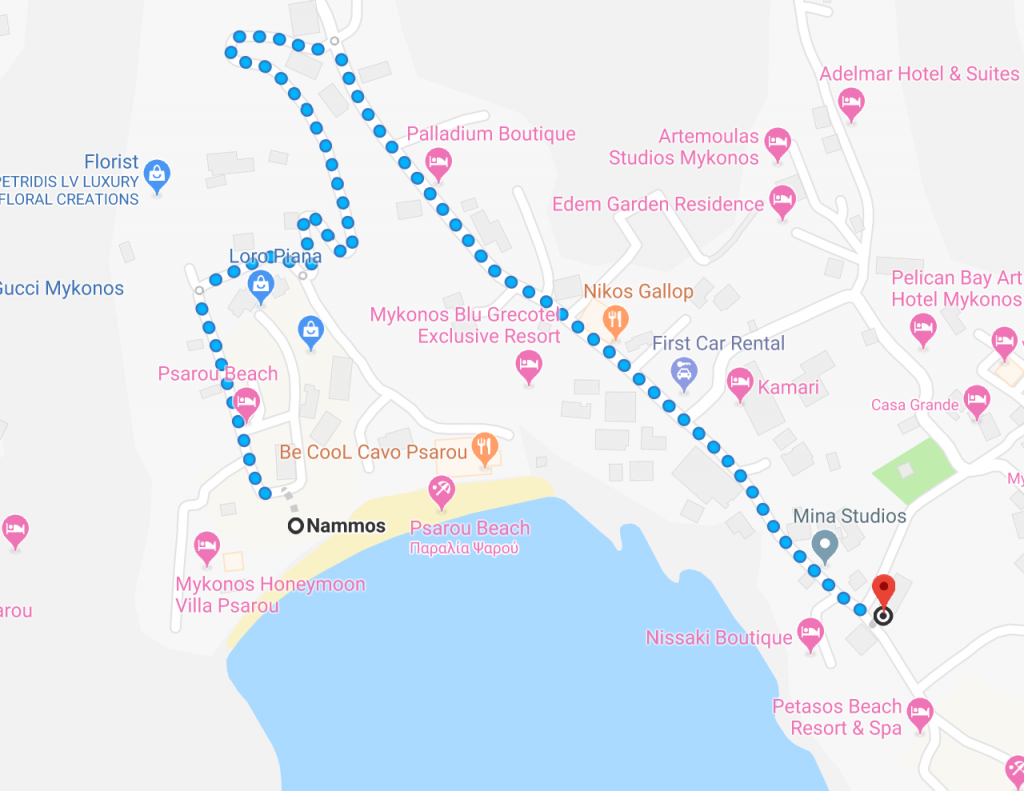 ---
Kamari Hotel – Kamari hotel is located just a few feet from the beach of Platys Gialos, on the southwestern side of Mykonos. The nearby Psarou Beach and Paradise Beach offer more options for sparkling oceans and sandy beaches. All of the beautiful Kamari Mykonos hotel rooms are equipped with a balcony or a veranda with a sea, pool or garden view. Kamari hotel is 1km or around 14 minutes walk from Nammos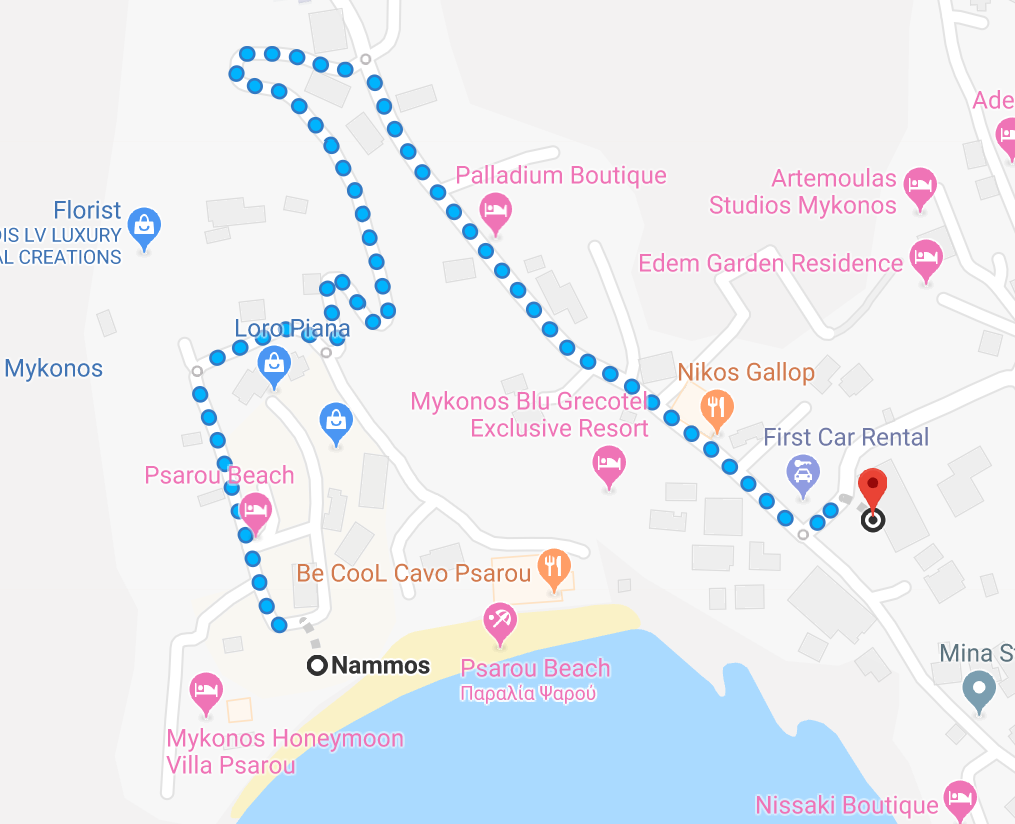 ---
Kensho Psarou – This hotel was built with deep respect to Aegean architecture Kensho Psarou is located in Psarou Beach of Mykonos Island, just a few feet of the sea. This property also provides guests with an outdoor pool and a hot tub. Fitted with local stone and aged wood, the accommodations are an elegant design that all guests will love and appreciate. Kensho is only 160meters from Namos restaurant, or 2 minutes walk.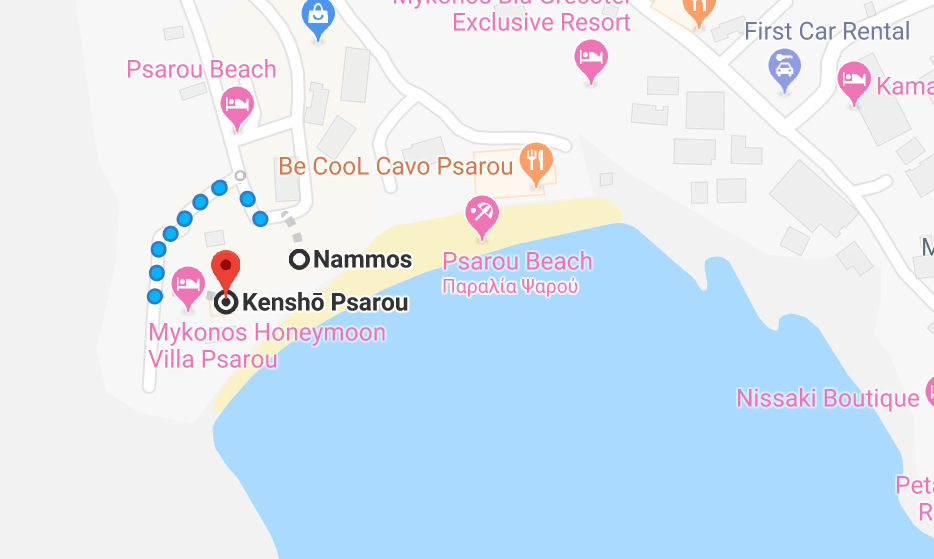 ---
Studios Katerina – Studios Katerina offers beautiful accommodations in Platis Yalos. Most of the units have a terrace and/or patio. Just a short walk from Nammos which is perfect to be able to spend the day and walk back to your hotel.
Mykonos Beach Hotel – Situated along the Megali Ammos Beach, with balconies overlooking the Aegean Sea. Start your day with a buffet breakfast served daily that is a 10-minute walk from the center of town and famous Mykonos beaches.
Nissaki Boutique Hotel – This hotel is known for its exceptional view of the famous Psarou Beach. It overlooks the stunningly-blue Aegean Sea and is just a short walk to the sandy Platis Gialos beach and Nammos.
Trinity Mykonos – The Trinity Mykonos has a private beach area and a seasonal outdoor swimming pool. The hotel is set a few minutes' walk from Scorpios, Nammos, Branco, and Paradise beach.
Kensho Villa Psarou – If you are looking for a villa within walking distance from Nammos with an outstanding view of the Aegean Sea then this is your spot! This villa sleeps eight people with a private pool and a fully equipped kitchen.
Read Also:
5 Mykonos hotels near Paradise beach
Where to Stay in Mykonos on a Budget
The 15 Best Mykonos Hotels on the Beach
Mykonos vs Santorini. Which one is better to visit?
The 15 best Mykonos Hotels with Private Pools
Mykonos Nightlife Guide: The 20 best bars, night clubs and Beach clubs in Mykonos
Best area to stay in Mykonos 
Where to stay in Mykonos: Beach or Town
Best 5 Star Hotels in Mykonos
Best time to visit Mykonos 
Best Suite Hotels in Mykonos
Best Mykonos Hotels near Nammos
Best Mykonos Hotels near Town
Best Mykonos Hotels for Yoga
Mykonos to Athens by Ferry or Flight