Mykonos is a top destination for active and crazy nightlife, attracting many young people from all over the world every year. In our Mykonos nightlife guide you will discover amazing beaches, elegant nightclubs and beach bars with international DJs that party at all hours of the day and night: Mykonos is definitely the greatest competitor of Ibiza.
Have a look below to discover the best places to party in Mykonos during the day or night. If you wonder where to stay in Mykonos to party, read our guide here.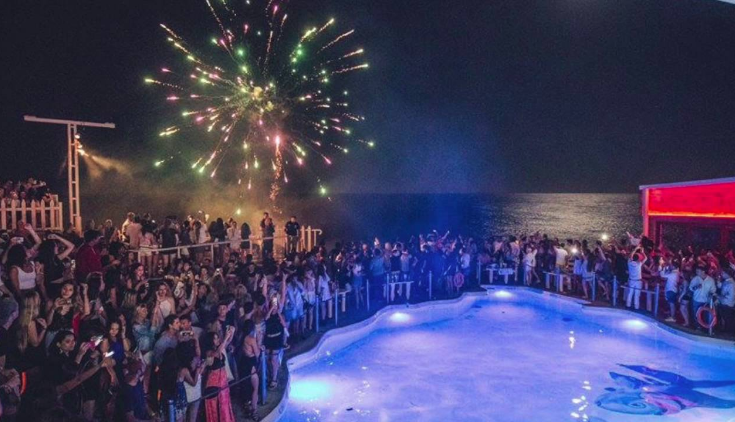 Cavo Paradiso is Mykonos' premier out-of-town club and deserves a premium position in our Mykonos nightlife guide. With a huge open-air dancefloor, Cavo Paradiso invites every year the most popular DJs from around the world and one of its best selling points is how it manages to incorporate the island's natural beauty with a superb design. For tickets, the best way is via promoters that sell tickets on beaches and bus stations with discounts
Website: cavoparadiso.gr
Opening times: 11.30pm – 7am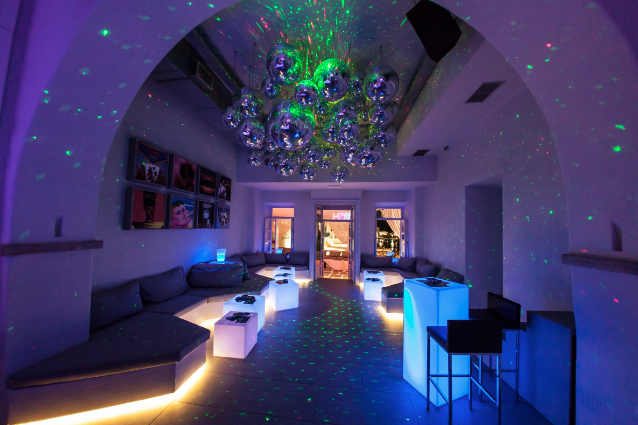 A chic addition to Mykonos nightlife scene, @54 is a lounge bar and dance club that attracts a varied clientele. The sunset view terrace is the perfect place to snap a great picture while enjoying old school disco music perfectly mixed with house. Live performances on Wednesdays and Saturday with drinks reasonably priced.
Website: facebook.com/at54Club/
Opening times: 9pm – 4am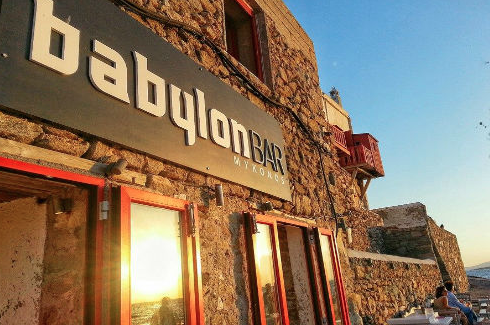 With a predominantly gay clientele with funny themed nights and drag shows, Babylon gives its best after midnight. Mainstream music, techno and oldies take the clientele through the night until early morning. Décor and seaside location complete the setting for a great night out. Cocktails prices are average and they offer one of the best Cosmopolitan in town
Website: https://www.facebook.com/babylonmyk/
Opening times: 7.30pm – 6am
SKANDINAVIAN BAR AND CLUB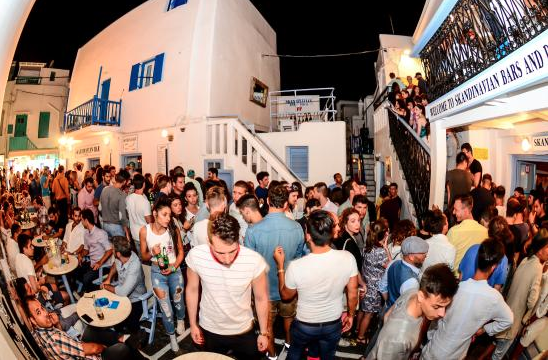 Perfect combination of reasonably priced amazing cocktails, open-air dance floor and patio area, Skandinavian Bar & Club hosted the best nights for youngsters for almost 40 years. This club gets busy after midnight so better not get there too early to avoid spending your night talking only to the staff before the actual party starts
Website: https://www.skandinavianbar.com/
Opening times: 8pm – 6am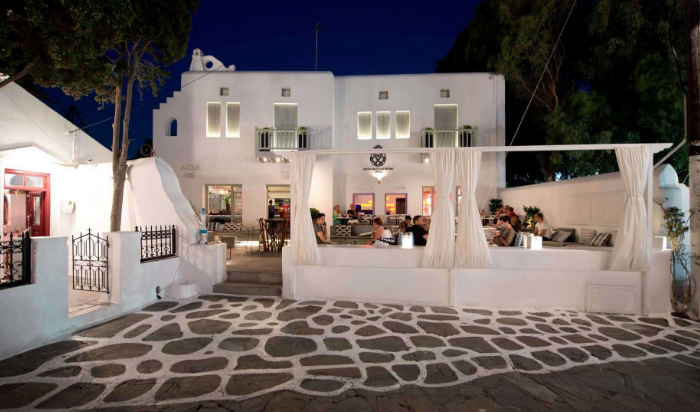 Astra is the place to go for whatever type of night you are after. Being somewhat of a hybrid between a lounge bar and a nightclub, you can experience a more casual atmosphere in the evening and an authentic club during the night. Being designed by Minas, a world renowned jeweler, it's best feature is the fibreoptic ceiling that mimics the night sky of the northern hemisphere and pulses in time to the music
Website: http://www.astra-mykonos.com/Astra.html
Opening times: 8pm – 8am
SUPER PARADISE BEACH CLUB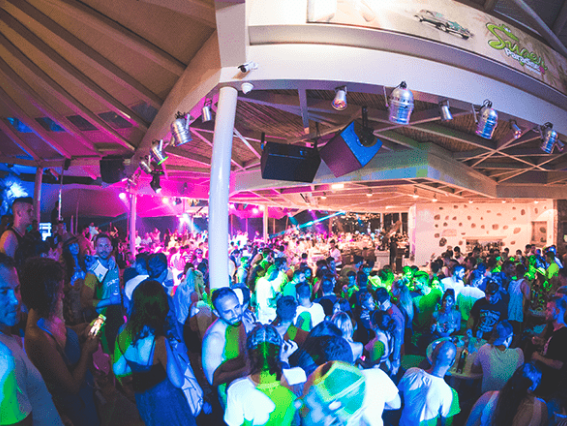 Mykonos party scene must include the Super Paradise Beach Club with parties that start from the afternoon and last until early morning. Super Paradise has made its name a synonym to Party in Mykonos and being packed with clubbers, jet-setters, models and VIPs, do not get surprised if you spot a celebrity among the crowd or dancing next to you.
Website: https://www.superparadise.com.gr/
MONTPARNASSE – THE PIANO BAR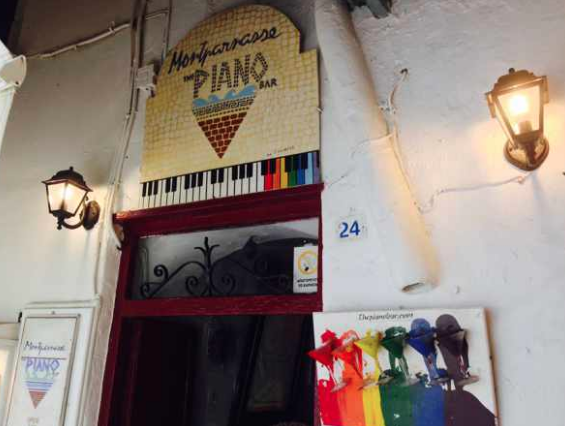 For a relaxed but still good night out, this is the place to go. Ideal for a romantic night out, The Piano Bar offers some of the best cocktails on the island. As the time goes by, after sunset the experience is enriched by cabaret entertainment with amazing views at the back of the piano bar, where the windows open up and you are in an area over the sea! It's great with the fresh breeze blowing through the bar.
Website: http://www.thepianobar.com/
Opening times: 7pm – 3am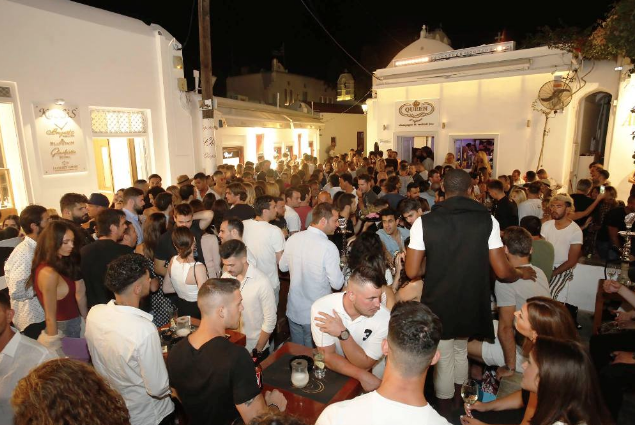 A glamorous name for a glamorous champagne and cocktail bar which doesn't make it the best option price-wise. Open from early in the morning and located at the centre of Chora, it's the perfect bar to enjoy a drink in a relaxed and fun atmosphere. DJs are on stage during the night but Queen of Mykonos is best as a warm-up before other super clubs in town
Website: https://queenofmykonos.gr/
Opening times: 8pm – 5am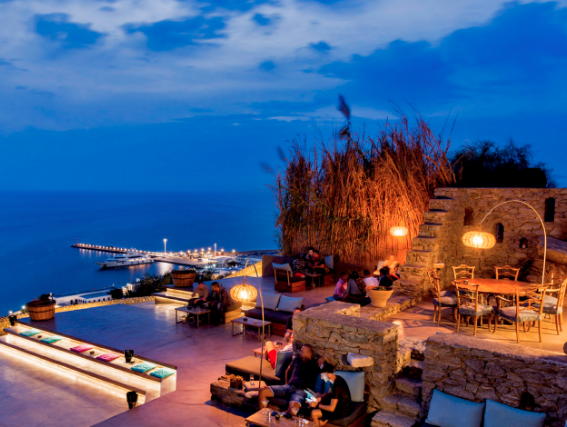 The breathtaking view over Mykonos from Castle Panigirakis can hardly be beaten. A pure joy for senses with incredible cocktails and chillout music, it is ideal for a relaxing evening but make sure you have a camera with you to snap some photos of the sunset but seats with view need advance reservation and are subject to a fee.
Website: http://mykonoscastle.eu/180-sunset-bar/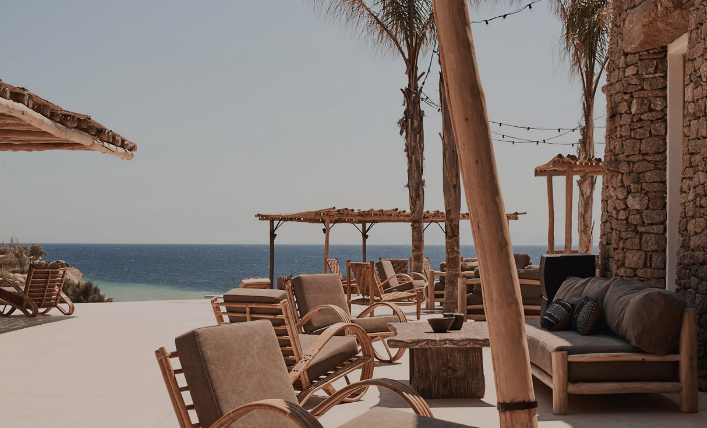 Quite new in the scene, Scorpios was born in 2015 as a modern reimagining of ancient social rites and island ritual based on the five pillars of food, healing, design, art and music. Perfect as start of a night out as events generally wrap up at midnight. Sundays are the busiest day as it feels like the whole island gathers at Scorpios.
Website: https://www.scorpiosmykonos.com/
Opening times: 11am – 1am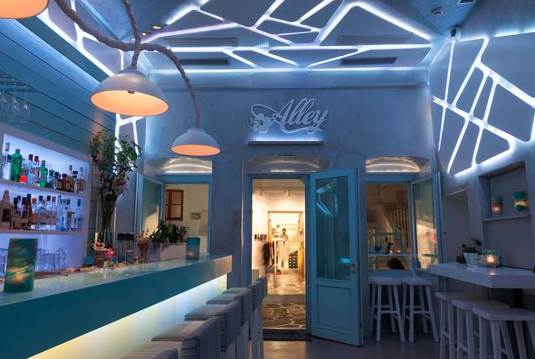 Enjoy the ultimate cocktail experience at Alley, specialized in handcrafted cocktails made with elixirs, syrups and infusion from garden herbs and spices. Whilst accommodating your order, the bartender will also discuss how to best enjoy your drink with fresh fruits, flavors and spirits. Acid jazz, rare grooves, funk, jazz and reggae will be your soundtrack for the night.
Website: http://www.alleybar-mykonos.com/
Opening times: 8.30pm – 3am
TROPICANA BEACH BAR & RESTAURANT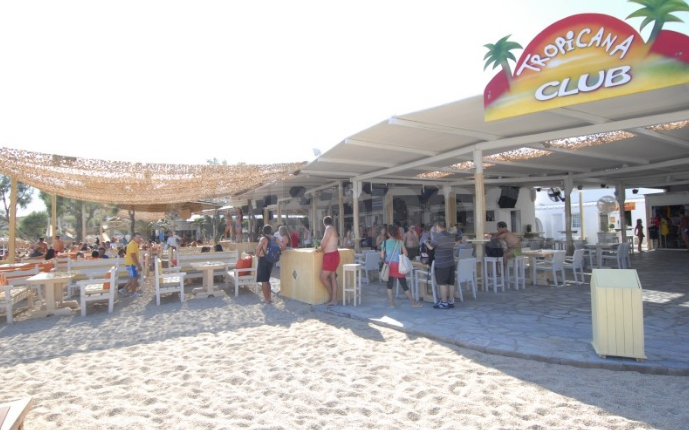 Welcome to one of the Sexiest Beach Bar in the world according to the Travel Channel for 2012. Tropicana attracts young people in swimwear to party from the afternoon until 5am. Refreshing drinks and fanciful cocktails will cool people down in the heat of summer and keep partygoers in high spirit. Drinks are reasonably priced and so is the food.
Website: https://www.tropicanamykonos.com/
The club was founded by a diverse group of people from all over the world who have been coming to the island every summer for over 25 years. Experts on Mykonos' nightlife, they have created a place where both island regulars and first-timers, will feel at home. With international djs, VIP catering and master mixologists, a night at Moni promised to be an unforgettable and different experience as it is not easy to get in but its definitely worth to give it a try as the atmosphere inside will take you to another level!
Website: http://www.monimykonos.com/
Opening times: 12noon – 6.30am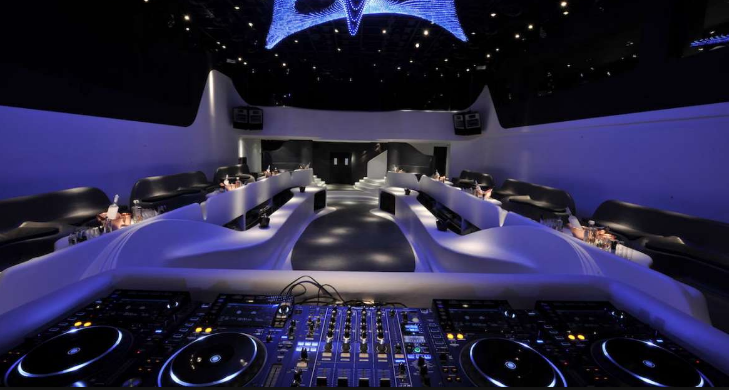 Void is the club for everyone. Split in 3 levels with dancefloors, tables and booths, this club is a very recent addition to Mykonos nightlife. Deep house and techno are the soundtrack of VOID's nights
Website: https://www.void-mykonos.com/
Opening times: 11pm – 8am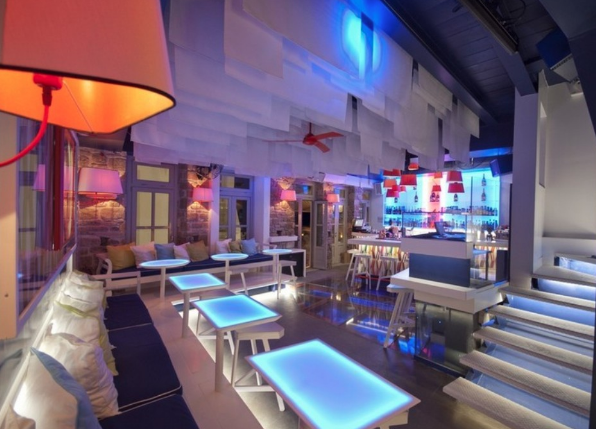 Even though it can't compete in dimensions with other big clubs on the islands, music is key at Semeli, offering a great variety form hip hop to latin and house. But don't be fooled! Great drink deals (2-4-1) make the Semeli a good shout for a night out in Mykonos
Website: http://semelithebar.gr/new/
Opening times: 24h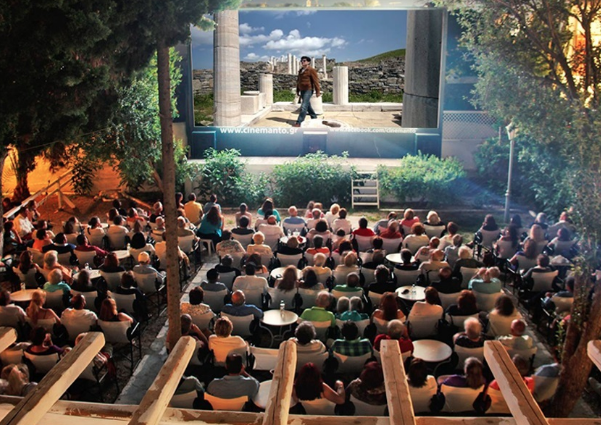 Clubbing is life for some but not for all. Cine Manto is an open-air cinema playing movies in original language and acts as a shelter from the sometimes bustled and energetic lifestyle of Mykonos. Two movies are played every day and it is also possible to buy a Members Card if this is how you prefer to spend your nights in Mykonos. Cine Manto is one of the best places to enjoy Greek food at affordable prices
Website: http://www.cinemanto.gr/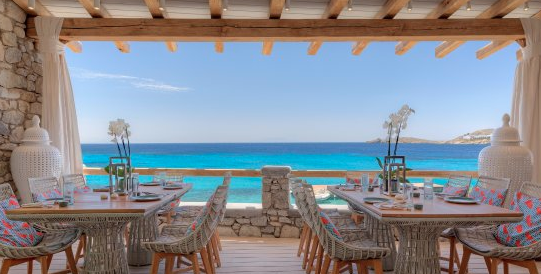 Buddha Bar Beach hosts an array of celebrity DJ'S throughout the summer, creating unique events, amidst gatherings of beautiful people, who are bringing to Mykonos a unique ever-evolving lifestyle experience. Buddha Bar is a very exclusive experience that comes with high prices for food and drinks
Website: https://www.buddhabarbeachmykonos.gr/
Opening times: 7pm – 1am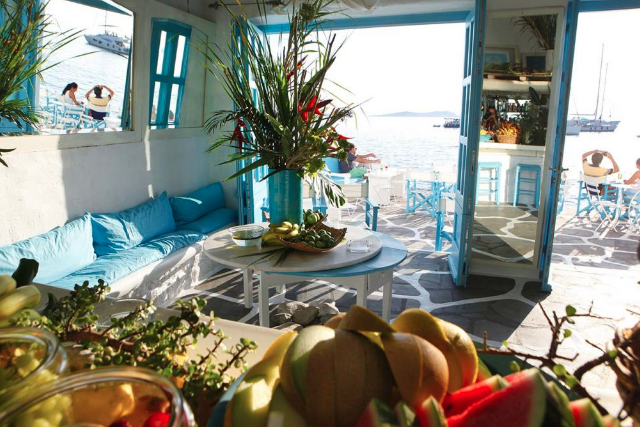 Caprice is an easy add to our Mykonos nightlife guide. Acclaimed by Newsweek as one of the 10 best bars worldwide and cherished by international celebrities, Caprice Bar is the perfect party destination with an incredible ambience and entertainment. Cocktails range between 15-19€
Website: http://capriceofmykonos.com/
Opening times: 6.30pm – 5am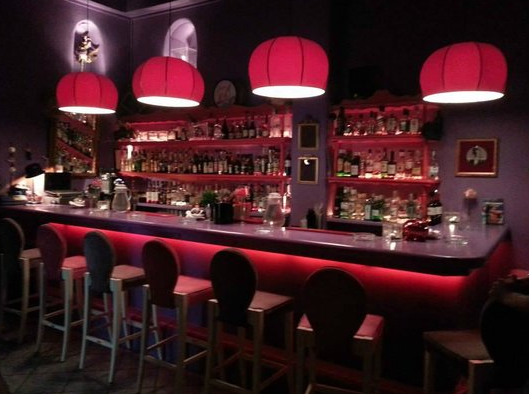 Laid back music and great cocktails enjoyed in an elegant environment. This is Lola, in the heart of Mykonos Town. Cozy ambience, friendly staff and open-minded guests will make you feel comfortable and come back more and more.
Website: https://www.facebook.com/pages/category/Bar/LOLA-MYKONOS-90788959790/
Opening times: 12.30am – 3pm / 8pm – 12am
JACKIE O' BEACH CLUB AND RESTAURANT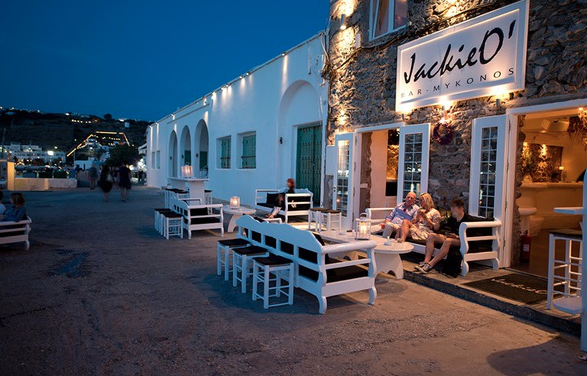 With a 150 seat restaurant, large open bar, pool, jacuzzi and private lounge areas, its own church for ceremonies, the new Jackie O' Beach Club is the latest hot meeting point of the island. High quality, excellent service and magnificent views will make you fall in love at once with this place. Might not be the cheapest option in Mykonos but the quality of cocktail will make you forget few euros more.
Website: https://www.jackieomykonos.com/
Opening times: 9am – 1 am
Check out the map below to find your club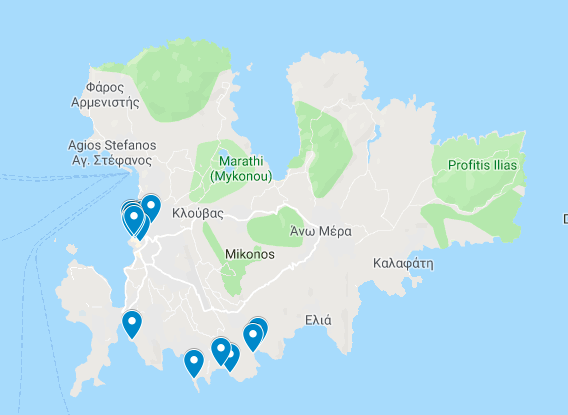 Let us know if we should include any other top spot in our Mykonos nightlife guide and we'll make sure to check it out and act accordingly.
Read Also:
5 Mykonos hotels near Paradise beach
Where to Stay in Mykonos on a Budget
The 15 Best Mykonos Hotels on the Beach
Mykonos vs Santorini. Which one is better to visit?
The 15 best Mykonos Hotels with Private Pools
Mykonos Nightlife Guide: The 20 best bars, night clubs and Beach clubs in Mykonos
Best area to stay in Mykonos 
Where to stay in Mykonos: Beach or Town
Best 5 Star Hotels in Mykonos
Best time to visit Mykonos 
Best Suite Hotels in Mykonos
Best Mykonos Hotels near Nammos
Best Mykonos Hotels near Town
Best Mykonos Hotels for Yoga
Mykonos to Athens by Ferry or Flight