Here we compiled a list with the best Mykonos Hotels with private pools. Now you will find that there are not a lot of hotels with private pools in Mykonos, not nearly as many as you'll find in Santorini, still we found the best 15 choices for you.
Mykonos Hotels with Private Pools
---
1. Poseidon Hotel Suites
This hotel is based at Mykonos city center, sitting just 650 feet away from the beautiful and well renowned Mykonos windmills. Just a step or two away from the hotel a guest is a hidden cove with beautiful sand beaches and the opening to the path leading to the Agios Charalambis. This hotel is one of the top-rated hotels in Mykonos and stays very popular.
In August this hotel is $405 per night for a double room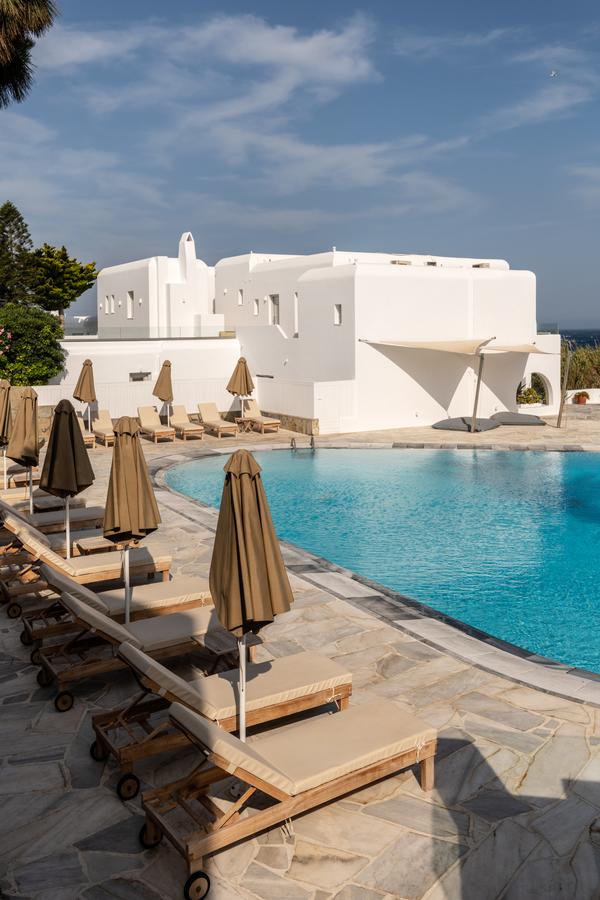 ---
2. Aeolos Hotel
Aeolos is the perfect couple's get away, the beautiful rooms overlook gardens or the pool depending on which one you upgrade to. This hotel is only a five-minute walk from the Mykonos city center – you can spend the day walking around the center before taking a romantic stroll by the sea.
Or you can relax next to the pool with the la carte restaurant to serve you light meals and devious drinks. I highly recommend because of their amazing staff and customer service. In August this room costs $299 per night for a double room.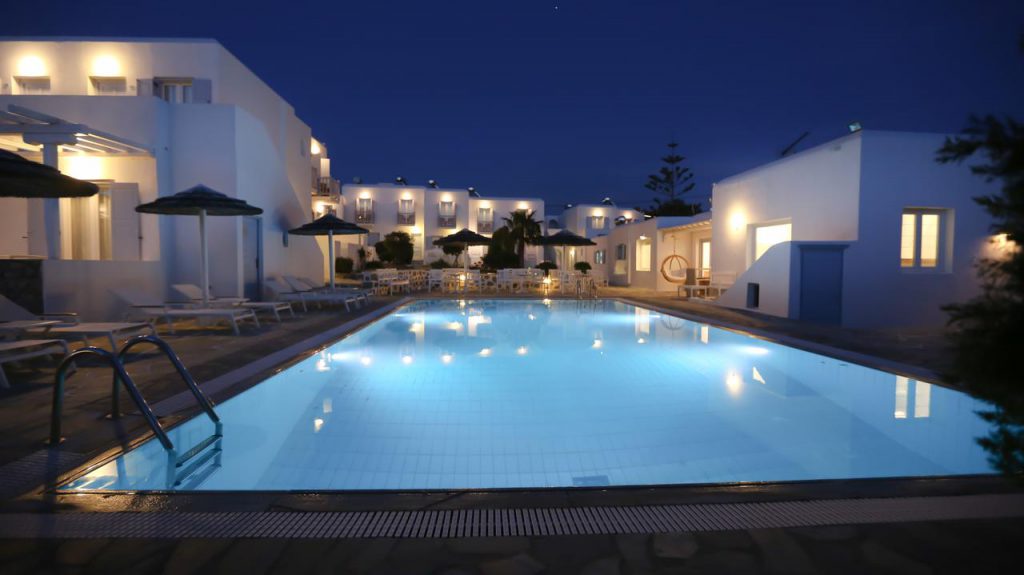 ---
3. Hotel Rochari
Stay at the heart of Mykonos! This hotel could not be any more centrally located. Highly acclaimed hotel for couples and honeymooners to stay at, this hotel is welcoming to anyone wanting to enjoy this beautiful island. The outdoor swimming pool is used seasonally, if you catch them off-season there is still plenty this beautiful hotel has to offer. 10 minutes in any direction will lead you to a popular site in Mykonos including the windmills and Little Venice. The restaurant on-site is, of course, known for its Greek cuisine, and is the restaurant is not one to miss out on when you are in Mykonos. Bookings in August are filling up fast! This hotel is $930 per night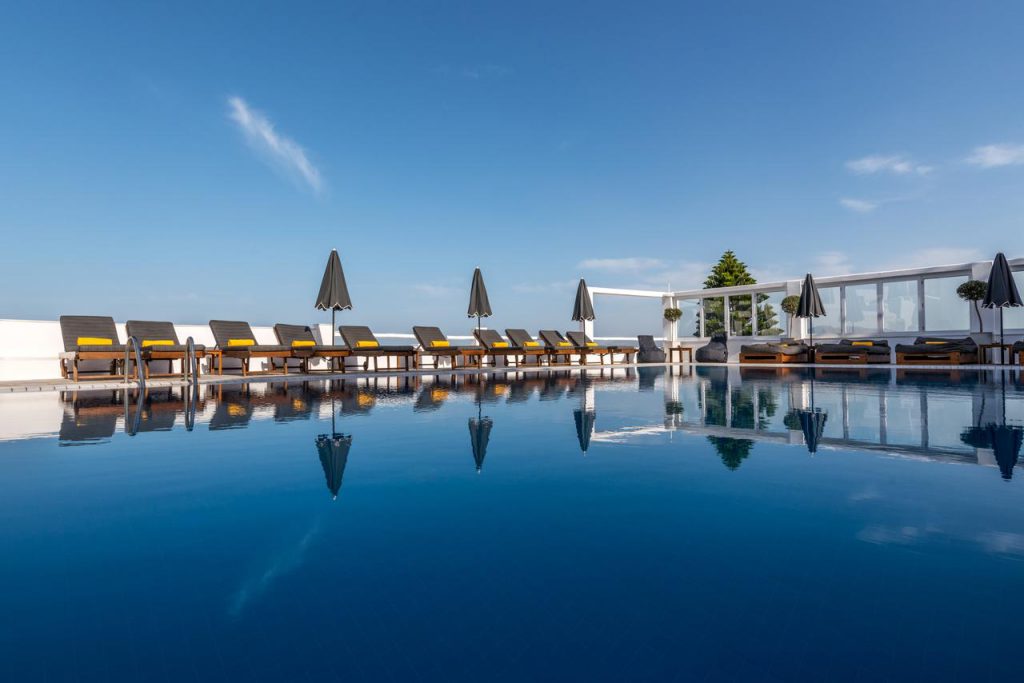 ---
4. Dreambox Mykonos Suites
This hotel is one of the main hotels you've seen posted all over Instagram. The private pool overlooks the bay and this slice of paradise is one of the perfect places to escape from the world. This beautiful hotel overlooks Ornos, which is the most beautiful beaches in Mykonos. This paradise private pool also has a jetty tub with views of the Aegean Sea or the gardens. This hotel runs $396 for a night in August.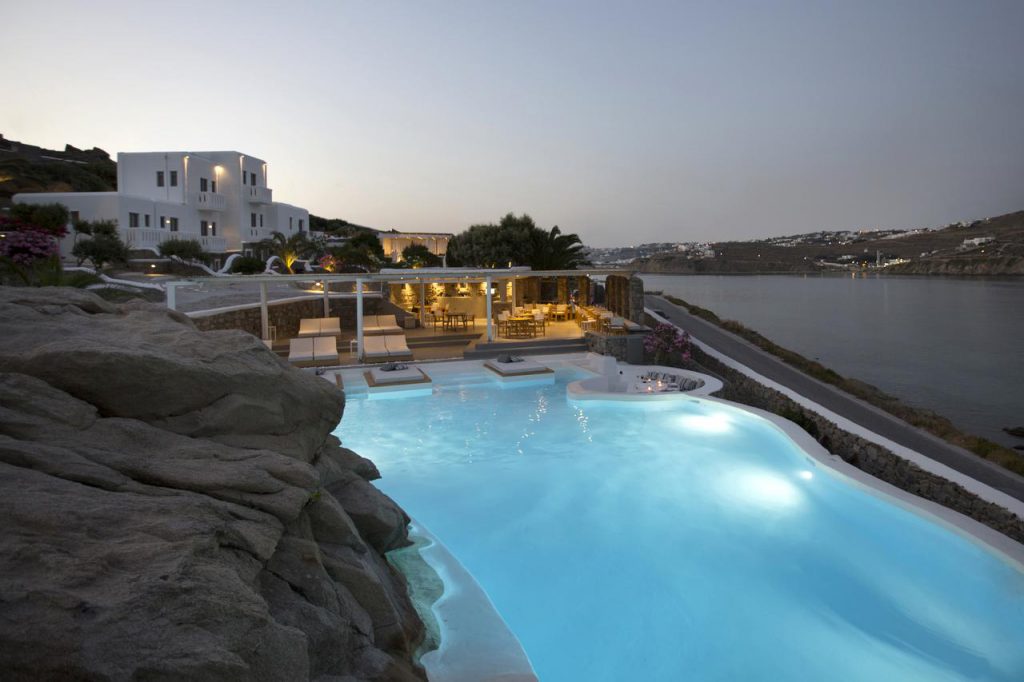 ---
5. Absolute Mykonos Suites & More
Sleep in the heart of the Aegean! This beautiful hotel is in the heart of the city, this hotel is located just over a mile from the Nammos Mykonos. This private pool overlooks the sea and is designed as an infinity pool, float in tranquility as your heart is swept away to the sea. Anything your heart desires for a Greek experience is just a few feet away. August bookings run around $560 per night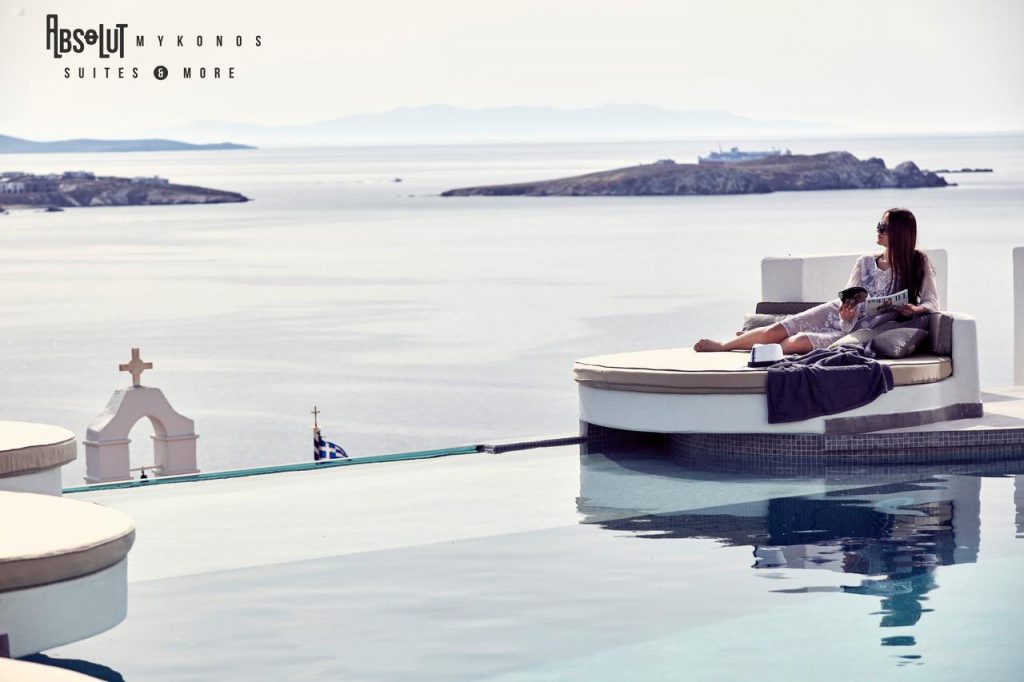 ---
6. Thalassa Boutique Hotel and Suites
Feel like a celebrity with the royal treatment at the Thalassa Boutique Suites. Sitting right on the beach of Platis Yialos it is equipped with a hot tub, private pool, and private fitness center. This beautiful hotel is just 10 minutes away from the famous bars of Nammos and Scorpios beach bars. If you are wanting to visit in August is around $715 per night.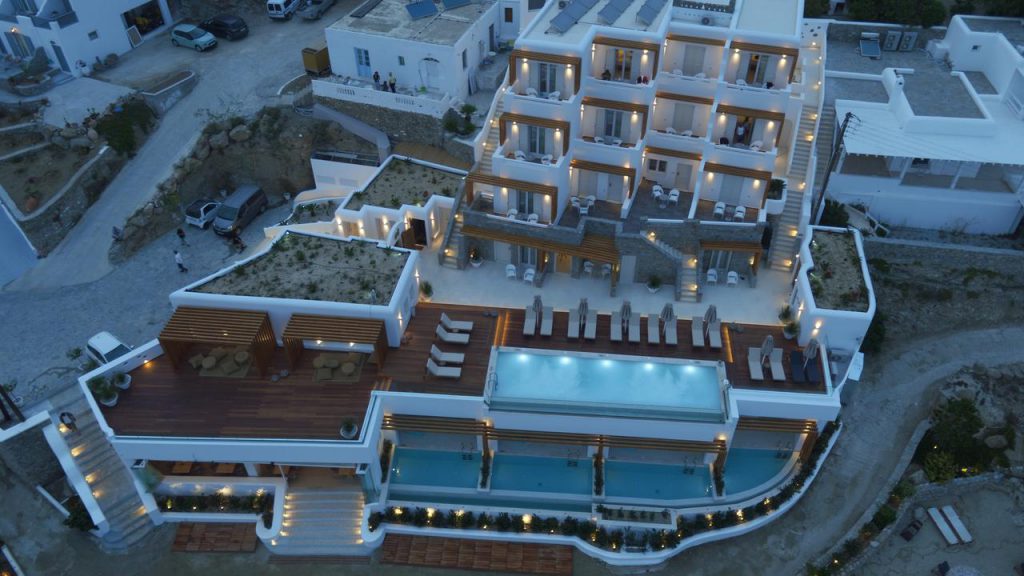 ---
7. Myconian Kyma – Design Hotels
Feel the curves of Mother Earth at this hotel. Sitting on top of the famous Mykonian hill, the hotel is the iconic whitewashed building style known to so many Greek locations. All of the rooms in the hotel follow beautiful architectural lines of ancient Cycladic. The hotel is equipped with a private pool with an ocean view, state-of-the-art spa center, and an on-site restaurant. Close to the hotel are some of Mykonos' best nightlife bars and clubs, the windmills and the town center. August is a popular month to visit Mykonos, this hotel is $540 a night.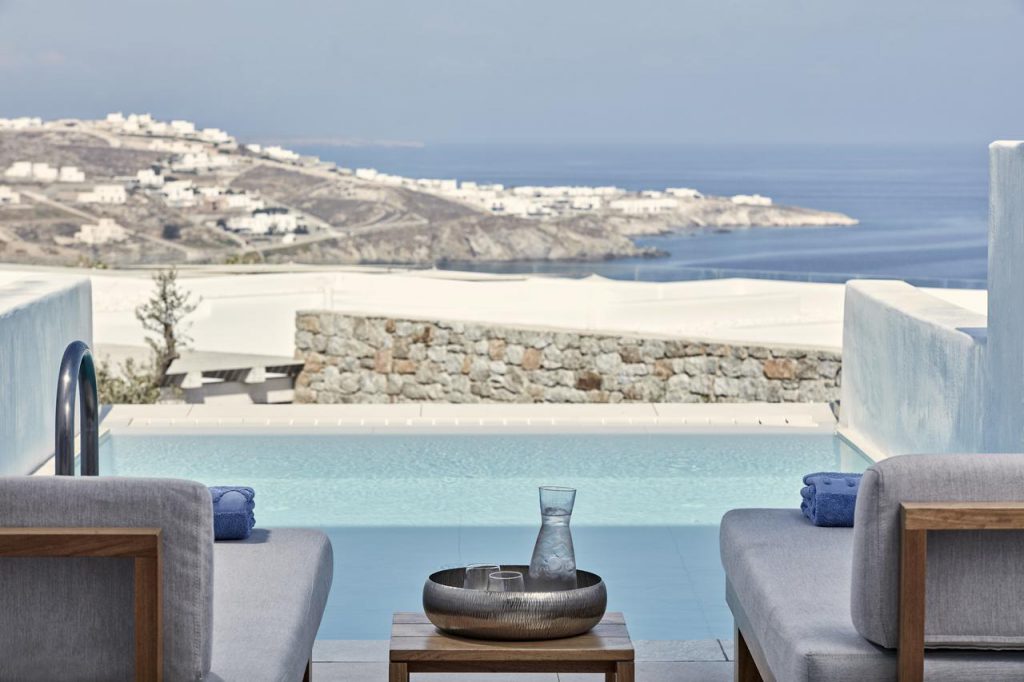 ---
8. Anax Resort and Spa
This might be number eight on our list, but it is one of the top hotels in Mykonos – countless booking sites have rated it within their top five hotels with a private pool, so you know we are pointing you in the right direction! Resting with a seafront location in Agios Ioannis in Mykonos, Anax Resort ideally blends Cycladic architecture with a modern twist!
Not only does this hotel have a private pool but it has access to a private beach too! If there wasn't so much to miss around Mykonos, guests could stay at the Anax Resort and Spa their entire visit. It has a little of everything for each travel that walks through their front doors. Staying here in August will run you around $700 a night.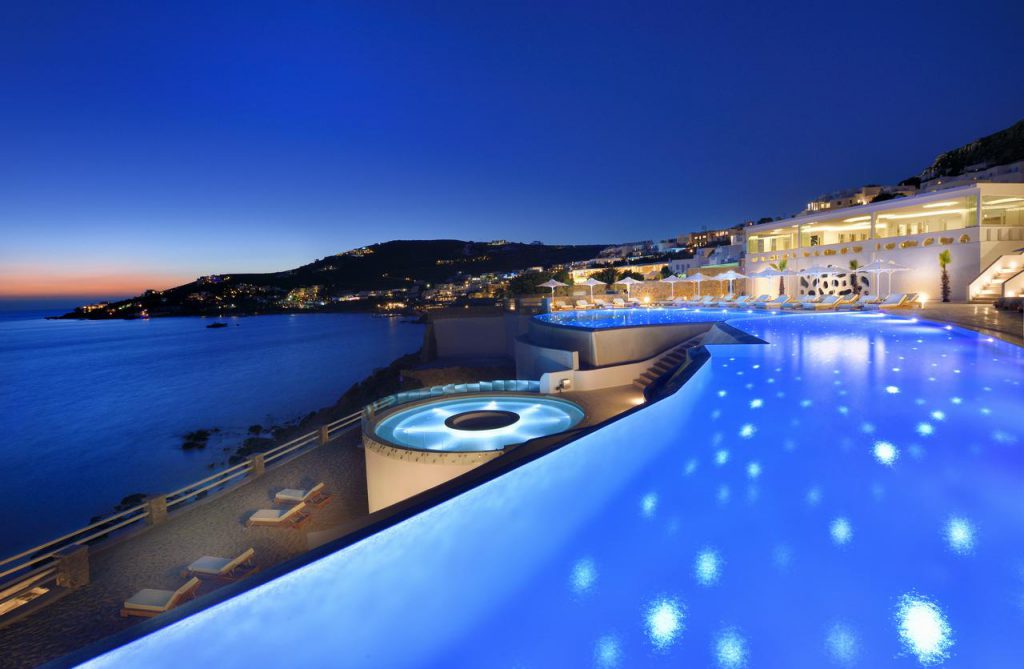 ---
9. Lyo Boutique Hotel Mykonos
Lyo Boutique Hotel offers a beautiful outdoor pool with Aegean Sea views and sits just above the lively Super Paradise Beach in Mykonos. Spend your mornings relaxing next to the pool with a drink in your hand and pool-side service and then your afternoons can be spent getting a massage and cap the evening off with dinner at the restaurant and live music. In August these rooms will run you around $540 a night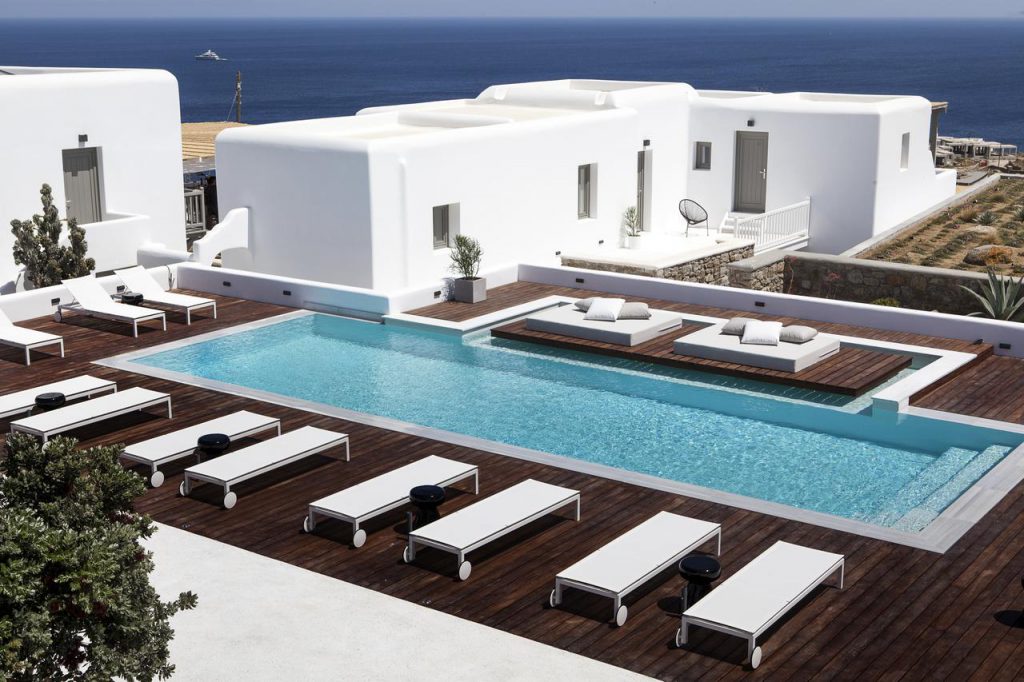 ---
10. Mykonos Beach Hotel
Have your breath taken away during your stay at the Mykonos Beach hotel which sits along the Megali Ammos Beach, this Cycladic-style hotel is a short 15-minute drive the Airport and Port. The balconies each overlook the Aegean Sea. The guests can plan to start their day with a venture down the buffet breakfast and then pack up for their fun-filled day. Within a 10-minute walk, they can reach the center of Mykonos Town and spend the day exploring or shopping. These rooms are around $320 per night.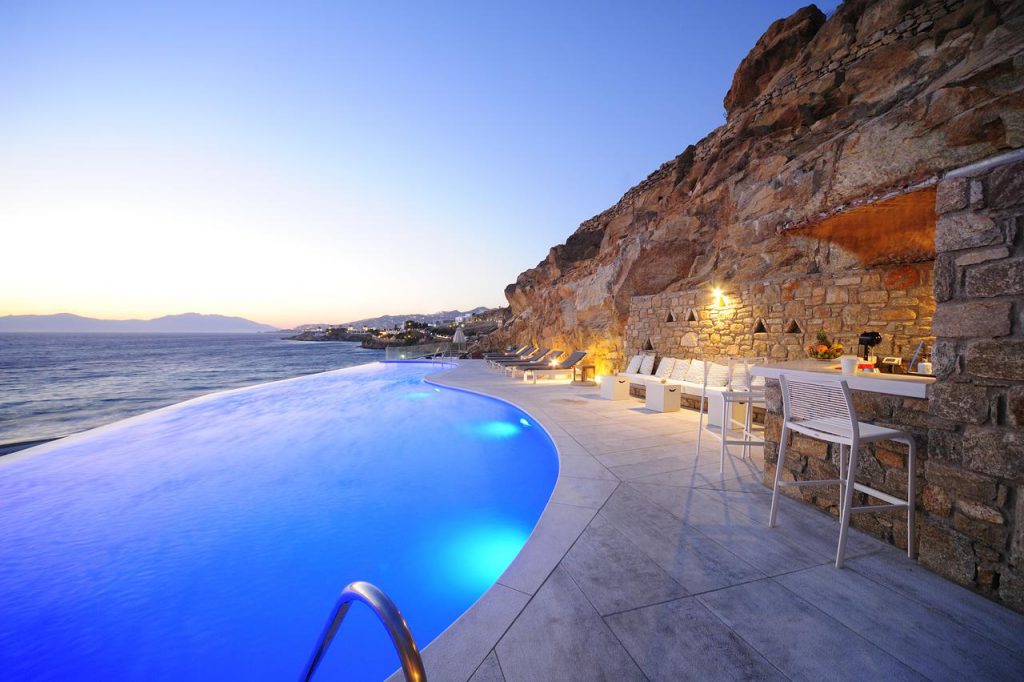 ---
11. Ilio Maris
This is another best-selling hotel on several booking sites for Mykonos. Guests can take a dip at the Ilio Maris private pool, then when the sun is preparing to set you can soak in the lovely sunset view over the Aegean Sea. Though this hotel isn't as centrally located as others, nothing is very far away in Mykonos, this hotel is also closer to most of the more famous beaches in Mykonos. Of all the hotels in Mykonos to book for August, this one only runs you about $340 per night!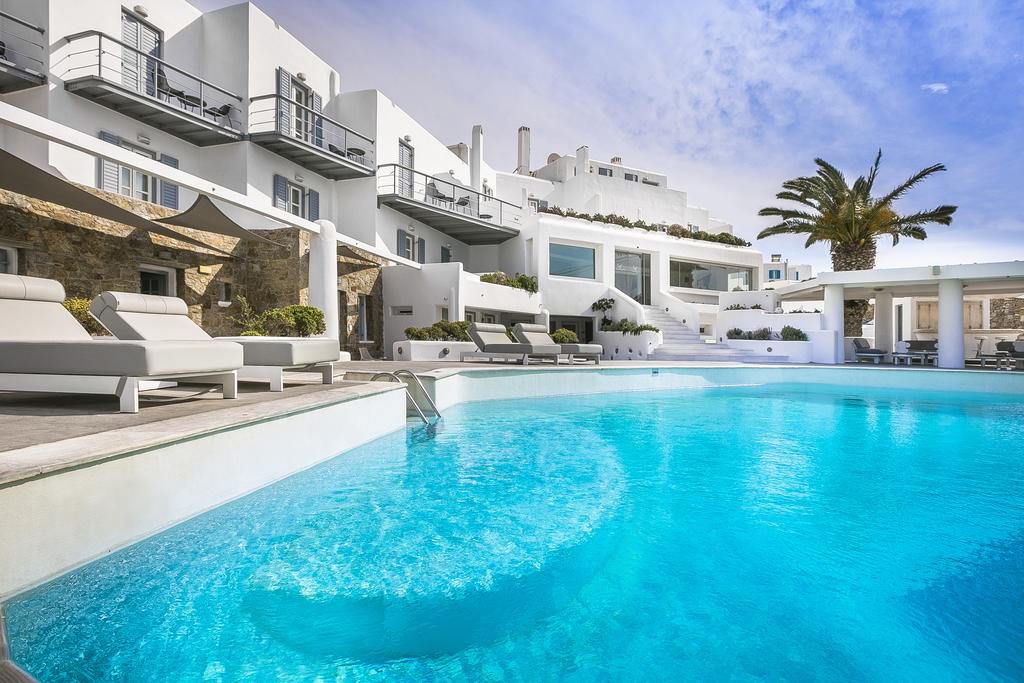 ---
12. Alkyon Hotel
Alkyon Hotel is a quick 10-minute walk from the heart of Mykonos Town. The beautiful swimming pool and spacious rooms with balconies make this hotel a perfect place for couples to getaway. From their private terrace guests enjoy a breathtaking view of the Mykonos bay. The private pool is surrounded by sunchair loungers and a bar to service the guests. The staff is on call 24 hours a day and is incredibly facilitating. And only $375 per night in August to book!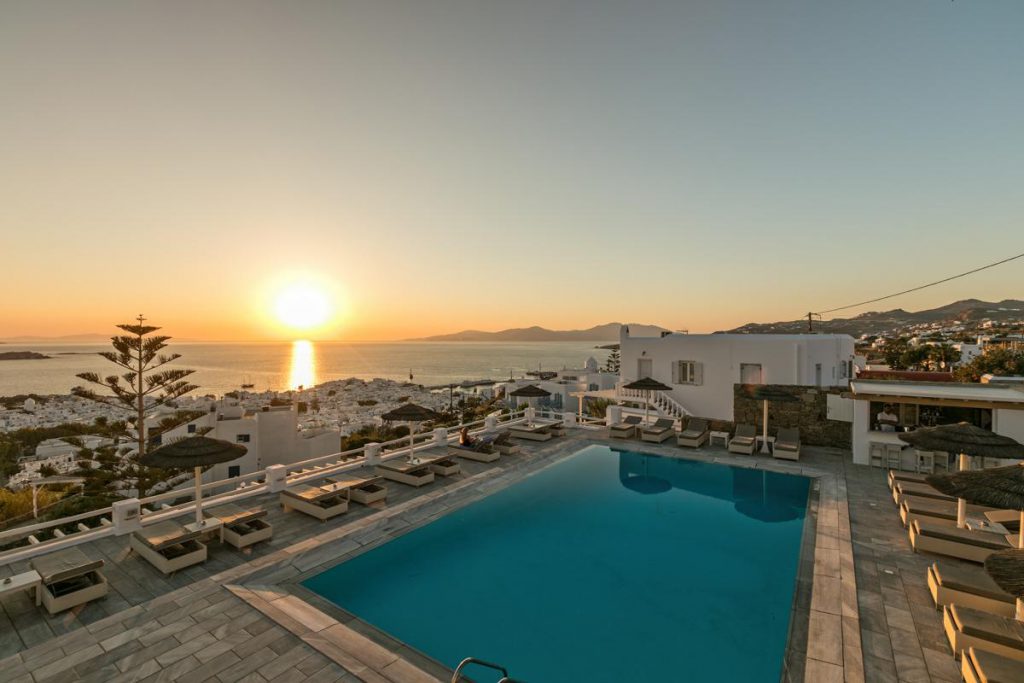 ---
13. Nissaki Boutique Hotel
One of the most astounding views in Platis Gialos your hotel has a world-class view of Psarou Beach. The private beach looks over the crystal blue waters of the Aegean Sea. The architecture is decorated with classic Greece whitewashed walls and mosaic tiles decorating the floors and walls. Just a quick walk from downtown Mykonos you will feel entirely Greek when you leave this boutique hotel. For this astoundingly beautiful hotel, you only are looking at $650 per night at the height of August.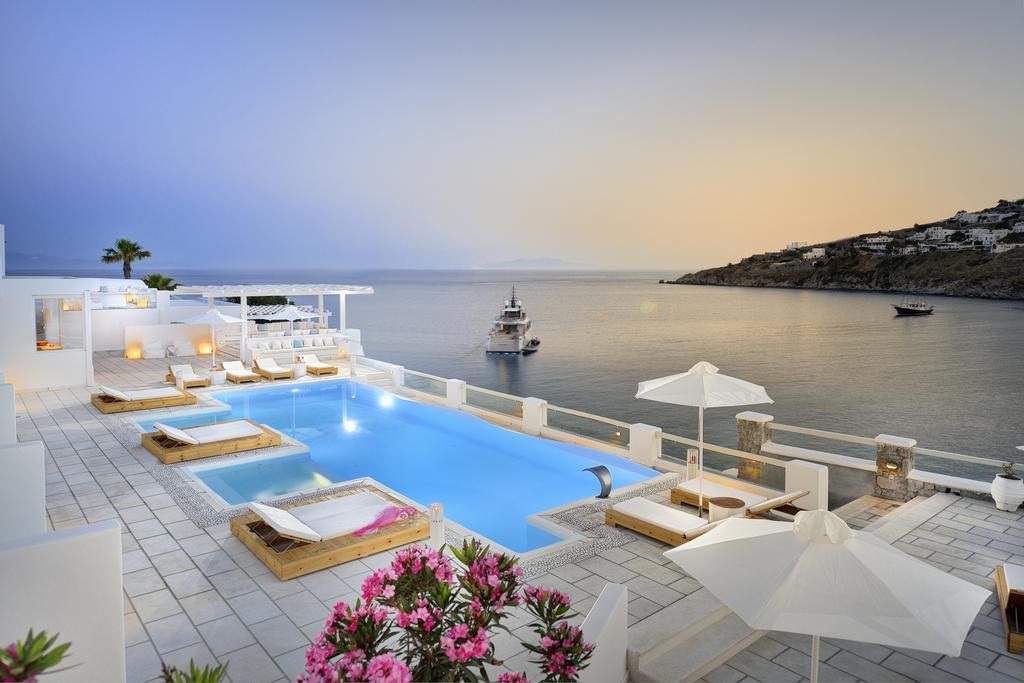 ---
14. Ftelia Bay
Perched on the hillside facing the bay of Ftelia, this Mykonian boutique hotel offers rooms with an outstanding view of the Aegean Sea. The quaint Ftelia beach is famous for windsurfing and is less than 3k feet away. The picturesque Mykonos Town is 2.5 mi away, while the traditional Ano Mera village is 1.9 mi away. The poolside bar provides all of the important amenities like coffee, snacks, as well as refreshments and drinks. Guests can also adore the Greek and Mediterranean gourmet dishes accompanied by fine wine, at the poolside restaurant. Just outside of Mykonos this hotel is only $289 per night!
---
15. Evagelia's Place
A family ran and operated, this beautiful boutique hotel has everything to offer including a rooftop pool that overlooks the entire town of Mykonos. Each room has a private balcony where you can enjoy the view from nearly every angle and this hotel is a short walk from several beaches of Ornos and Agios. This hotel runs $275 per night but books fast!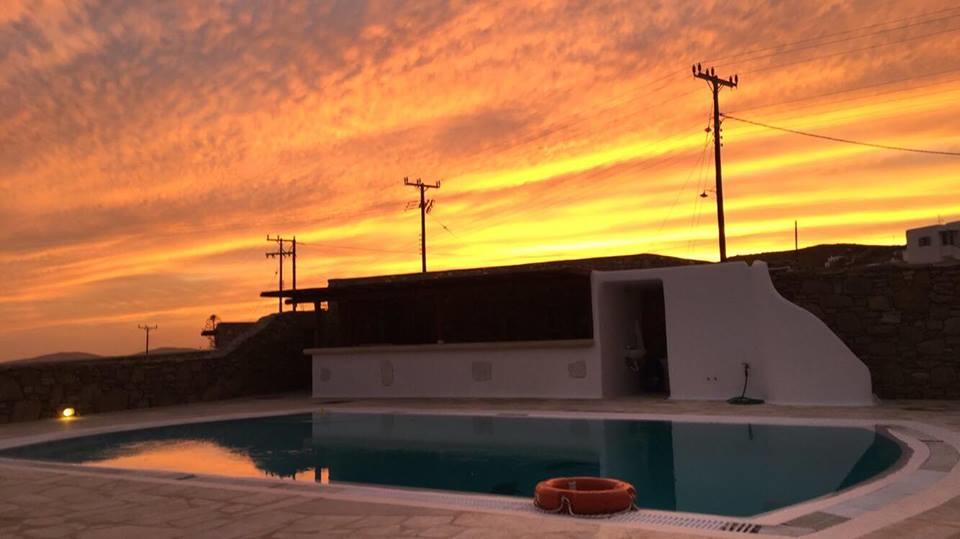 Wherever you decided to lay your head while you are visiting Mykonos we hope that you find a great private pool to spend your time during these hot summer days.
Read Also:
5 Mykonos hotels near Paradise beach
Where to Stay in Mykonos on a Budget
The 15 Best Mykonos Hotels on the Beach
Mykonos vs Santorini. Which one is better to visit?
The 15 best Mykonos Hotels with Private Pools
Mykonos Nightlife Guide: The 20 best bars, night clubs and Beach clubs in Mykonos
Best area to stay in Mykonos 
Where to stay in Mykonos: Beach or Town
Best 5 Star Hotels in Mykonos
Best time to visit Mykonos 
Best Suite Hotels in Mykonos
Best Mykonos Hotels near Nammos
Best Mykonos Hotels near Town
Best Mykonos Hotels for Yoga
Mykonos to Athens by Ferry or Flight