The first question that comes in your mind about planning your travel to Mykonos and looking at where to stay in Mykonos, is "What is the best area to stay in Mykonos"?
Well, here is our unbiased guide on the best areas to stay in Mykonos: Mykonos Town, Ornos, Agios Stefanos, Platys Gialos, and Panormos. We'll make everything insanely clear to you, and if you read this guide to the end, you will be in a position to make the best possible decision based on your interests.
In short:
Best area to stay in Mykonos for Nightlife and to Party: Mykonos Town
Best area to stay in Mykonos on the beach: Platis Gialos
Best area to stay in Mykonos for Beach Parties during the day: Paraga (close to Scorpios Beach bar) or Psarou Beach (close to Nammos Beach Bar) or Super Paradise Beach (close to Super Paradise Beach bar)
Where to stay in Mykonos for Honeymoon: Stay on the beach, at Platis Gialos or Ornos, or go close to Mykonos town (e.g. at Cavo Tagoo Hotel)
Where to stay in Mykonos for families: Stay at Ornos, or at Agios Stefanos village, or at Platis Gialos.
Most expensive areas to stay in Mykonos: Mykonos Chora (the main town), Ornos Village, Agios Ioannis, Platis Gialos
Where to stay in Mykonos on a budget: Ano Mera village, Panormos, Kalafatis, Elia
Let us be clear. There is no absolute "Best Area to Stay in Mykonos". It all depends on your budget, whether you like to stay close to the beach or to the nightlife and other considerations.
Mykonos town, for example, has some fanatic haters, who would never enjoy the noise, traffic, and crowds that surround you, when you stay in Mykonos town, especially during the peak season of July and August.
On the other hand, Mykonos town has its own fans, who could never stay close to the beach and drive towards Mykonos town during the evening, and especially after some heavy drinking.
Before we drill into the details on where to stay in Mykonos, with the various areas pros and cons, it is important to help you understand two things: Which are your choices in terms of villages/areas and where are the best beaches in Mykonos.
Which are the top areas/villages to stay in Mykonos?
The top four areas that most people stay at, are Mykonos Town, Ornos, Platys Gialos and Agios Stefanos. Other areas such as Panormos, Ano Mera and Kalafatis are coming next.
Here is a map, to help you understand where all areas are:
As you can see from the map above, Mykonos is a small island. Mykonos town to Agios Stefanos is 3kms, Mykonos Town to Platis Gialos is around 4kms and Mykonos town to Ornos is 3.5kms.
Where are the best beaches in Mykonos island?
Almost all the beaches of Mykonos are in the south part of the island. And this is rational as the strong north winds that blow often at Mykonos, don't let a lot of sandy beaches to form on the north area of Mykonos.

The most popular beaches in Mykonos are the following (ordered by the most popular):
Super Paradise Beach [Super Paradise Beach Bar is here]
Paradise Beach [Tropicana Beach Bar is here]
Psarou Beach [Nammos Restaurant is here]
Paraga Beach [Scorpios Beach Bar is here]
Platis Gialos Beach
Agios Stefanos Beach
Kalo Livadi Beach
Ornos Beach
Kalafati Beach
Panormos Beach
Elia beach
Here is a map to help you understand where each beach is located:
From the two above maps, you can understand that you will need to do some traveling in Mykonos island, as there are many nice beaches spread across the island, that you will want to visit. From Mykonos Town to the farthest beach, it is no more than 30 minutes' drive time and this is mainly due to the small roads of the island.
As an example, Mykonos town to Kalafati beach is 21 minutes' drive time, when there is absolutely no traffic, and around 30 minutes with traffic. It is around 12 km.

Let's have a look now at the pros and cons of the best areas to stay in Mykonos island.
---
Mykonos Town (Chora)
Mykonos town is also called "Chora" by the locals, which means "main village". Greeks also call the main town, just "Mykonos".This is the biggest and most picturesque village on the island. The photos with the windmills, the white houses and the small roads full of people, are from here.
If you choose to stay at Mykonos Town, the plan is usually the following: At around 11:00 am to 12:00 am you get the bus or your car and go to one of the popular beaches of Mykonos. You stay at the beach until the afternoon and you grab a light lunch there. You come back to Mykonos town at around 18:00 to 19:00, and you go for dinner at 20:00 to 21:00. Then you stroll around the Mykonos town, and stay outside, or go to a bar/club at Mykonos town, until late.
Important Tip: Mykonos island has only 35 taxis and at the high season, which is from the 20th of July to the 20th of August, you may not get a taxi easily, or you may need to wait a long time at the queue.
Mykonos Town Pros:
From the afternoon until the late-night, all the buzz of the island is here.
The best bars, clubs, and restaurants on the island are here.
All the people-watching is here. The rich and famous visit Mykonos town during the evening.
It's also a great place to drink a coffee in the morning, just in front of the sea, and do some people watching.
Mykonos is called "the island of the winds". When the winds start to blow in August, they might not stop for a week. Mykonos town offers great protection from the winds, as the way that the houses are built, offers a natural shield from the strong winds.
Parking used to be a nightmare but a big, public, free parking has been built at the old port area, 500 meters before Mykonos town. See the map below, to find out where to park for free in Mykonos.
Mykonos Town Cons:
It's more expensive compared to Ornos, Agios Stefanos and other areas of Mykonos. You will not find anything decent below 150 to 200 euros per night (for a double room) during the high season. IF you want more luxury, you will pay at least 300 to 400 euros per night for a 4 or 5 stars hotel, during the peak season.
It gets loud in the evenings, due to everyone strolling around and partying. If you want a more relaxed area, you should look for another village.
Cars are not allowed inside Mykonos town. You have to walk to get to your parking and that might be 10-15 minutes away.
It has no beach. You have to get a car or a bus or a motorbike, to get to the nearest beaches. The bus station where all the buses leave towards the beaches is an open space area in the south part of Mykonos town. See the tip above about taxis in Mykonos, as well.
---
Where to Stay in Mykonos Town
Here is a list of our recommended hotels in Mykonos town, depending on your budget. Keep in mind, that the peak season is mid of July to late August and in these 45 days, the prices in Mykonos are at least 30% more expensive than in June or September. You will not find any decent accommodation below 150 euros per evening during the peak season.
Best Luxury 5-Star Hotels in Mykonos Town
Feel the curves of Mother Earth at this hotel. Sitting on top of the famous Mykonian hill, the hotel is the iconic whitewashed building style known to so many Greek locations. All of the rooms in the hotel follow beautiful architectural lines of ancient Cycladic.
The hotel is equipped with a private pool with an ocean view, state-of-the-art spa center, and an on-site restaurant. Close to the hotel are some of Mykonos' best nightlife bars and clubs, the windmills and the town center. August is a popular month to visit Mykonos, this hotel is $540 a night.
---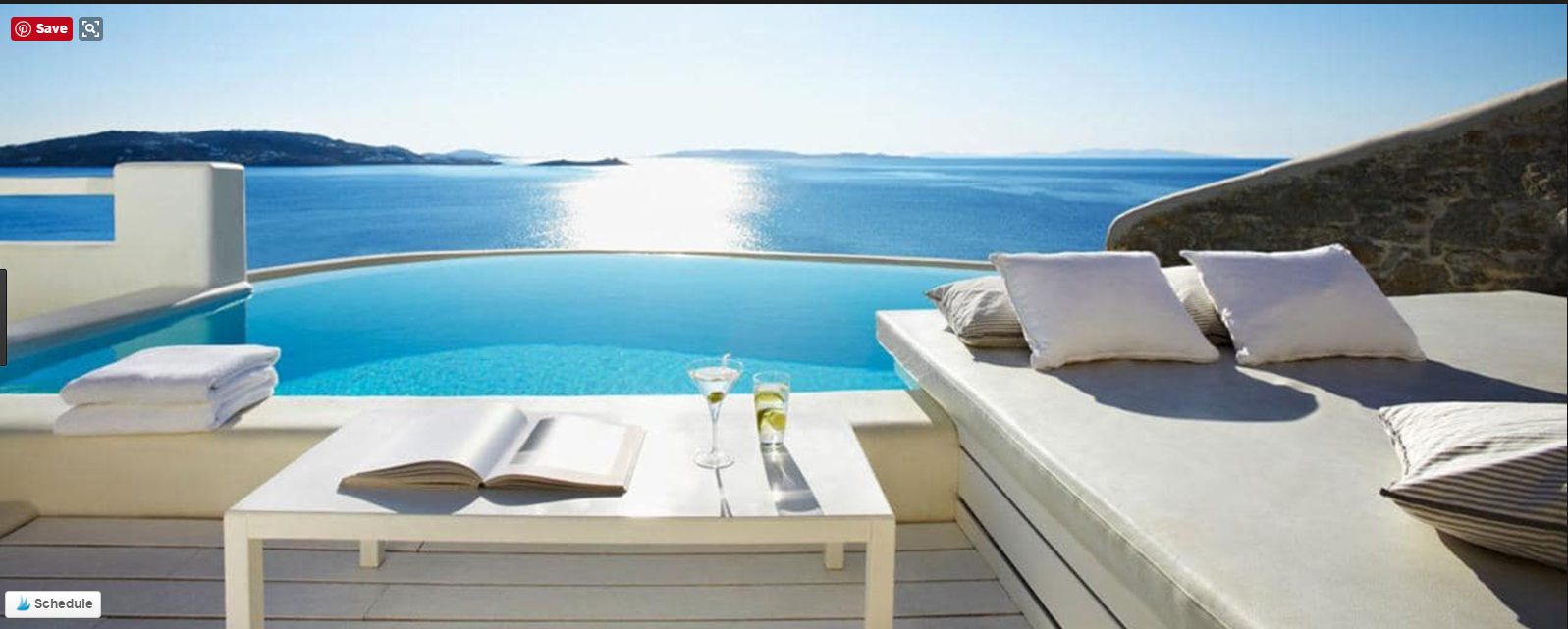 This is a Posh hotel in Mykonos, with amazing sunset views and it is for sure one of the best 5 Star luxury hotels in Mykonos. It also has one of the top Japanese restaurants in Greece. A lot of celebrities stay here, so this tends to be quite expensive.
Pros: High end – posh hotel with celebrity treatment, breakfast, pretty good location, views to the sea, excellent service.
Cons: The price is really high for "ordinary people".
Star Rating: 5*
Guest Rating: 8.8
Prices: June €769, August €1039
Located at a hilltop, Naia reveals the astonishing view of Mykonos and the Aegean Sea.
Pros: Unique ancient Mycenaean design, Superb Service, Private Parking, Private Pool.
Cons: No Sound Proof.
Star Rating: 5*
Guest Rating: 8.9
Price: August €720
---
The hotel was renovated in 2018 and is now freshly designed and decorated to provide a relaxing and elegant experience to its guests. Due to its excellent location, the hotel rooms have private terraces with breathtaking sea view and some suites have jacuzzis as well. Also, many visitors, who have booked a deluxe suite with outdoors jacuzzi were extremely satisfied with the room facilities and overall experience.
Hotel class:5 stars.
Hotel suites with private jacuzzi
Suite with outdoor jacuzzi.
Deluxe suite with outdoors jacuzzi.
Pros
A TripAdvisor Certificate of Excellence.
5-minute walk to Mykonos town.
A great pool area.
A broad food selection at breakfast.
Warm and welcoming staff.
Shuttle bus service available.
Beautiful sunset view.
Spacious rooms with a soft and minimalistic design.
Cons
Some complaints about service quality, but overall, the majority of reviews are positive.
Website:https://www.kouroshotelmykonos.gr/
---
A luxury boutique hotel with 32 beautifully styled suites is a marvelous destination for those who like to indulge in comfort and tranquility. The location of the hotel is quite advantageous, as being in a very peaceful area, it is also close to several beach clubs. The infinity pool is one of the hotel's central features, as the view from the pool is absolutely stunning.
Hotel class:5 stars
Pros
A TripAdvisor Certificate of Excellence.
The hotel is close to the airport.
Comfortable and clean rooms.
A beautiful view from the hotel.
An infinity pool with a mesmerizing sunset view.
The pool has beautiful lights in the evening, which make the dining at the pool more delightful.
The hotel provides its visitors with a small mobile phone, which they can use to call the hotel staff to collect them from town or from a trip.
Attentive and caring staff.
The hotel is close to Mykonos town.
Non-smoking rooms.
Cons
This hotel is reviewed by several visitors as an expensive one.
There have been some confusion with hotel bookings as the hotel is often overbooked.
Website:https://www.bill-coo-hotel.com/suites/
---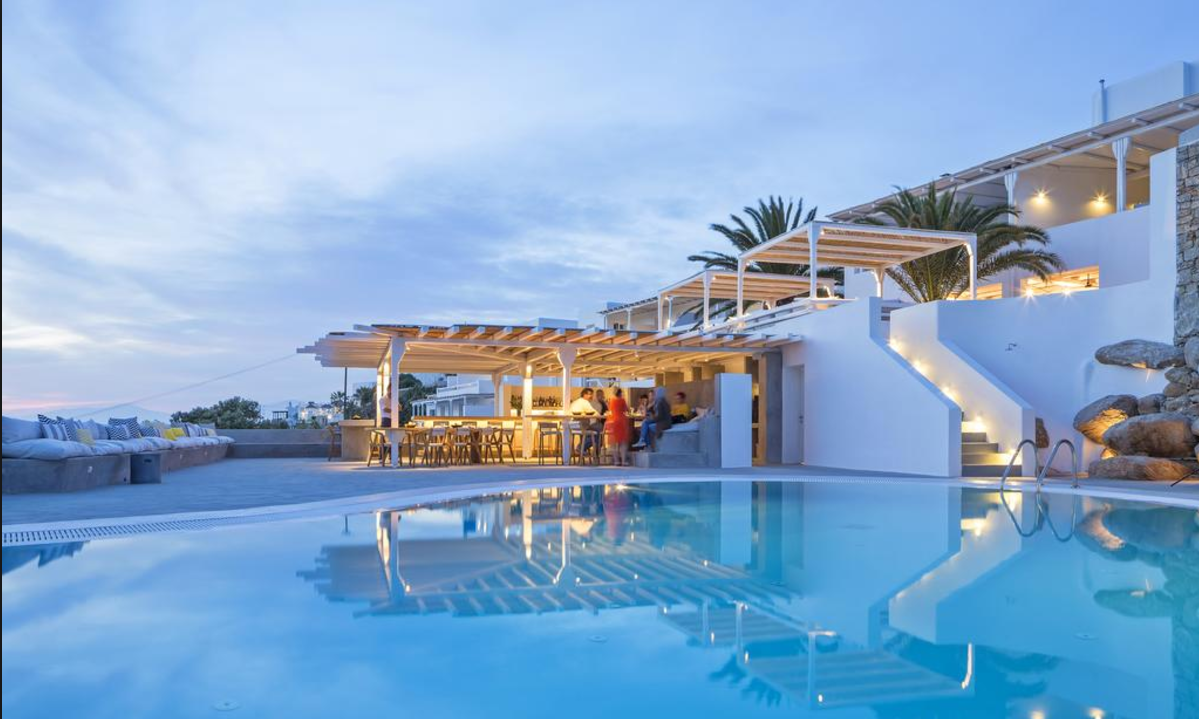 A hotel which is very close to Mykonos town, so it makes it pretty easy to walk to Little Venice and the epicenter of all activities. Great breakfast. Very friendly staff. Easy to hire an ATV to see the island. Appropriate for romance.
Pros: Excellent location, very good breakfast, and very clean rooms.
Cons: The hotel charges many small things that other hotels don't. As an example, the coffee capsules in the room are charged €2.5 each.
Star Rating: 5*
Guest Rating: 9.2
Prices: June €644, August €824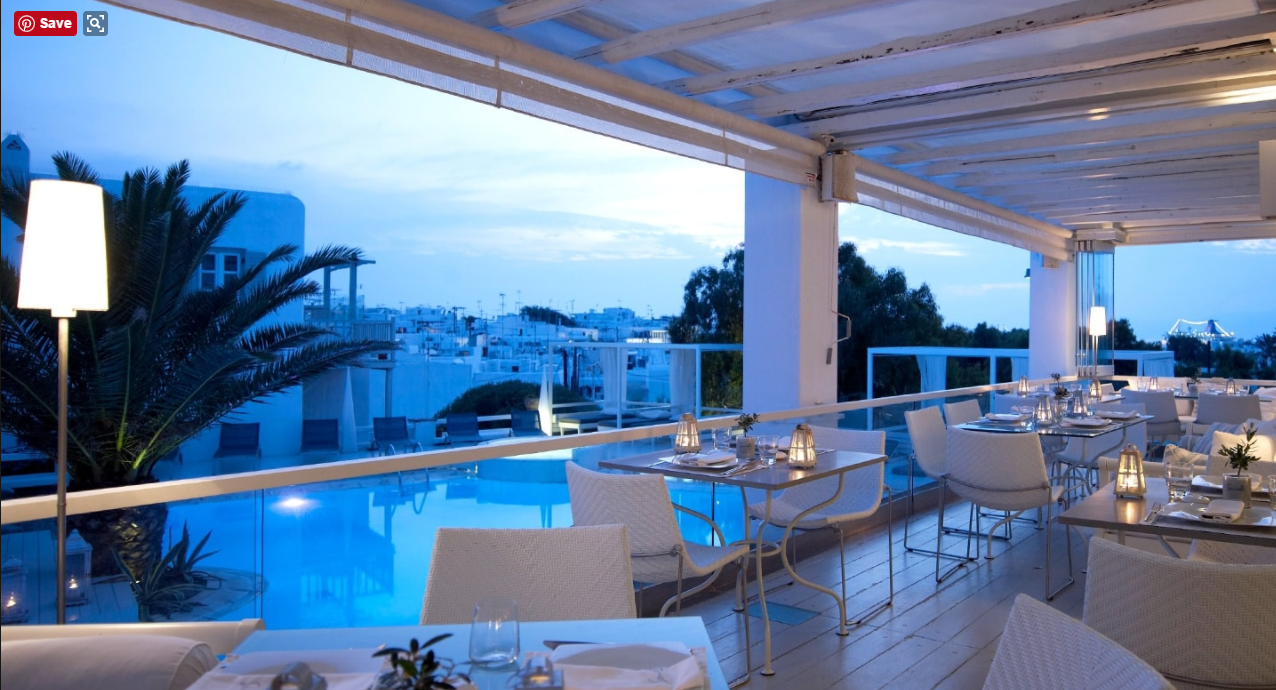 It has the best location from all 5-star hotels in Mykonos town, as it is the closest one to the Mykonos town. In a five to eight minutes walk from the hotel, you can be to Ling Ling, Interni and Little Venice. The staff is great, rooms are beautiful and the food is also amazing. Although it is that close to the center of Mykonos, you will not hear a noise.
Pros: The best location of all 5-star hotels in Mykonos, excellent breakfast, and really helpful staff. Clean and spacious rooms.
Cons: 30 euro car drive from the airport to the hotel. If you have a garden view-hotel, you will miss the views.
Star Rating: 5*
Guest Rating: 9.1
Drive Time to Scorprios and Principote: 15 minutes
Prices: June €350, August €554
---
The Myconian Hotels family has another wonderful hotel for you to stay at. Korali Relais is a hotel with one of the most convenient location. It is just 1 kilometer away from the cosmopolitan area of Mykonos.
Pros: Convenient location, Private pools with breathtaking views of the Aegean Sea, Non-Smoking Rooms Available.
Cons: Cold Water in the Pool.
Star Rating: 5*
Guest Rating: 9.2
Price: August €700
Here is a map with the location of these 5-Star Hotels.
---
Ornos Village
Ornos is the second most frequented village on the island after Mykonos town and for sure one of the best areas to stay in Mykonos. It is close to Mykonos town, at around 4kms, or seven minutes drive time, towards the south.
Our view on staying at Ornos:
Ornos might not be as busy as Mykonos, but still, during the peak season, the place is packed with people. Especially Ornos beach has every inch covered with an umbrella and a sunbed (see the photo below). Ornos is a convenient area to stay as it is close to Mykonos town but it's nothing special per se.

The village is just ok, and for sure you will not enjoy walking around as you will do in Mykonos town. If you stay at Ornos, prepare to visit Mykonos town almost every afternoon. And prepare to move during the morning, as you will enjoy Paragka Beach, Super Paradise beach and Psarou beach, far more than Ornos beach.

We like the fact that Ornos is cheaper than Mykonos town and gives us a quick access to many popular beaches of the island.
Ornos Pros:
10 to 20 percent cheaper than Mykonos town in hotels and usually in restaurants.
It has a beach and you will be able to get there on foot
It is close to Psarrou and to the Nammos bar (still you will need a car to get there)
Many nice restaurants
Platis Gialos beach is near
Mykonos town is just 10 minutes away by the car when there isn't heavy traffic
Ornos Cons:
The village is not picturesque, compared to Mykonos town.
During the high season (July and August), the small road that connects Mykonos town to Ornos gets very busy and you might need 20 to 25 minutes to drive the 4kms from Ornos to Mykonos.
The beach of Ornos is just an average beach, compared to some other beaches in Mykonos island
Parking is not that easy.
Here is a list of the best hotels to stay in Ornos.
Where to Stay in Mykonos Ornos – Best 5 Star Hotels
If you like to enjoy great food or a drink while looking at a wide blue sea then Kirini Hotel is for you.
Pros: Innovative Food Menus, Great Choice of Beverages, Shuttle Service, Beauty Treatments.
Cons: Swimming pool under construction.
Star Rating: 5*
Guest Rating: 9.0
Price: August €348
Yet another hotel with a perfect location in the heart of Ornos beach.
Pros: Perfect location, Panoramic views, Friendly Staff. The beach is right on your doorstep and it is a wonderful swimming beach. The service is fairly good.
Cons: Limited Buffet Food. No complimentary free bottles of water. There is a supermarket close to the hotel and you can buy water and snacks from there. The shuttle bus is not free but it is 10USD per person one way. If there is a private party, the music could be loud until 02:00 in the evening.
Star Rating: 5*
Guest Rating: 9.1
Price: August €590
Star Rating: 5*
Guest Rating: 8.9
Prices: June €844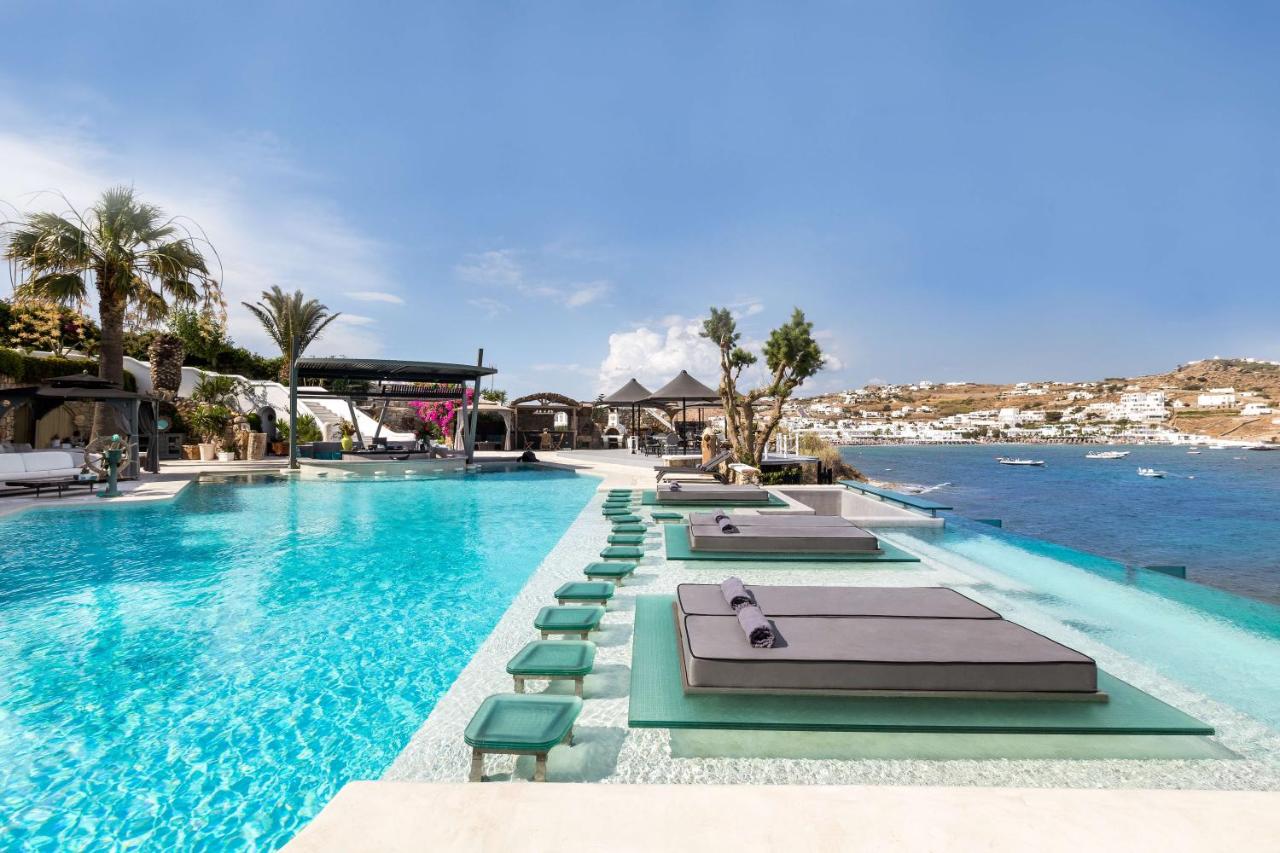 Star Rating: 5*
Guest Rating: 8.3
Prices: June €314
---
About Platis Gialos (Platys Gialos)
Have a look above at the photo to get an idea of the area of Platis Gialos, which is actually a beach with some luxury hotels and a few permanent residents.
The beach of Platis Gialos is the biggest, longest beach in Mykonos island. At Platis Gialos beach you will find many water sports.
Close to Makris Gialos, you can find some ruins from the Hellenic and Roman times.
Staying at Platis Gialos is one of the four most popular choices after Mykonos town and Ornos & Agios Stefanos. Don't expect to find any big village here. This area is mostly houses to let and hotels, across a great beach, the Platis Gialos beach. This is a chill place to stay and during the nights you will find some restaurants playing live Greek music. On the downside, there is no bank or ATM at Platis Gialos.
Platis Gialos is also close to the popular Psarou beach (the beach of the rich&famous who visit the island, where you might end up paying 100 euros for a set of sunbeds). At Psarou beach, you will find the popular Nammos Beach Bar and Restaurant.
From Platis Gialos, you can also get a boat that goes to the popular beaches of Paraga, Super Paradise and Paradise, as well as to the beaches of Elia, Argari and Psarou.
Distances and Drive Time from Platis Gialos to Popular Places in Mykonos
Platis Gialos to Mykonos Town: 4.6 km, 12 min without traffic
Platis Gialos to Ornos Beach: 3.7 km, 11 min without traffic
Platis Gialos to Mykonos Airport: 3.6 km, 11 min without traffic
Platis Gialos to Mykonos Port: 6.2 km, 16 min drive time
Platis Gialos to Psarou Beach (Nammos Restaurant): 1.4 km, 5 min drive time
Platis Gialos to Super Paradise Beach: 8 km, 21 min drive time
Platis Gialos to Paraga Beach (Scorpios Beach Bar): 5.1 km, 14 min drive time


Where to stay in Mykonos Platis Gialos – The best 5 Star Hotels
Here is a list of the best luxury hotels to stay in Platis Gialos: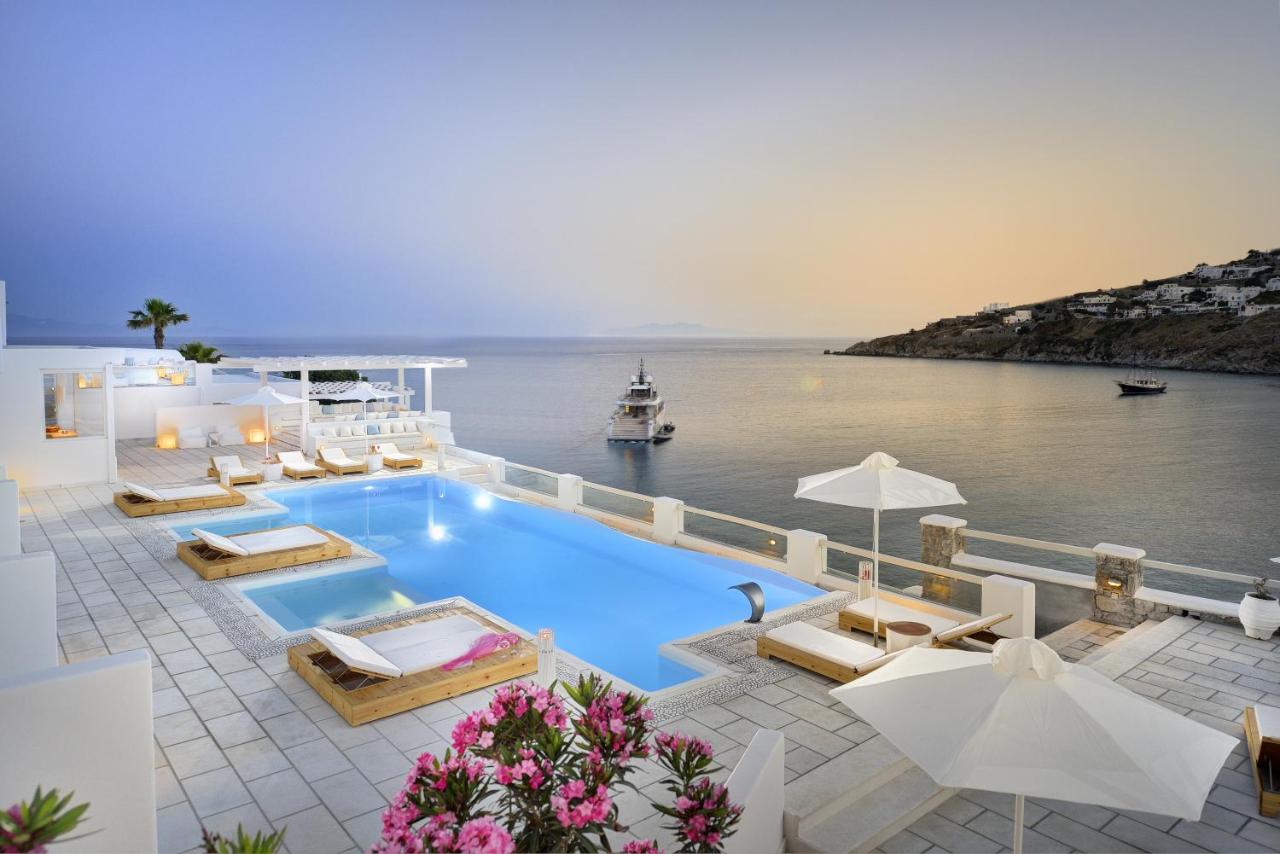 Nissaki boutique hotel offers great views of the Aegean sea and of the Platis Gialos bay area. It offers an excellent pool, with a sea view and the service is on par with the star rating of the hotel. The breakfast has a big variety. The hotel offers a free shuttle service from the airport to the hotel and back.
Cons: The hotel doesn't offer complimentary bottles of water, so make sure you get some bottles from a supermarket. Moreover, the prices are a little bit high, but this happens with almost all five-star hotels in Mykonos.
Guest Rating: 9.3
Prices: June €426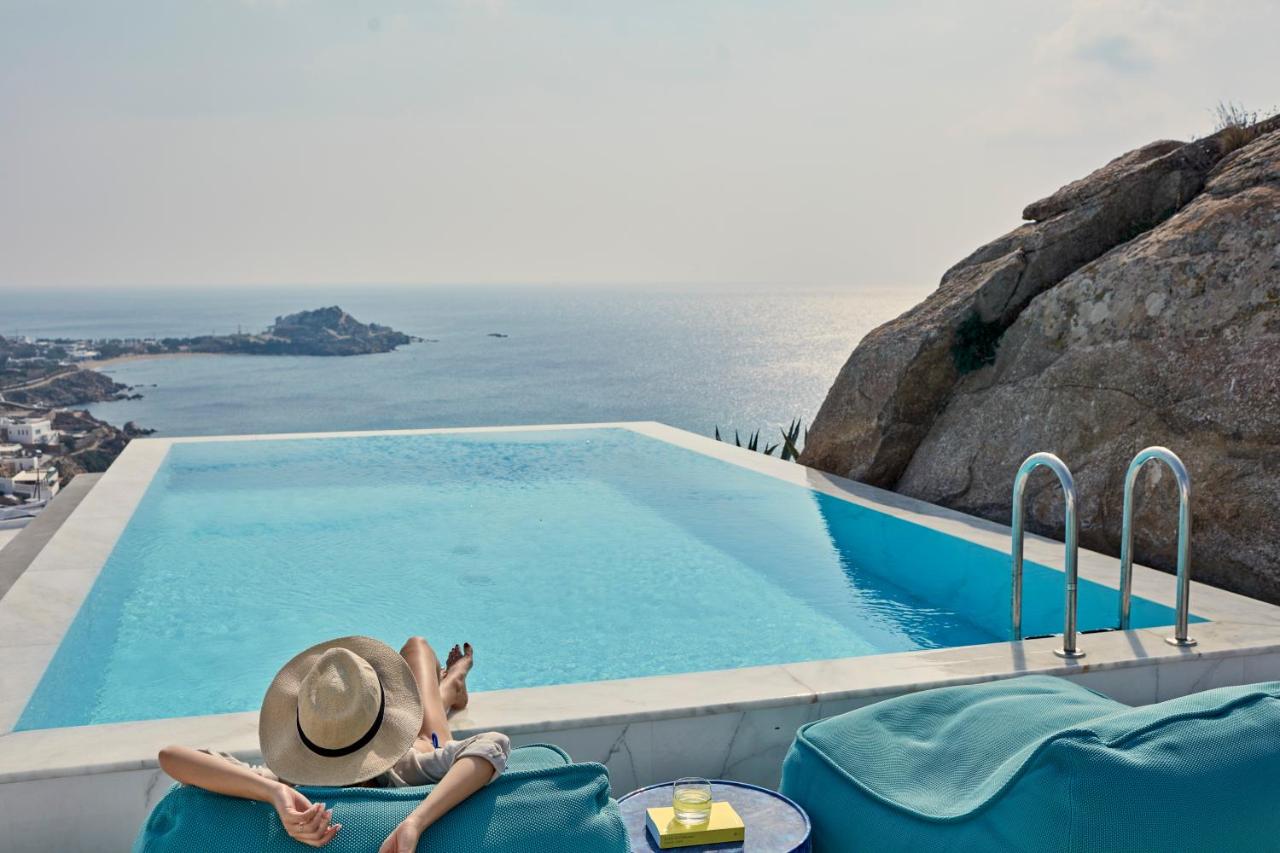 Guest Rating: 9.3
Prices: June €563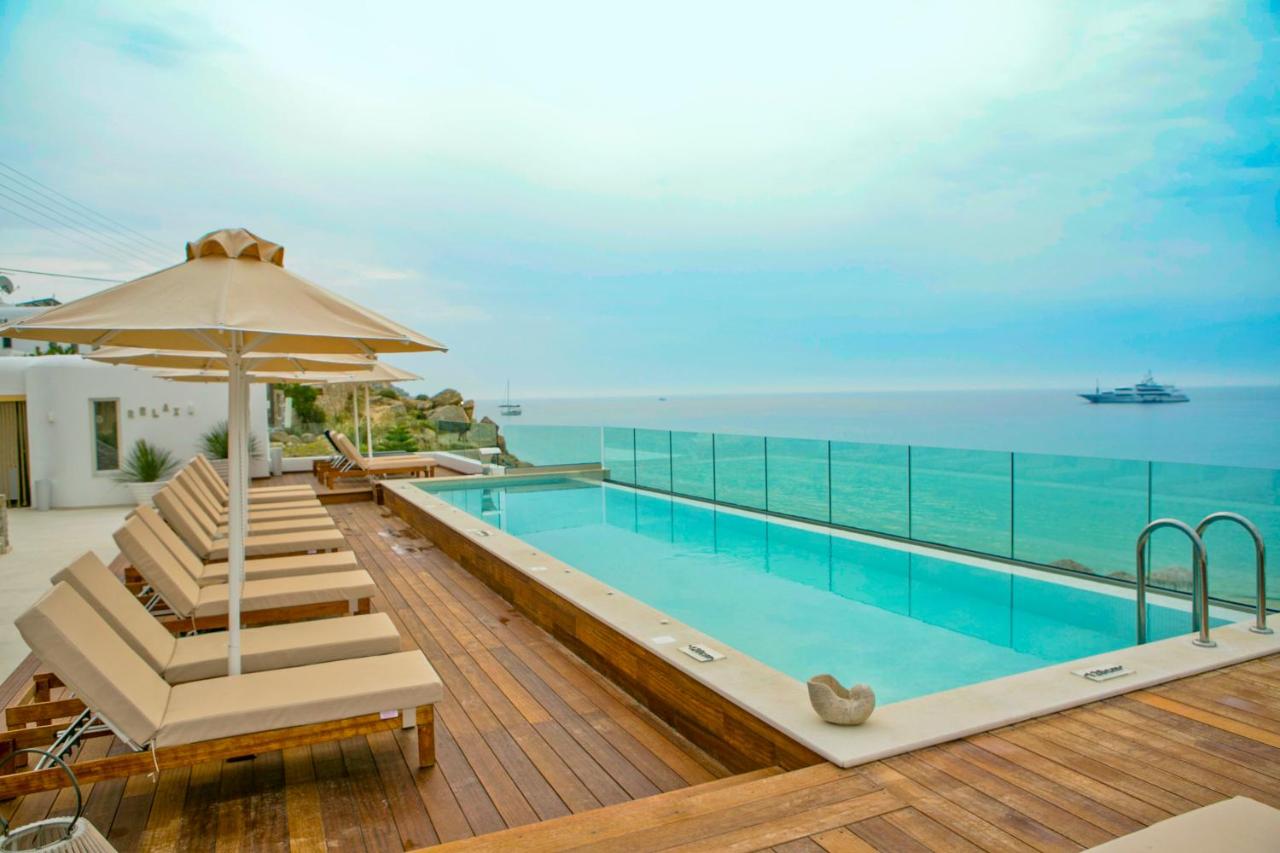 Guest Rating:
Prices: June €270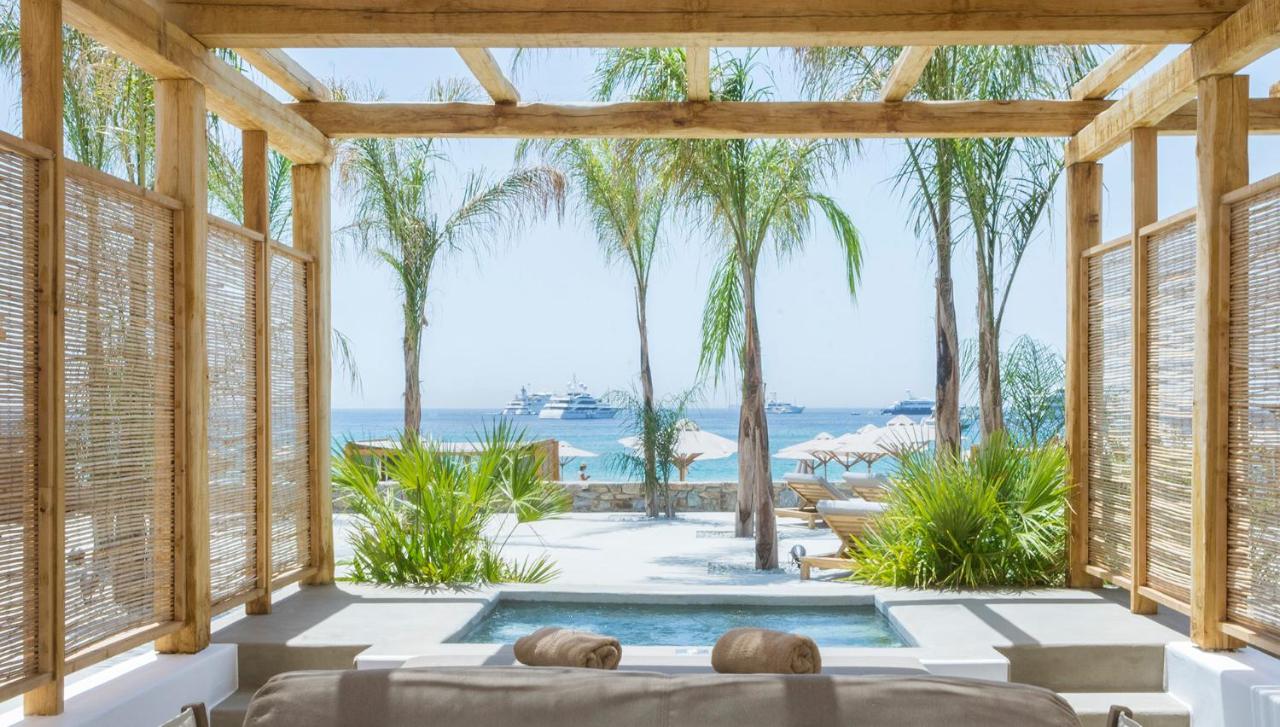 Prices: June €724
Guest Rating: 9.3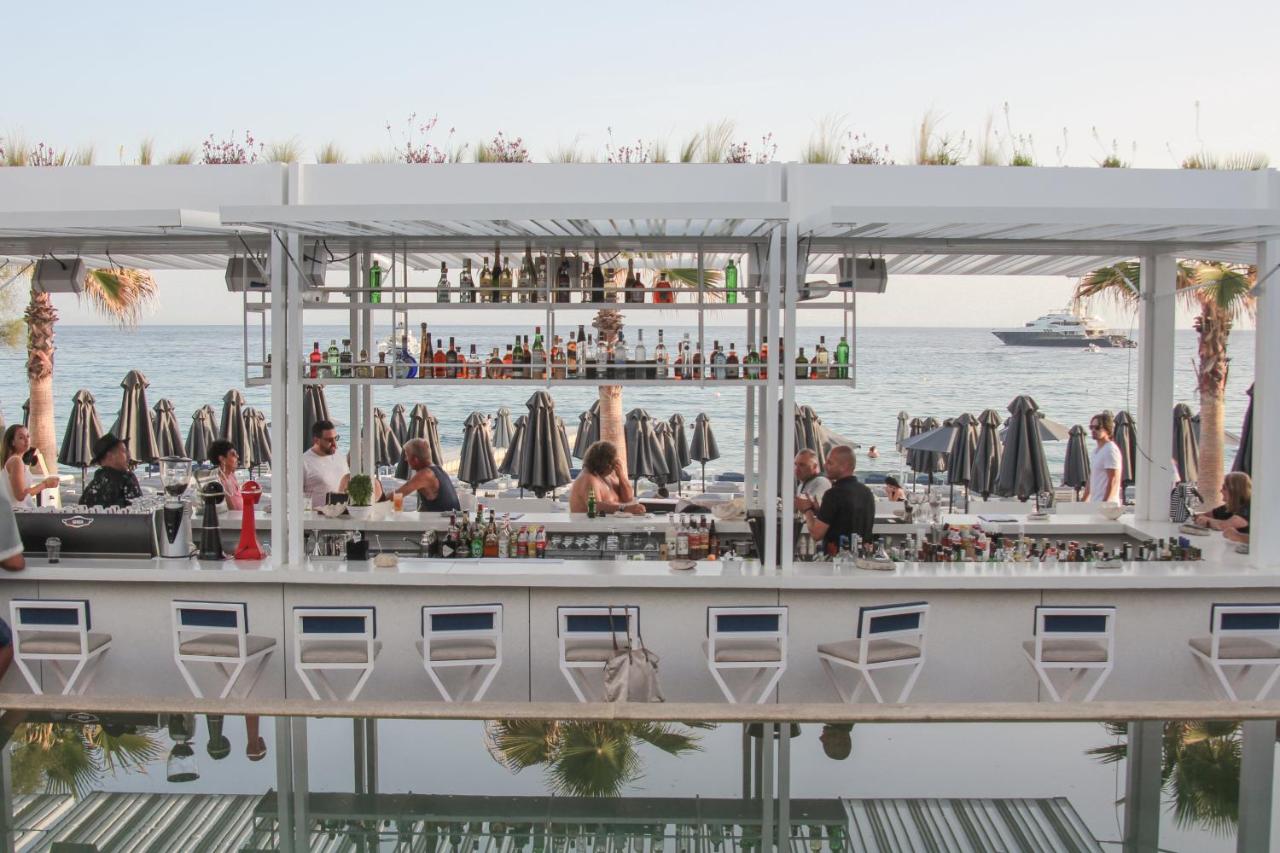 Star Rating: 5*
Guest Rating: 8.7
Prices: June €427
Read Also:
5 Mykonos hotels near Paradise beach
Where to Stay in Mykonos on a Budget
The 15 Best Mykonos Hotels on the Beach
Mykonos vs Santorini. Which one is better to visit?
The 15 best Mykonos Hotels with Private Pools
Mykonos Nightlife Guide: The 20 best bars, night clubs and Beach clubs in Mykonos
Best area to stay in Mykonos 
Where to stay in Mykonos: Beach or Town
Best 5 Star Hotels in Mykonos
Best time to visit Mykonos 
Best Suite Hotels in Mykonos
Best Mykonos Hotels near Nammos
Best Mykonos Hotels near Town
Best Mykonos Hotels for Yoga
Mykonos to Athens by Ferry or Flight