Located in the Cyclades group of islands in the Aegean Sea, is the tiny little island of Mykonos. Mykonos, although small, is one of the most popular destinations for travelers from all over the world every year. The island boasts romantic scenery, stunning beaches, amazing traditional Mediterranean cuisine, and the sights and sounds of Greece that will surely take your breath away.
If you are looking for a place to plan your perfect romantic honeymoon getaway, look no further than the island of Mykonos. Let's take a look at the top 10 hotels for you and your partner to stay in while you share the most romantic time of your lives together.
Before we jump into the hotel list, let's reply to some frequently asked questions about your honeymoon in Mykonos.
Is Mykonos good for honeymoon?
Yes, it is absolutely fine. The two most popular islands for honeymooners in Greece are Mykonos and Santorini. Santorini wins in romance but Mykonos wins in the party atmosphere and the quality of service. You will not regret booking your honeymoon hotel and vacation in either Mykonos or Santorini.
What are the best things to do in Mykonos on my honeymoon?
Here is a list of experiences you can enjoy in Mykonos during your honeymoon:
Spend many hours during the day on the beach and enjoy swimming and tanning.
Party in the afternoon in one of the famous beach bars of Mykonos (Scorpios, Nammos, Principote etc)
Dine at luxury restaurants on the beach or in the town
Party all-night-long in the bars and clubs of the island
Take a helicopter ride to Santorini
Visit Rhenia island (20 minutes from Mykonos with a boat) on a daily tour.
And what about romantic things to do in Mykonos?
Even though Mykonos has the rumor of the best "party island" in Greece, you will still find a lot of romantic things to do in Mykonos. Here is a list of romantic ideas:
Walk with your partner in the beautiful Matoyianni street in Mykonos town
Watch the sunset, as the sun falls behind the island of Delos, from your private pool in a Mykonos honeymoon hotel. Or from the hill with the popular windmills in Mykonos town (although it gets too crowded in July/August and you kind of lose the romantic feeling with so many people around you).
Visit Little Venice and have a glass of wine there, while viewing the sea and the sunset.
Pick a beach which is not that popular and go for a night swimming, under the light of the moon.
Book a photographer to capture the two of you in the most beautiful places in Mykonos
What are other honeymoon destinations near Mykonos that I could add to my honeymoon trip?
If you want to combine two or three islands during your honeymoon, including Mykonos, I suggest that you include Santorini island (best choice to add to your trip in Mykonos) and you could also add Antiparos island, which is the favorite island of Tom Hanks (he actually owns a house there and goes to Antiparos every summer). Koufonisia island could also be a choice, under conditions (read below).
We wouldn't suggest including other islands near Mykonos on your honeymoon trip, for the following reasons:
Paros island: Too crowded at Naousa village, which is the main place to be and not as romantic as Santorini. You should better go to Antiparos, which is 10 minutes from Paros with the ferry boat.
Ios Island: A party island for people in their 20s. A lot of drinking, partying but not many luxurious restaurants or so many romantic things to do.
Andros Island: Long distances, family island. Beautiful but too neutral for honeymooners. Boring mostly.
Koufonisia Island: A popular choice and a lovely, small island to go. If you go a little bit off-season (not in August), it could also be added to your honeymoon itinerary.
What is the Mykonos honeymoon cost?
If you want to check how expensive is Mykonos, have a look at our blogpost here.
During the high season (July, August), the smallest daily budget you should plan for would be:
Hotel Budget: a minimum of 170 euros/night for a decent double room, with free breakfast included
Beachtime Budget: 40 euros for two sunbeds and an umbrella. Two cold coffees will be 10 euros and if you get some water and a couple of beers, you will need another 20 euros. A total of 70 euros for spending 4-5 hours on the beach, without eating anything.
Lunch: 50 euros for two persons
RentACar: 40 euros per day
Dinner: 70 euros for a two-persons dinner
Drinks in a bar in the evening: a minimum of 10 to 15 euros per person for a drink or cocktail. This can go much higher obviously, depending on your drinking habits.
So, a conservative total budget per day for a couple, is around 450 euros per day in Mykonos, during the high season.
As you can imagine, the upper limit of your honeymoon trip to Mykonos is much higher. If you want to get one of the best honeymoon hotels in Mykonos and go to the fanciest restaurants during the evening, the cost could easily be 1500 to 2000 euros per day.
Which are the best honeymoon hotels in Mykonos with a private jacuzzi?
You can read here, our blogpost on the five best hotels in Mykonos with a private jacuzzi. If you want to check them now, here is the list:
How expensive are the honeymoon hotels in Mykonos? Do I have to sell a kidney to stay there?
I don't have good news for you in this question. The prices in the luxurious, 5-star hotel in Mykonos during July and August are among the highest in Greece.
Have a look at the table below, to understand the prices of some 5-star hotels in Mykonos town, during the shoulder period (May, June) and the high season (July and August):
Hotel
Rating
$ June
$ August
Link
Myconian
Kyma
9.2
$250
$530
Go
Kouros
9.0
$386
$620
Go
Bill & Coo
9.4
$652
$895
Go
Boheme
9.2
$644
$824
Go
Semeli
9.1
$350
$554
Go
Absolut
9.0
$347
$594
Go
Cavo Tagoo
8.8
$769
$1039
Go
Tharroe
9.0
$256
$452
Go
Myconian Korali
9.0
$225
$451
Go
Ok. Let's get into work again! Here is our list of the best honeymoon hotels in Mykonos.
The 10 Best Honeymoon Hotels in Mykonos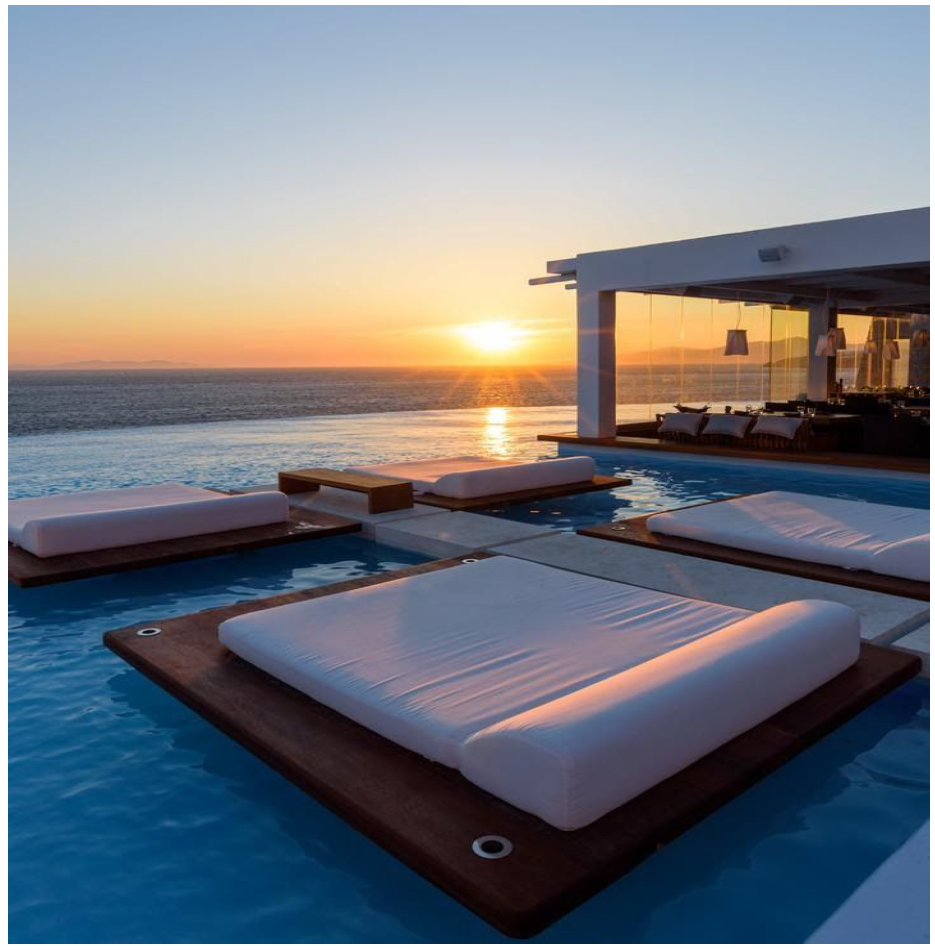 Perhaps one of the most luxurious hotel experiences in the whole of Mykonos, Cavo Tagoo offers a romantic 'barefoot' style experience you are sure to never forget. Located on a cliff overlooking the stunning clear blue waters of the Aegean Sea, Cavo Tagoo has a view unlike any other.
Cavo Tagoo is a quiet 5-star hotel with limited guest rooms to ensure that those staying there enjoy a top level of privacy and luxury. With a full-service sauna and spa, floating relaxation beds on the cliffside pool, and a 5-star contemporary Mediterranean restaurant on location, Cavo Tagoo is truly the height of luxury and certainly one of the best honeymoon hotels in Mykonos.
A Cavo Tagoo Mykonos premium room with pool, costs 1440 Euros a day, at the peak season of July/August. Having one of the best view hotels in Mykonos, comes with a hefty price obviously.
A lot of readers ask "is Cavo Tagoo all-inclusive"? The answer here is absolutely not. Only breakfast is included in the price.
Another popular question is whether there are any black Friday deals in Mykonos for Cavo Tagoo (or other hotels) and the answer again is no. You will not find any special deal for Cavo Tagoo during the year.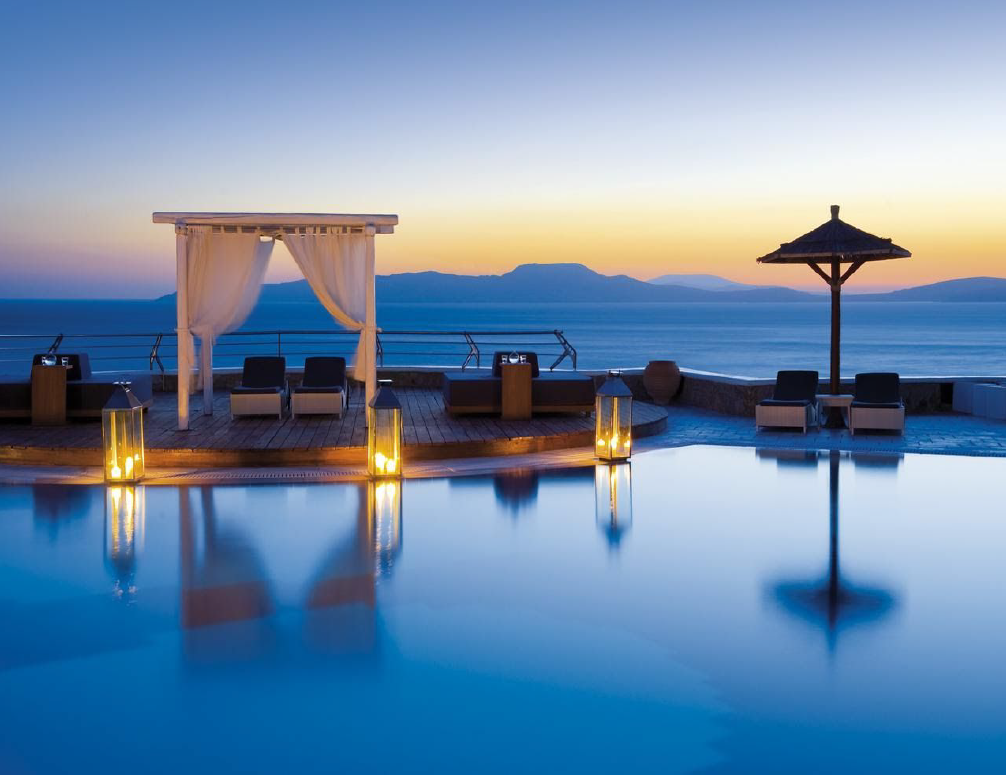 The Mykonos Grand Hotel & Resort is located directly on the Agios Ioannis Beach. This resort offers THE very traditional luxury experience that you come to expect when visiting the Greek islands. The suites come equipped with their very own swimming pools and their own telescopes for romantic evening stargazing.
The beach offers private lounge areas exclusively for guests of the resort, and you will have the chance to experience the stunning sunset every night from the outdoor terrace of The White Bar on the resort premises. You can expect all of the luxury amenities of a 5-star resort, including spa and 5-star cuisine. The Mykonos Grand Hotel & Resort is perfect for any couple who wants a true beachside Mediterranean experience.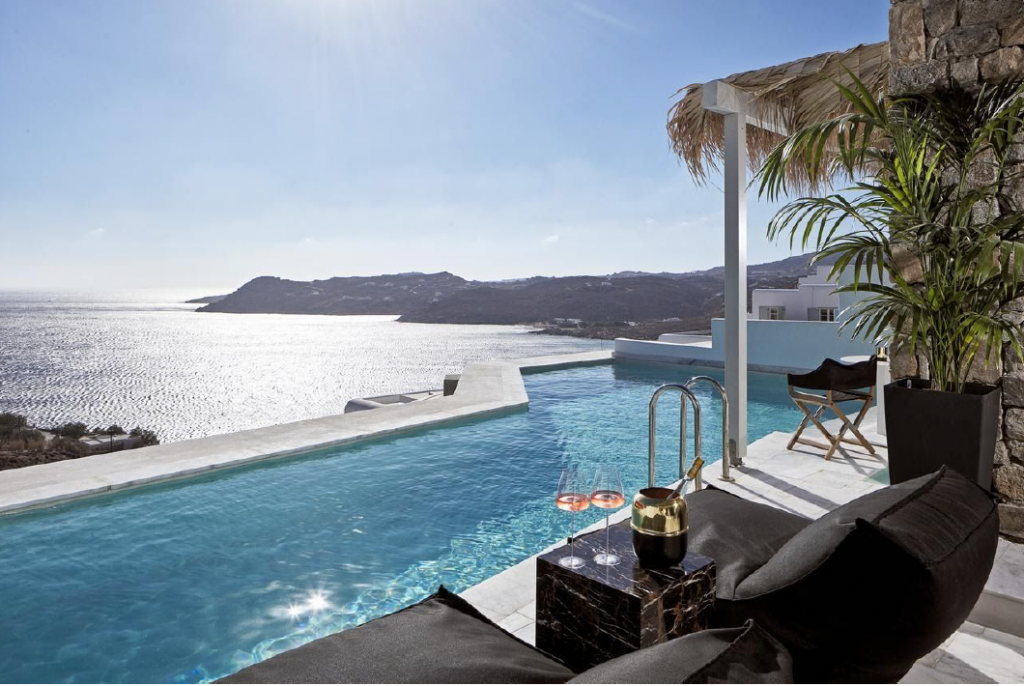 Located on the popular Elia Beach, you will find this private 5-star resort, The Myconian Villa Collection. Although the Elia beach strand is not private, it is not part of the bustling party scene that can sometimes overrun the beaches of Mykonos. The Elia Beach area is quaint, and relaxed to be sure. But never fear, the resort does have its very own private beach on the
Aegean sea for you to enjoy, without any crowds.

In addition to the stunning beaches, this resort has a world-famous saltwater infinity pool, saltwater therapy treatments, and breathtaking suites. In addition to your room, you can also upgrade your stay to include a private chef and luxury yacht rentals for you and your partner.
The Myconian Villa Collection is truly the celebrity experience in Mykonos.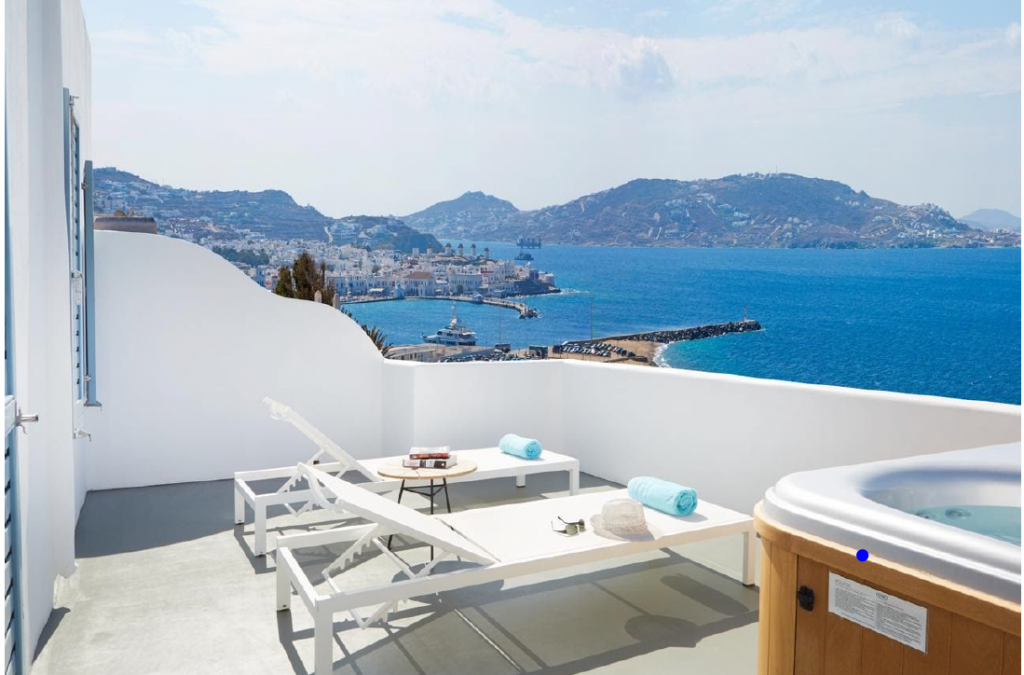 Kouros Hotel & Suites is perfect for a couple who enjoys the more artistic things in life. This small 35 room 5-star hotel and suite offers a modern take on the traditional Greek aesthetic. Located just a 10-minute walk from the heart of the Mykonos center, you are sure to have easy access to the vibrant Mykonos nightlife that it is famous for.
This hotel is more design-conscious than other 5-star resorts on the island. The interior design is sleek, modern, and perfect for any couple who loves to keep things simple and yet elegant. Everywhere you look from the Kouros Hotel is a stunning view, from the suite terraces to the amazing outdoor pool. Even the restaurant and bar across the road offers breathtaking views of the Aegean sea.
If you are in the market for an artistic, and low key 5-star experience, Kouros Hotel & Suites can't be beaten.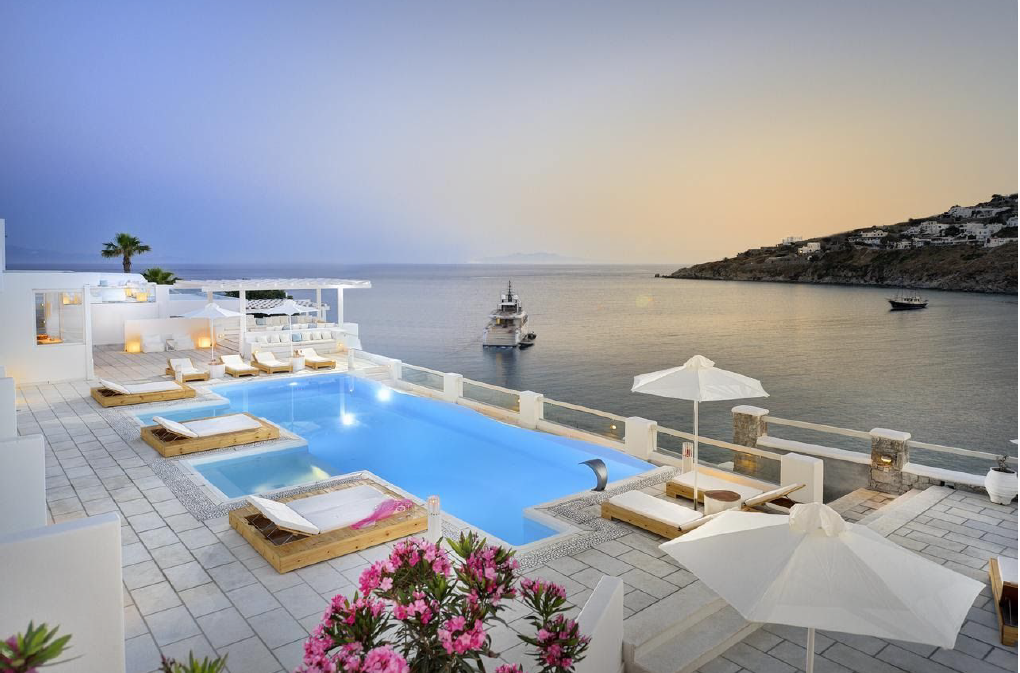 The Nissaki Boutique Hotel, one of the best honeymoon hotels in Mykonos, is a prime example of luxury and exclusivity. Having only 18 bedroom suites on the premises, you are guaranteed to get your own privacy and relaxation here. This boutique hotel boasts a gorgeous traditional Mediterranian architecture that the island of Mykonos is so famous for. With stunning rustic white stonework and gorgeous private scenic terraces, you are going to get the true luxurious Mykonos experience here.
The hotel is located overlooking the highly exclusive Psarou Beach and is just a few minutes walking from the famous Platis Gialos. That means that you and your partner will have plenty of chances to relax and unwind on some of the most famous white sand beaches that Mykonos has to offer.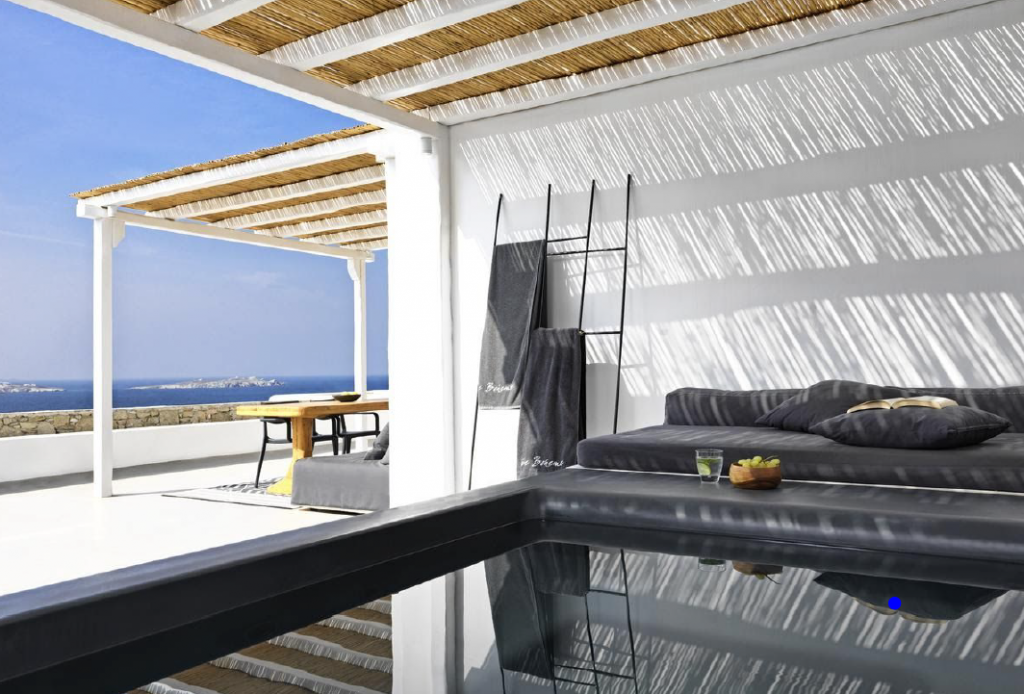 Boheme is perfectly named. It is perhaps the most 'artistic' and modern of all the 5-star resorts available on the island of Mykonos. This small boutique-style hotel is ideal for those who want to enjoy 5-star luxury, with all of the excitement and entertainment that the nightlife of Mykonos has to offer. Located just a few minutes away from the famous Mykonos nightlife scene, guests at Boheme can relax in luxury during the day, and get wild at the bars during the night.
Boheme is perfect for young newlyweds who still want to remain social and active on their honeymoon. This bohemian style hotel is chic, stylish, hip, and relaxing all at the same time. There really isn't any other place like it in Mykonos.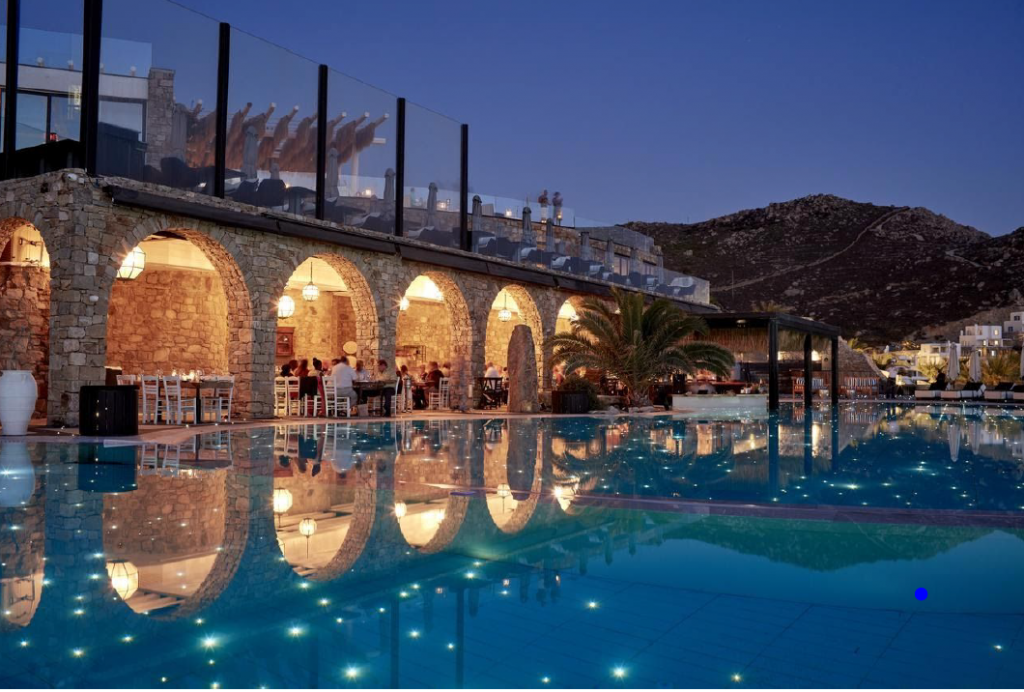 The Royal Myconian is a 5-star luxury hotel chain that sits on a stunning cliffside view of the Aegean Sea overlooking Elia Beach. With 148 rooms and villas, this is a bit larger and less 'exclusive' than other competing luxury resorts, but don't let that deter you. The Royal Myconian is no slouch when it comes to the 5-star experience.
What really sets the Royal Myconian apart is the top-notch amenities that the hotel offers. Guests can enjoy once-daily complementary thalassotherapy sessions, as well as free in-room beauty treatments. Pair this with the breathtaking outdoor pool, and restaurant area and you are guaranteed to have the most relaxing stay of your life. You may never want to even leave the hotel at all!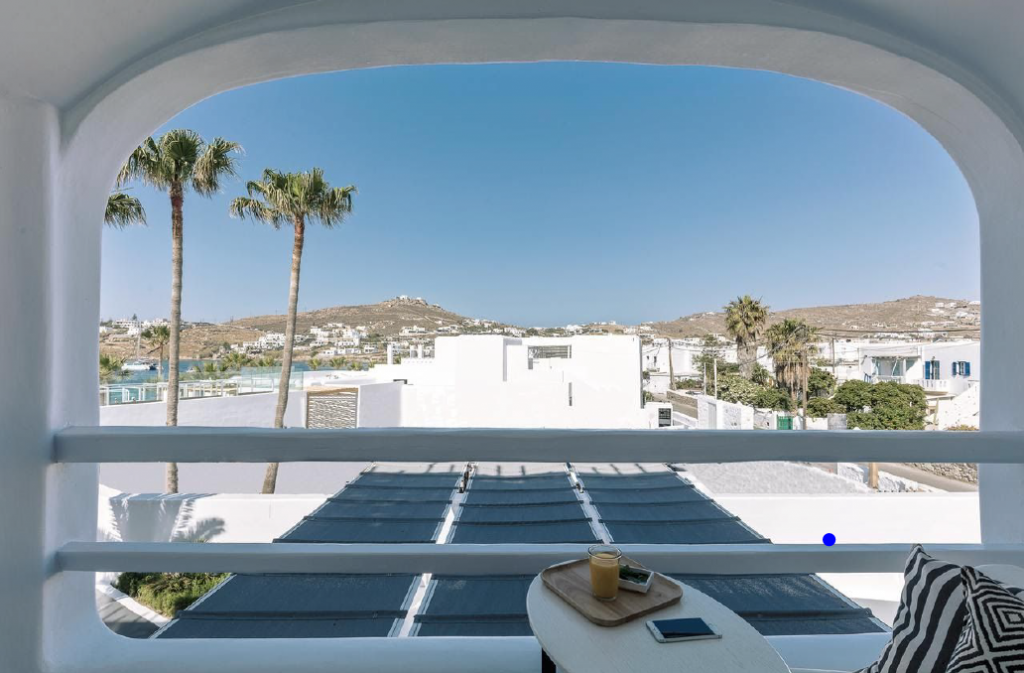 Mykonos Blanc, located in the serene area of Ornos, offers couples a more calming and secluded atmosphere than competing 5-star hotel experiences. Located perfectly on top of the gorgeous Ornos Beach, guests can simply roll out of bed, and walk their way outside and find themselves on the white-sand shores.
The hotel itself is modeled after the very traditional Cycladic architecture style, and is surrounded by mountainous views and towering palm trees. While still remaining close to the heart of the city, Ornos is far enough away to avoid any of the boisterous party crowd that can exist on the island. This means that you and your partner can truly enjoy the calming sounds of the ocean, without any of the crowded beaches that the party areas see.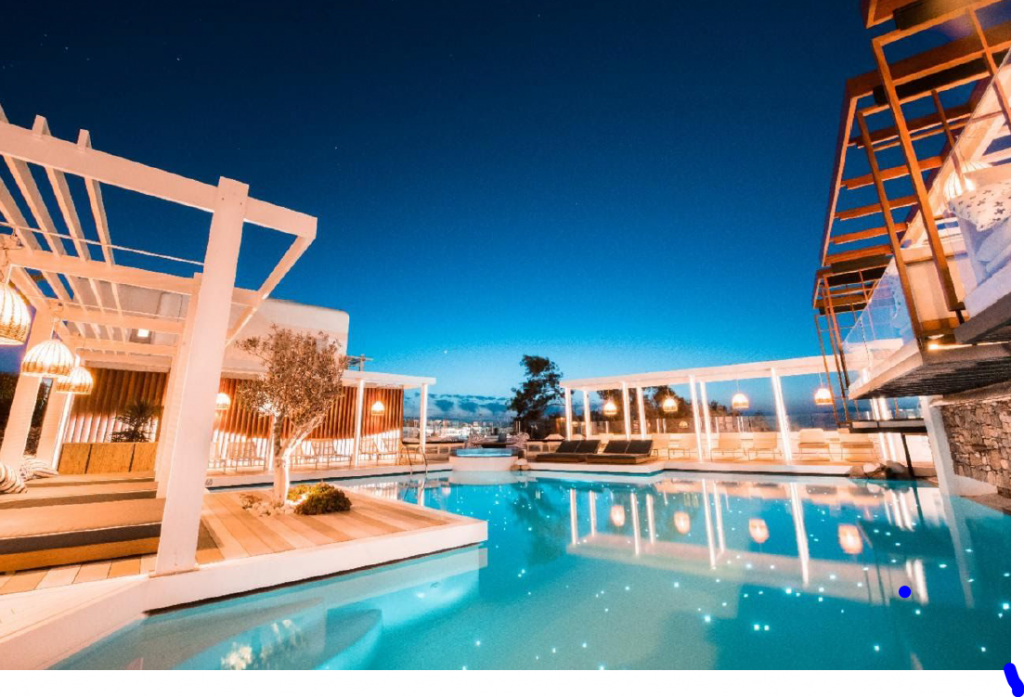 Located on the world-famous Megali Ammos Beach, just minutes from the heart of the Mykonos city center is the wonderfully lavish Semeli Hotel. This 5-star hotel offers sea, city, and mountainous views from anywhere on the premises. In addition, each room comes equipped with gorgeous and cozy french doors giving way to the stunning outdoor garden views. You will feel truly in touch with the nature of the island staying here.
The 5-star Thioni restaurant serves excellent Greek and Italian dishes throughout the day, which can be enjoyed indoors or outside by the pool on the veranda. You can enjoy hand-mixed cocktails, sophisticated spa and fitness facilities, and otherworldly natural views of the island without ever leaving the comfort of the resort.
Semeli Hotel is ideal for couples who enjoy nature, and the finer things in life and certainly deserve a place in the list of the best honeymoon hotels in Mykonos.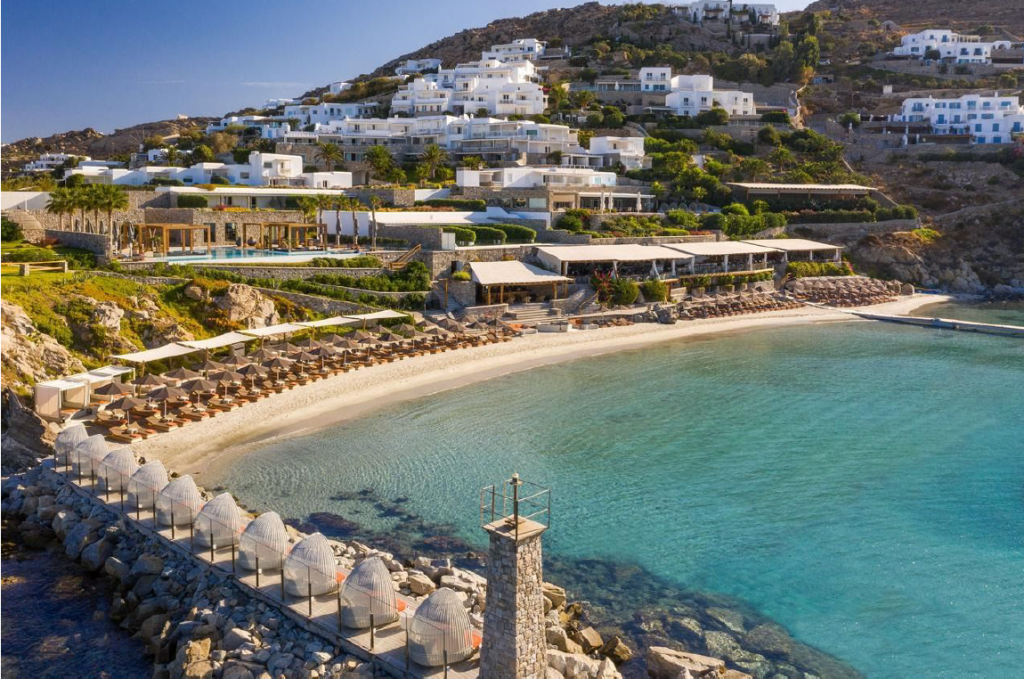 The Santa Marina Spa & Resort is perhaps the most stunning, and gorgeous resort on Mykonos in terms of location. Nestled in a private and secluded little peninsula near Ornos, the resort itself wraps beautifully around the tiny little inlet of the Aegean Sea.
With rooms and terraces climbing up the mountainous terrain, you are guaranteed to get a view unlike any other.
With on-site tennis courts, 2 infinity pools, beachfront restaurants with 5-star cuisine, and luxurious spa and gyms available; the Santa Marina offers everything you and your partner could ever need or want on your honeymoon getaway.
At the Santa Marina, scenery and locale are everything. You and your partner are going to get an exclusive beachfront experience like none other on the island of Mykonos.