The Coronavirus/Covid 19 in Mykonos post is updated as of the end of January 2021.
Coronavirus Incidents in Greece
As of February 2021, Greece has a total of 155.000 coronavirus incidents and 5.750 deaths.
There are around 260 persons daily in the intensive care units of the hospitals.
The country is in a pretty low position in the worldwide map of incidents. There is a lockdown all over the country, and people are not permitted to be outside after 21:00. Shops are either closed or operate with a click-away system. Restaurants and hotels are currently closed.
Coronavirus- Covid 19 in Mykonos
The Greek Government does issue coronavirus incident reports per prefecture. Mykonos belongs in the prefecture of Cyclades, together with other islands such as Naxos, Paros, Syros, Ios, Santorini, etc.
The prefecture of Cyclades has a total of 598 incidents with a total population of over 100k people. The incidents are 507 per 100k inhabitants.
Mykonos has 10k permanent inhabitants, so there should be around 50 coronavirus incidents on the island as we speak.
Covid Vaccination Progress in Greece
You can see the daily progress of the vaccination for coronavirus in Greece, at the government site: https://emvolio.gov.gr/vaccinationtracker
As of 31st of January, there are 230k persons vaccinated (total population is around 11M), with around 18k people being vaccinated per day. Below you can find out the official chart of the progress of Covid vaccinations in Greece.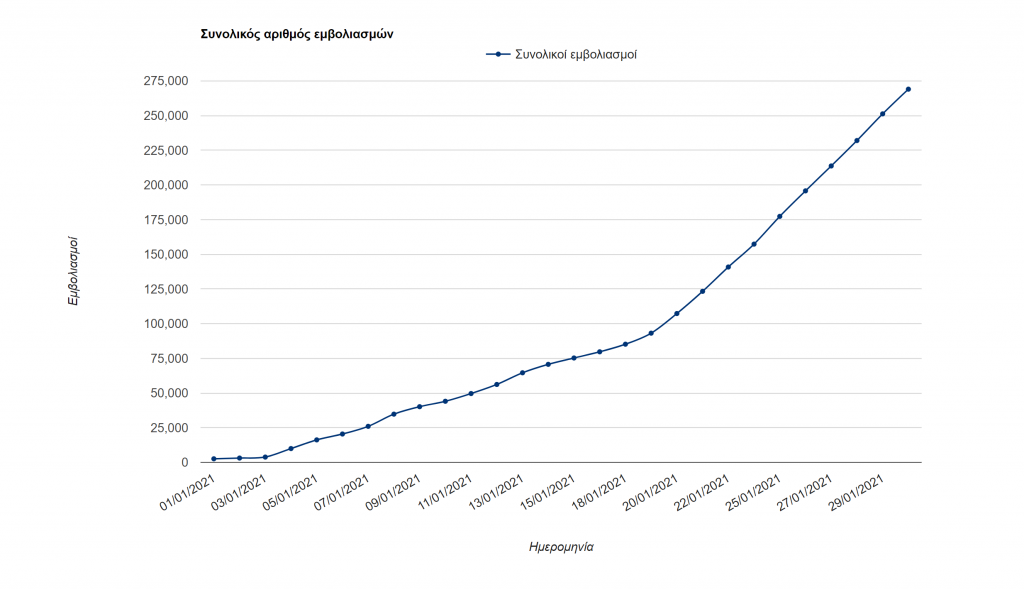 The vaccinations have started with the personnel in the health industry, and then with the people who are over 80 years old.
In Mykonos, there are 86 persons vaccinated, with around 30 new people being added every day.
Is it Safe to Travel to Mykonos in Summer 2021?
Let's be honest. Noone can guarantee to you that you are safe from Coronavirus, and this stands true for the most places in the world. Even though Greece is in a much better situation compared to Italy and Spain (or Turkey), when we compare the Covid incidents per 100k inhabitants, it is still a very touristic country, with around 30M visitors per year in the precovid era. Thus, even though the local residents, Greeks, don't have a high density of Covid incidents, the situation changes during the summer, when people from all over the world arrive to Greece.
Mykonos is very popular and for sure you should expect that the incident number would be much higher during the summer.
What happened with Covid in Mykonos in summer 2020?
There were periods of lockdowns and the bars were forced to either close completely or at 12:00 in the evening. So, the experience for a tourist was a little bit like a lottery, depending on the weeks of arrival. With the arrival of the vaccine, things should be much better this summer, but this still needs to be proved.