Palladium Hotel Mykonos Review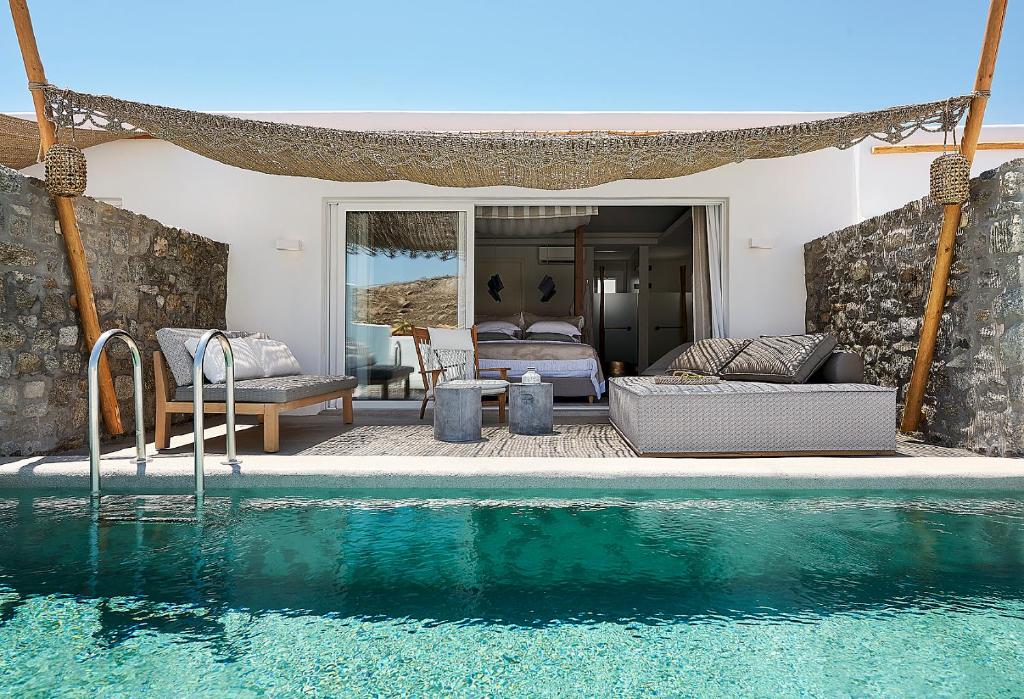 If you're looking for a luxurious stay in Mykonos, Palladium Hotel is the perfect choice. This 5-star hotel is located in Platis Gialos, just a few steps away from the beach. Here's a detailed review of the hotel:
Location
Palladium Hotel is located at Platis Gialos, Mykonos. The exact address is Platis Gialos, Mykonos 84600, Greece. The hotel is just a minute's walk from Platis Gialos beach, one of the most popular beaches on the island. The hotel is also close to other attractions like Psarou Beach and Paranga Beach.
Ages
Palladium Hotel welcomes guests of all ages. It's not a couple's only hotel. Babysitting services are available upon request.
Pet Policy
Unfortunately, Palladium Hotel does not allow pets.
View
Palladium Hotel offers stunning views of the Aegean Sea. You can enjoy the view from your room or from the hotel's outdoor pool.
Parking
Parking is available at the hotel. The cost is included in the room rate.
Perks
The hotel offers complimentary Wi-Fi, a welcome drink upon arrival, and a shuttle service to Mykonos Town. The shuttle service runs every hour and is free of charge. The hotel also offers a complimentary breakfast buffet.
When to Book
The best time to book Palladium Hotel is during the off-season (October to April) when the rates are lower. However, if you're planning to visit during the peak season (June to September), it's best to book in advance to avoid disappointment.
How to Book
You can book your stay at Palladium Hotel through booking.com.
Phone and Email
You can contact Palladium Hotel at +30 2289 022 444 or by email at info@palladiumhotel.gr.
Amenities
Palladium Hotel has an outdoor pool with sun loungers and umbrellas. There's also a spa, fitness center, and jacuzzi. The hotel's spa offers a variety of treatments including massages, facials, and body treatments.
Food and Drink
The hotel's restaurant offers Mediterranean cuisine with a modern twist. You can enjoy your meal indoors or outdoors with a view of the sea. The hotel's lounge bar is the perfect place to enjoy a cocktail while watching the sunset. Room service is also available.
Rooms
Palladium Hotel offers a variety of room types including standard rooms, suites, and villas. Smoking rooms are not available. Wheelchair accessible rooms are available upon request. The best room in the hotel is the Palladium Suite which offers a private pool and stunning views of the Aegean Sea.
What's Nearby
Platis Gialos beach is just a minute's walk from the hotel. Psarou Beach and Paranga Beach are also nearby. Mykonos Town is a 10-minute drive from the hotel and is home to a variety of shops, restaurants, and bars.
In conclusion, Palladium Hotel is the perfect choice for a luxurious stay in Mykonos. With its stunning views, excellent amenities, and convenient location, you're sure to have an unforgettable stay.