Mykonos in April: Everything you need to know
Mykonos in April offers great opportunities to see the island in an off-peak season, without the crowds and enjoy its beauty in a more relaxed way.
Is April a good time to visit Mykonos?
In a word yes. It might not be the best month to visit Mykonos (our suggested month is September) but it is still a great time to enjoy the island. This is the time between winter and summer when the bars, restaurants and cafes are opening up and the island is not too crowded.
You can also have a look at our post on the best time to visit Mykonos, to get an idea of what Mykonos is like each month of the year.
Mykonos in April – Fast Facts
Accommodation is much cheaper than in May, June, July, August and September. The most expensive months in Mykonos are July and August and April is one of the cheapest months to visit the island.
In April the sun rises at 07:00 and the sunset is at 19:45, so you get an average of 13 hours of daylight, enough to see all you want on the island.
The sea is pretty cold to swim. The sea temperature is around 15 degrees. You can still enjoy the time on the beach.
The temperature is on average from 14 C (the lowest) to 19 C (the highest). If you are lucky you might have temperatures above 20 degrees.
What's the weather like in Mykonos in April?
Here is a detailed list of the hours of sunlight you get in Mykonos in April and also the times of sunrise and sunset during the month. The later you visit Mykonos in April, the earlier the sun rises and the later the sunset is.
On average, the sunrise is before 07:00 and the sunset is after 19:45. That's a lot of sunny hours to enjoy the island.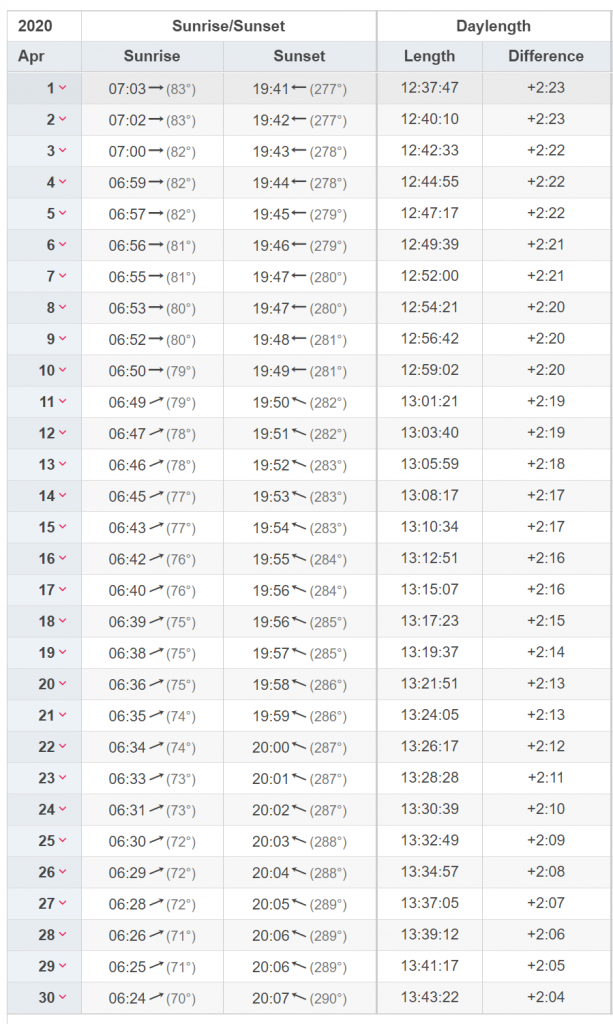 There are on average 5 rainy days in Mykonos in April, so if you stay for three to five days on the island, you would most probably have one rainy day. But usually, the rain doesn't last for many hours and the sun is pretty strong to make everything dry quickly.
Is Mykonos windy in April? Look, Mykonos is called "the island of the winds" due to the strong winds it experiences from time to time. Yes, you could have some pretty windy days in April but you could also be lucky and experience no-wind days. Expect to have at least one windy day during your stay.
What about clouds in Mykonos in April? 30% of the days there are partial or full clouds in the sky.
So, all in all, the weather in Mykonos in April is comfortable, with some clouds, winds and sometimes rain (15% chance), but a lot of daylight and sunny hours as well. You just need a little bit of good luck but this is not yet summer. It's still spring.
What to wear in Mykonos in April (Packing List)
April is a month of spring, so the weather might change and as you are on an island and there is humidity, the evenings are still chilly.
You should better bring layers of clothes, as during the noon the temperature could be 20 C and you could wear a t-shirt, while later in the evening the weather is chilly and you might even need a raincoat.
Base Layers: A few pairs of socks, underwear and t-shirts
Pants: Jeans work fine. You could also bring a couple of short pants.
Warm Sweater: During the evening the weather gets chilly, so you will usually need a warm sweater, like a Polo.

Raincoat or Wind-Proof Jacket: If it gets windy, you will need a jacket that stops the wind. Not a thick one, but e.g. a Northface or Columbia that stops the wind. You should also bring a hoody.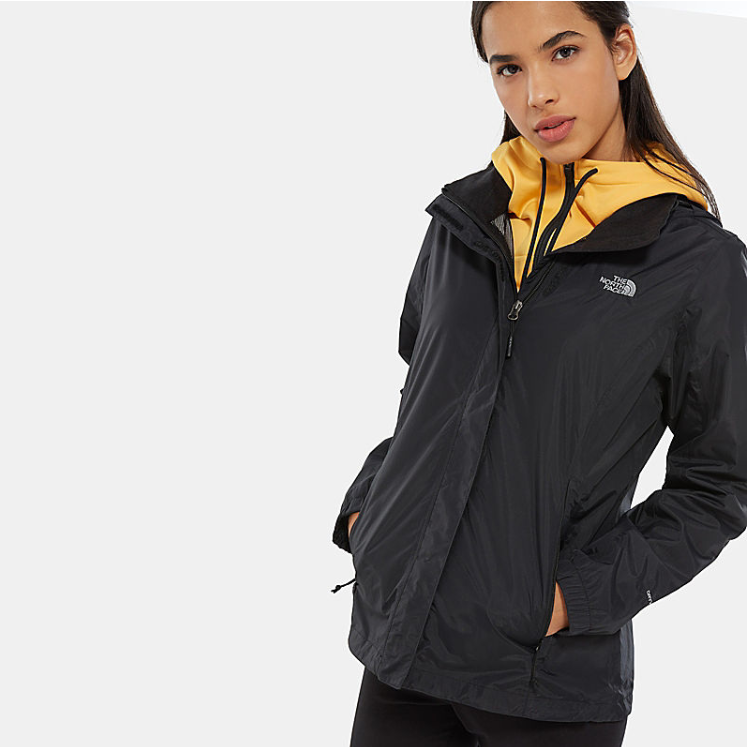 Swimming Suit: Even if you don't swim, you may want to tan next to your swimming pool or on the beach, so make sure you bring a swimming suit with you.
Sunscreen, Sunglasses, Beach Towels (even though your hotel could provide you with them)
-Don't bring high heels, as it is pretty hard to walk on them in the stone-paved streets in Mykonos.
April Special Dates in Mykonos
Usually, the Orthodox Easter is during April; the date changes every year and the actual celebration day of the Orthodox Easter is always on Sunday. But the week before the Sunday of the Orthodox Easter, there might be some limited activity in the bars, especially on the Great Friday, two days before Easter, due to religious celebrations.
As an example, the Orthodox Easter for 2020 is on Sunday, the 19th of April and you should expect that there are a lot of religious celebrations on that day and on Saturday night (the 18th of April). On the 18th of April, until 12:00 pm most bars play music in low volume, so as to pay respect to the religious ceremony; some of them might even be closed.
This might seem counterintuitive to you. After all, you want to go to Mykonos and enjoy it! But fear not to go to Mykonos during the Easter time. Mykonos is well-known all over Greece for its religious ceremonies during Easter time and a lot of Greeks visit the island. You will have the opportunity to witness first-hand some Greek religious culture.
Parties in Mykonos in April
So, is there a party atmosphere in Mykonos in April? The answer is no. The atmosphere is much different than what you would expect during the summer.
You will not find the parties at the beach bars during the day and you will not get the crazy atmosphere in the bars and clubs during the evening. It's a much more relaxed period.
Don't go to Mykonos in April, if your prime reason for visiting the island is to party hard.
Can you swim in Mykonos in April?
Most probably not. The waters are pretty cold and even if you are brave enough, you wouldn't stand it for more than 10 minutes in the water. The water temperature is around 14 degrees. The Greeks would try to swim in Mykonos, only during the last week of April and given that the weather is around 20 degrees for at least a week.
Where to stay in Mykonos in April
As the accommodation prices are the lowest you will find (except for March), you should better stay in one of the 5-star hotels in Mykonos town.
Here is an aggregate view of all the 5-Star hotels in Mykonos Town. The prices in these hotels in April are usually, half of what you would find in June (not to mention in August). As an example, a double room in the Bill and Coo hotel costs 310 USD per night in April, 644 USD in June and 824 USD in August.
During April, you could stay in Mykonos in a 5-star hotel for around 170 euros per night and up. Have a look below and check the prices for yourself.
Hotel
Rating
$ June
$ August
Check
Prices
Myconian
Kyma
9.2
250
530
Go
Kouros
9.0
386
620
Go
Bill & Coo
9.4
652
895
Go
Boheme
9.2
644
824
Go
Semeli
9.1
350
554
Go
Absolut
9.0
347
594
Go
Cavo Tagoo
8.8
769
1039
Go
Tharroe
9.0
256
452
Go
Myconian Korali
9.0
225
451
Go
Flights from Athens to Mykonos in April
During April, there are regular, daily flights from Athens to Mykonos, with low-cost or national airlines.
The cheapest flight from Athens to Mykonos in April is with Volotea (the Spanish low-cost airline), with a flight duration of 50 minutes and a cost of around 55 USD per person, one way.
Other airlines that fly from Athens to Mykonos during April are Skyexpress (low-cost), and Olympic Air, which is the same company with Aegean Air group, the best national airline of Greece. If we were to suggest one airline out of these, it would be Olympic Air.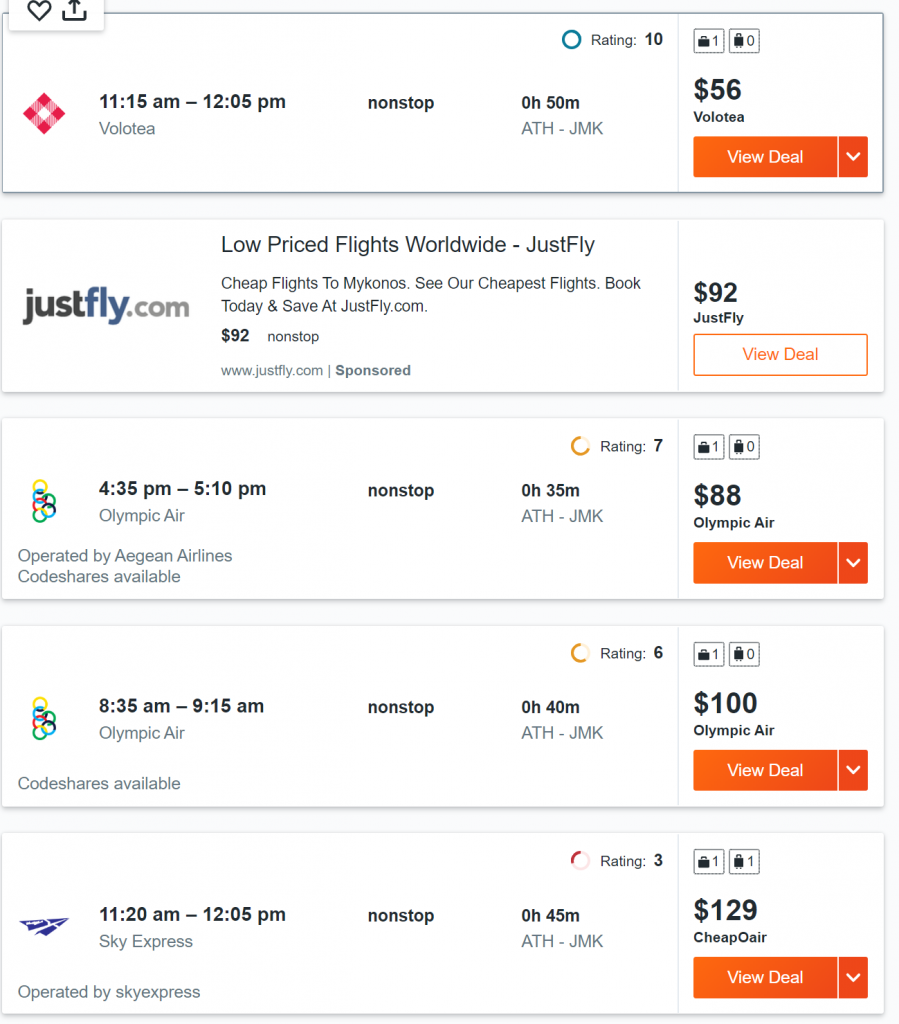 Ferries from Athens to Mykonos in April
If you want to travel to Mykonos from Athens with a ferry, during April, you have a lot of choices.
Athens has three ports: The Piraeus port [PIR], the Rafina Port [RAF] and the Lavrio Port (you don't care about it for Mykonos). The ferries from Athens to Mykonos leave from either the Piraeus Port or from the Rafina Port.
Here is a map, which shows the locations of the Athens Airport, Rafina Port, Piraeus Port, the Athens City Center (Syntagma Square) and Mykonos.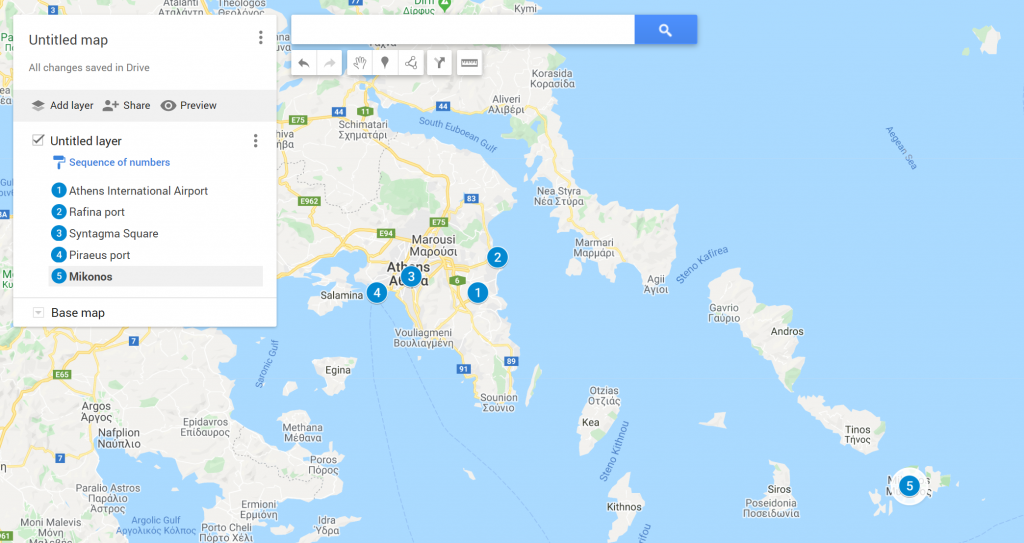 The Piraeus port is much bigger and further from Mykonos but it is inside Athens and it is easier to reach it with a train or a bus from the city center. The Rafina port is a smaller port, closer to Mykonos but it is 30 km outside of Athens and little bit more difficult to reach than Piraeus port.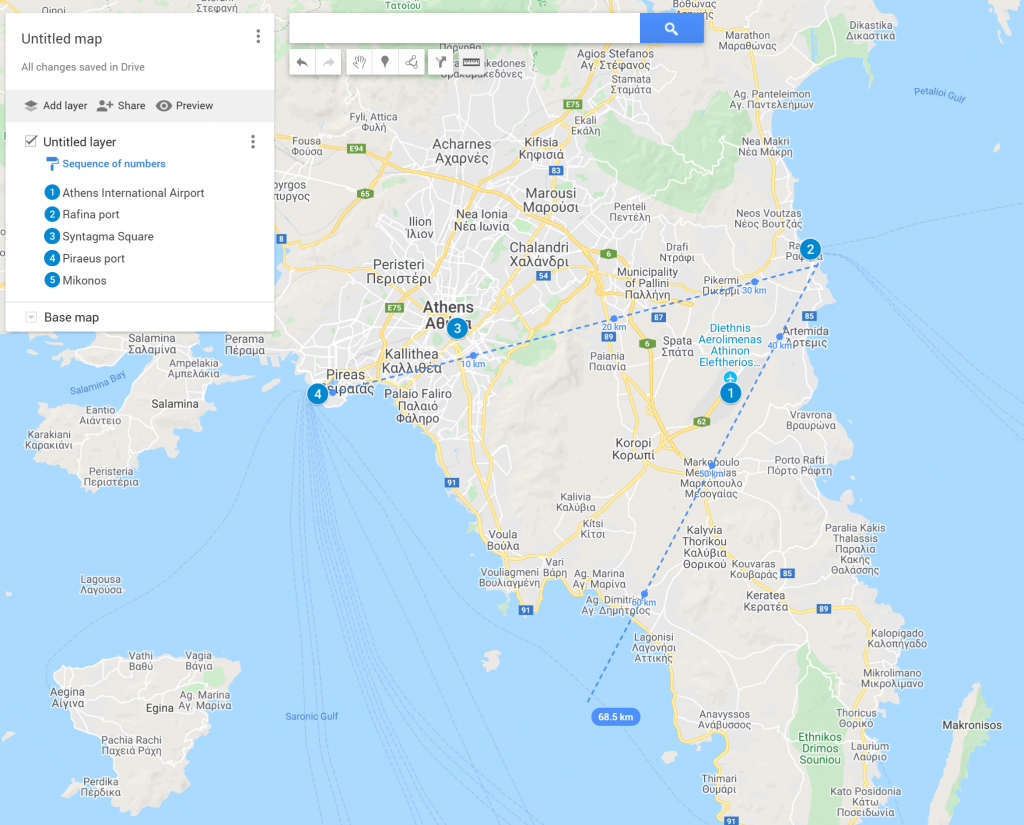 We prefer the Rafina port, as it is easier to embark on the ships, find your way around, if you are ok with spending some more time to reach it from the city center.
If you are arriving at the airport of Athens, then the Rafina port is much closer than Piraeus port and you should definitely plan to go to Mykonos from the Rafina Port.
The fastest ferry from Rafina port to Mykonos in April, is the Sea Jets, and it reaches Mykonos in 2 hours and 35 minutes, for a ticket cost of 50 euros per person.
The fastest ferry from Piraeus port to Mykonos in April is again the Sea Jets, which reaches Mykonos in 2 hours and 35 minutes with a cost of 60 euros per person.
Here is the table with your ferry options to travel from Athens to Mykonos and you can book them online at www.viva.gr or at www.ferryhopper.com.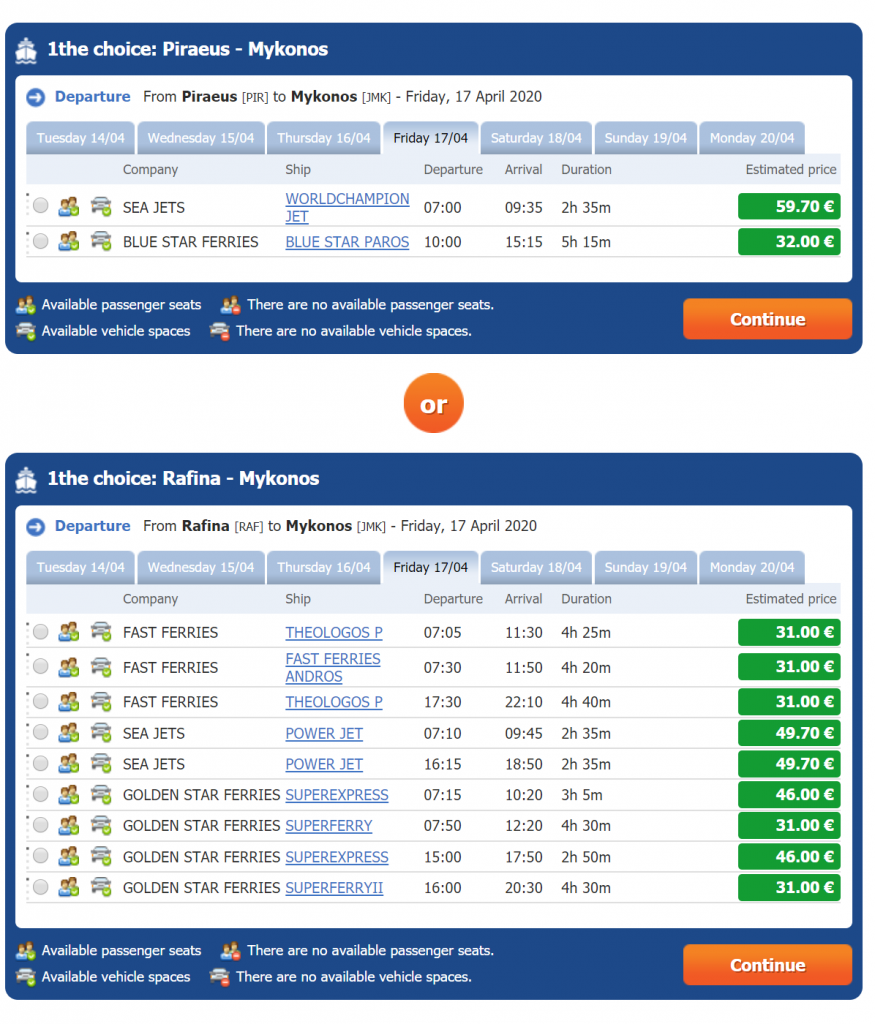 Best Things to do in Mykonos in April
Here is a list of the best things to do in Mykonos in April:
#1 Enjoy the celebrations of the Greek Orthodox Easter
#2 Visit Little Venice and watch the sunset
#3 Visit the Windmills in Mykonos town
#4 Visit some of the great churches and monasteries that are spread all over the island
#5 Get some tan on one of the popular beaches of the island, such as Psarrou, Platis Gialos, Super Paradise, Paragka
#6 Have dinner and enjoy the Greek local food in a recommended tavern; try Kounelas in Mykonos town, or Kiki's tavern at Agios Sostis beach, or Nikolas tavern at Paraga beach.
#7 Stroll around the beautiful Matoyianni area in Mykonos town, with the pebble streets. The Matoyianni area was built like a labyrinth, so that the pirates that were threatening the island some centuries ago, couldn't find their way through when entering.
#8 Rent a scooter and explore the island. It's a small island and going from one end to the other takes about 40 minutes on a scooter.
#9 Visit the church of Panagia Paraportiani, one of the most significant and most beautiful religious monuments of the Cyclades. Actually, this is a complex of 5 churches, with four of them acting as the base and the last one sitting on top of the other four churches. It was built in the 16th century.
#10 Visit Delos island, with a daily boat trip from Mykonos.