Acrogiali Beach Hotel Mykonos Review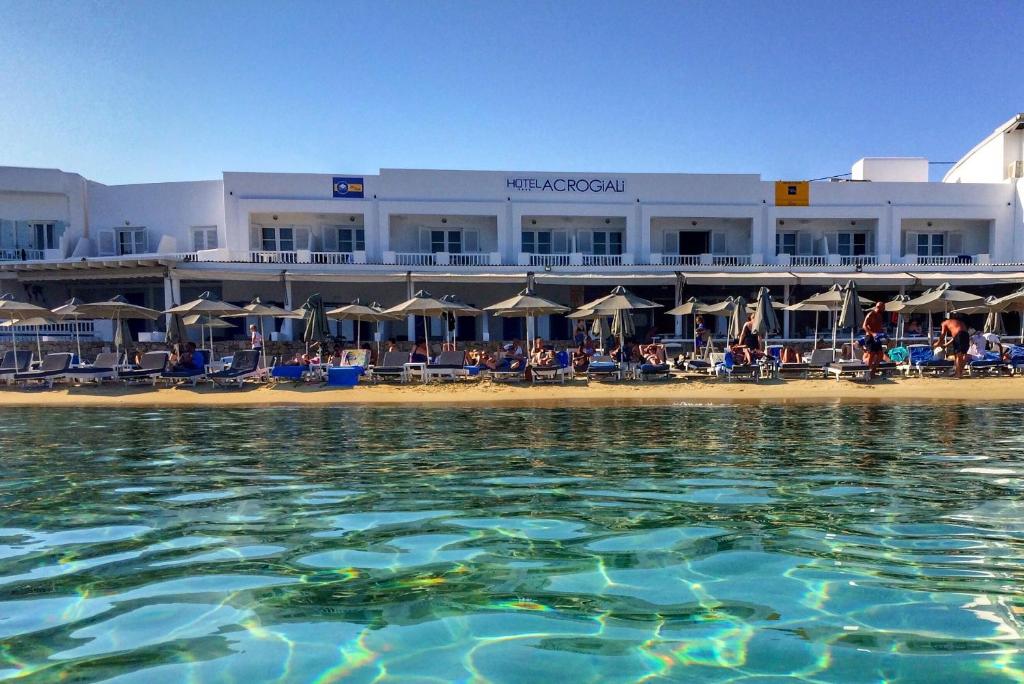 Location
The Acrogiali Beach Hotel Mykonos is located at Platys Gialos Beach, Mykonos 84600, Greece. The hotel is situated right on the beach, offering stunning views of the Aegean Sea.
Ages
The hotel welcomes guests of all ages. Babysitting services are available upon request.
Pet Policy
Unfortunately, pets are not allowed at the hotel.
View
The hotel offers rooms with either garden or sea views. The rooms with sea views are highly recommended for their breathtaking views of the Aegean Sea.
Parking Availability and Cost
Parking is available at the hotel free of charge.
Perks
Guests at the Acrogiali Beach Hotel Mykonos can enjoy complimentary breakfast, as well as free transfers to and from the airport or port.
When to Book
The best time to book the hotel is during the off-season (October – April) to avoid the crowds and enjoy lower rates.
How to Book
You can book a room at the Acrogiali Beach Hotel Mykonos through Booking.com.
Phone
+30 2289 023940
Email
info@acrogiali.gr
Amenities
The hotel features a beautiful outdoor pool and a relaxing spa. A fitness center and jacuzzi are also available for guests to use.
Food and Drink
The hotel's restaurant serves delicious Greek cuisine, and a complimentary breakfast is provided each morning. The lounge bar is the perfect spot for a pre-dinner cocktail or a nightcap. Room service is also available for those who prefer to dine in their rooms.
Rooms
The hotel offers a variety of room types, including standard rooms, suites, and family rooms. Smoking rooms are available upon request, and the hotel has wheelchair accessible rooms. The rooms with sea views are the best rooms in the hotel.
What's Nearby
The hotel is located near some of Mykonos' best beaches, including Paradise Beach and Super Paradise Beach. The town of Mykonos is also nearby and is a must-visit for its charming streets, whitewashed buildings, and world-renowned nightlife.
Overall, the Acrogiali Beach Hotel Mykonos is a fantastic choice for those looking for a relaxing beach vacation in Greece. With its stunning views, excellent amenities, and delicious food, this hotel is sure to please. Book your stay today!

Thank you for reading this review of the Acrogiali Beach Hotel Mykonos. We hope that you found it informative and helpful in planning your next vacation. Don't hesitate to book a stay at this amazing hotel and experience all that Mykonos has to offer.